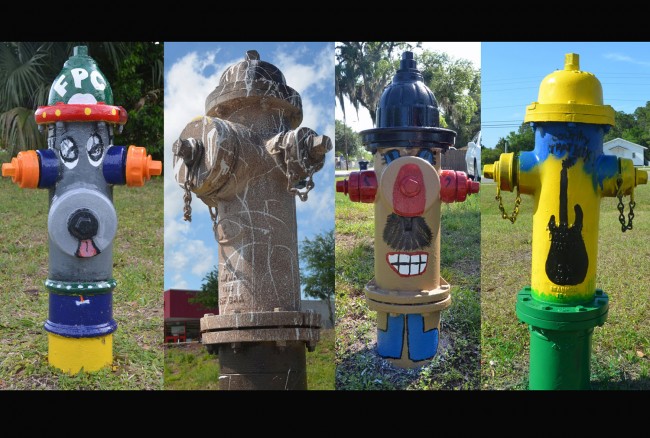 You may have noticed them at some point this week, all week—women, men, children hovering over fire hydrants all over Bunnell, cleaning them, spraying them (with base paint, let's specify) then painting them in dozens of patterns or characters or scenes. The results have reinvented some 35 of the city's hydrants into street-corner bursts of art, some of it dazzling, some of it hilarious, all of it bright with primary colors and a sense of joy you don't always associate with pedestrian corners.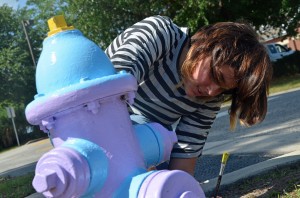 At the northeast corner of State Street and Woodland Avenue, it's as if Jackson Pollock had dropped in to spray-splatter the hydrant in brown and black and white. It's actually the work of Perry Mitrano, Bunnell's solid waste director, who loves wielding paint a little less carefully than he does the city's colossal garbage truck. "The brush never touched the hydrant," he says proudly.
At the corner of East Moody Boulevard (State Road 100) and North Bacher, downtown Bunnell, it was Scarlett Moran, a middle school student at Ormond Beach Middle School, who was busy at work on a hydrant eventually reborn as parable for hospice care. "You have to leave somewhere to go somewhere," reads a line around the hydrant, beneath a blue sky and above light-purple and sky-blue patterns. "It's sort of a transition between the faces of life and of when it comes to the end, but in a sort of a peaceful way," says Moran, whose mother works at Haven Hospice, in the building on the same block.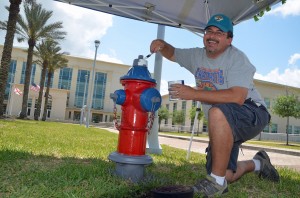 And at the corner of Court Street and South Anderson, it's none other than Mr. Potatohead, in honor of Bunnell's upcoming Potato Festival.
The hydrant is the work of the staff at the Flagler County Chamber of Commerce, but especially that of its Tourist Development Council staff, and even more especially that of Jeannine Volpe, with a little touch of marketing at the back: "Follow me to the Potato Fest May 11." There's also a pair of bright-red lips with the old snail-mail sign off (SWAK—signed with a kiss), all curiously smacked right where Mr. Potatohead's tuchus might be.
It's all part of the Bunnell Centennial celebration, leading up in this case to Saturday's Beautiful Bunnell Day, when the city will be hosting a clean-up from 8 a.m. to 2 p.m., and the hydrants will be judged, beginning at 10 a.m. (See a full list of participants and hydrant locations in the chart below.)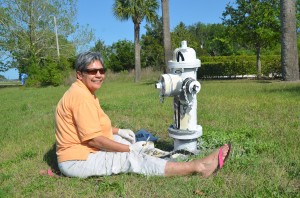 The idea originated with Bunnell's staff, including Judi Stetson and Rachel Ord in the city's special projects office, and Dan Davis, the city clerk. They solicited interested groups or individuals—businesses, schools, artists, non-profits—with a set of guidelines and a $25 entrance fee. The design could be inspired by a famous artist (that's what art teacher Laura Shanley's students from Indian Trails Middle School decided to do with their hydrant at the northeast corner of Lemon and East Moody, in front of Greg Kimball's office: recreate van Gogh's Starry Night). It could be "a whimsical or humorous twist that will make viewers smile," it could be abstract, or it could be "context-sensitive," connecting the fire hydrant with its immediate neighborhood.
There'll be several of those, like Moran's Hospice-inspired work, or Mari Molina's hydrant along City Plaza, near Molina's Flagler Cats non-profit: Molina was painting a calico cat on several days of the week ("I love calico cats," she said, the work not quite finished. "They're so multi-colored. They have a little bit of the rainbow, all the colors in them. I have a calico.") Or like the one Andy Dance was preparing to paint, under a comfortable tent planted above the hydrant in front of the newer county courthouse. Dance, who chairs the Flagler County School Board, was going to recreate the hydrant into that new, bizarrely Fila-plagiarized logo (the two F's are indistinguishable) the district adopted a few weeks ago in its effort to better "brand" itself.
The city had no trouble finding entrants: all 35-odd hydrants were claimed, including seven by the Bunnell Elementary Art Club, four by the Flagler Police Athletic League (PAL, which has incidentally been embroiled in a bit of a war with the sheriff's office, one of its chief sponsors), Flagler Palm Coast High School (whose Bulldog now lords over the corner of Cherry and Court streets), both historical societies (Palm Coast and Flagler County), three by the Carver Foundation, and several by individuals such as Bunnell Mayor Catherine Robinson (at Gallberry Court), Commissioner Jenny Crain-Brady (at Wadsworth Way) and Linda's Salon (in the Atlantis shopping center on U.S. 1, near the mailboxes).
Laura Shanley preparing the way for her Indian Trails Middle School art students. Click on the image for larger view. (© FlaglerLive)[/caption]It wasn't a simple task for participants. They had to submit sketches to the city. They had to secure their own supplies. The supplies had to be weather-proof and of high quality, because the city intends to leave the hydrants in their new states for years to come. And why not? They're certainly more pleasing to the eye than the yellow or rust-colored versions that appear at many corners in the city.
"You can bring your kids to see them," Margaret Burke, Scarlett Moran's grandmother, told her as Scarlett worked, looking down the road many years from now. Burke and Moran's uncle, John Plumberg, had accompanied Moran to help and keep her company.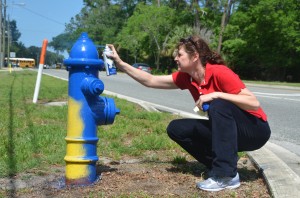 Shanley, the Indian Trails art teacher, was preparing the hydrant a few blocks down for her student's work on another day, spray-painting it blue with Rust-Oleum in preparation for the oil paint that would be applied subsequently. She, too, liked the idea of a lasting work on Bunnell's city streets.
"I love it," Shanley said. "I love it. The important thing as an art teacher is to get the art out there so they can see how talented our kids are."
The challenge, of course, will be whether the hydrant art will be around when Bunnell celebrates its bicentennial in 2113. Assuming that by then they wouldn't have developed an app to immediately zap fires as they start.
None of the county's fire departments, incidentally, claimed any of the hydrants. They apply their art in other ways.


Bunnell Centennial's Fire Hydrant Art: Sponsors and Locations
| | |
| --- | --- |
| FPC High School - Art Students | Corner of Cherry & Court |
| Flagler County Chamber of Commerce & TDC | Corner of Court & S Anderson |
| People Helping People / God's Love Ministry S.S.S | On S Chapel between Canakaris (Court) & Booe |
| Flagler County School Board | Government Services Building (GSB), in front of the new courthouse |
| Flagler PAL | Between the GSB & courthouse |
| Heritage Crossroads | Behind GSB - by employee parking |
| Flagler Broadcasting - WNZF | City Plaza - west |
| Flagler Cats | City Plaza - east |
| Flagler PAL | Across Commerce Parkway from Wendy's |
| Flagler PAL | 2902 E Hwy 100 - in front of Auto Tec |
| City of Palm Coast Historical Society | In front of Bachmans |
| McKim & Creed | Corner of old moody & Utility |
| Flagler PAL | JoAnn B King Park |
| Indian Trails Middle School | Corner Lemon & Moody |
| AAUW - American Association of University Women | Corner of Moody & Peach |
| Bunnell Elementary Art Club | Around school - Corner of N Orange & E Howe |
| Bunnell Elementary Art Club | Around school- Corner of N Lemon & E Howe |
| Bunnell Elementary Art Club | Around school Corner of N Palmetto & E Howe |
| Bunnell Elementary Art Club | Around school - Corner of N Palmetto & E Magnolia |
| Bunnell Elementary Art Club | Around school - Corner of N Orange & E Magnolia |
| Bunnell Elementary Art Club | Around school - Corner of N Chapel & E Magnolia |
| Bunnell Elementary Art Club | Around school - Corner of N Chapel & E Howe |
| Haven Hospice | Corner of Bacher & Moody |
| Haven Hospice | Corner of Moore & 100 |
| Historical Society | Front of Holden house N Pine & Moody |
| Pak's Karate | Corner of N Anderson & E Magnolia |
| Commissioner Brady | Wadsworth Way |
| Mayor Robinson | Gallberry Ct |
| City of Bunnell | Advanced Auto |
| Linda's Salon | Atlantis - in front of city offices near mailboxes |
| Patricia Blackburn & Kimberly Weiland | Corner of Atlas & Deen |
| Masonic Lodge #200 | Corner of Hwy 11 & Bay St |
| Habitat for Humanity | Corner of Railroad & Moody |
| BETA Club | Corner of S. Drain & US 1 |
| Carver Foundation | Drain St |
| Carver Foundation | Drain St |
| Carver Foundation | Drain St |
Source: Bunnell City Government. Note: some of the locations may have changed as participants requested different hydrants.