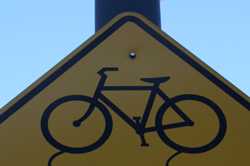 Authorities are searching for a driver responsible for a hit-and-run collision on Palm Coast Parkway that left 17-year-old bicyclist Kyle Forgie of Palm Coast in critical condition Thursday evening.
Forgie was riding east on Palm Coast Parkway on a Redline bicycle just after 6 p.m. when he crossed the northbound entrance ramp to I-95. Forgie was in the marked crosswalk when a blue Dodge pickup truck or SUV struck him, and fled the scene, according to the Florida Highway Patrol.
The hit and run vehicle was traveling in the westbound lanes of the parkway when it entered the ramp to I-95. Forgie was evacuated by Flagler County Fire Flight to Halifax hospital, where he remains in critical but stable condition, the highway patrol says.
"Any information that the public may have regarding this incident is crucial to this criminal investigation," the highway patrol states in a release issued late Thursday. "All leads and any information will be greatly appreciated." Anyone with a lead is asked to contact Cpl. Pete G. Young at the Florida Highway Patrol in Troop G, at (904) 359-6572 or (904) 693-5071.