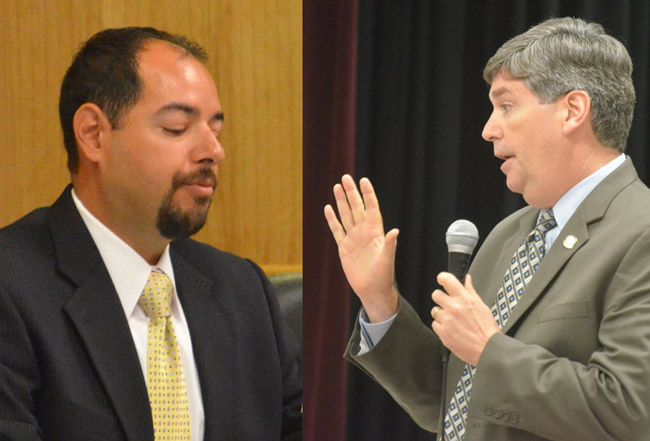 Palm Coast City Manager Jim Landon wasn't going to take a challenge to one of the city's most important sources of revenue lying down. And on Tuesday morning, he didn't. His administration laid out an unequivocal case against cutting impact fees, which builders pay on new construction, calling such a cut detrimental to the city's infrastructure and unfair to existing residents who have already paid their impact fees, and questioning the assumption that any such cut would help the local economy. Evidence of such benefits is slim to none.
What Landon didn't expect was that Jason DeLorenzo, barely at the end of his rookie year on the council, would not only stand up to Landon's pre-emptive strike, but stand him down with a relentless counter-attack of his own, at one point coming close to accusing Landon of conducting "backroom" deals that damage the city's reputation with the business community. DeLorenzo systematically challenged Landon's numbers with calculations of his own that—using the city's own population projections—undermined the credibility of Landon's conclusions. And he warned Landon not to suddenly backtrack from those numbers and suddenly produce new ones to make them fit Landon's agenda.
It was a remarkable case of turning tables. The Flagler County Chamber of Commerce and the Flagler Home Builders Association are pressing local governments hard to adopt impact fee moratoriums for two years. They succeeded before the county government. They failed before the school board. Palm Coast is the big prize, having the biggest impact fees. The county had appeared receptive to the chamber's and homebuilders' idea from the outset (the county commission is chaired by Barbara Revels, a home-builder). The school board had done a little more homework. Landon had done plenty of it, but so had DeLorenzo, who succeeded on Tuesday in at least forcing the conversation to continue, rather than have it ended there and then.
Along the way, the youngest member of the council by far showed a mettle, and a willingness to question the administration's playbook, neither Landon nor other members of the council had seen before.
At the heart of one disagreement was Landon's projection that the city would need $335 million in infrastructure investments between now and 2035.
With calculations as nimble as they were simple, executed before the council, DeLorenzo showed that the city is poised to collect $448 million in impact fees just for residential construction, and millions more when commercial impact fees are included. His point was that not only could the city afford an impact fee moratorium for two years, but that its fees were higher than they should be to start with. Whether DeLorenzo's figures are accurate or not wasn't the point so much that, if anything, the city's figures, and the argument they undergirded all morning,  did not seem nearly as reliable, either, if they were the basis for policy.
DeLorenzo didn't leave it at that.
"I'm going to tell you, I'm going to be really upset if this public policy document that says we need $355 million then you come back and tell me, oh, we missed that, we need $600 million," DeLorenzo told Landon. "That's not going to fly with me, OK? This is what you told me."
Landon then seemed to backtrack in a long and unusually uncertain reply that now undermined his own staff analysis: "What I can tell you is," the city manager said, "separate from that, because once again, the whole point of that, and whether you like it or not, and you know, some people don't like it, the whole point of that was trying to change the conversation in the fact that you have some commitments that you have to fill and what those are, and how impact fees play into that. It is not intended to confirm the $335 million. That is what you also asked us to do. So I can't promise you we'll come back, you're not going to not see a different number, because you specifically asked us to come back with that. We weren't planning on coming back and saying oh, we need to now raise impact fees to cover these costs. That wasn't the game plan at all."
Landon then said that he would not actually re-calibrate the $335 million figure, because he's trying to "get realistic with the next five years, with our capital improvement plan, because that's what we keep kicking down the road, and you're talking about–"
"No no no," DeLorenzo says, cutting off Landon, his voice rising. "You're talking about. You gave me this document. I didn't ask for this. We asked for a discussion about a two-year moratorium on parks and transportation impact fees. You told me we needed $355 million worth of infrastructure."
No such direct challenge has taken place between a council member and Landon in memory, least of all in such finger-pointing terms.
"Is that a private conflict between you two?" Lewis asked.
"No, this is a staff document," DeLorenzo said, referring to the nine-page "Public Policy Analysis that was the basis for Landon's opposition to an impact fee moratorium. (The paper, which ran to 24 pages when including appendices, was actually presented by the city's planning manager. See the full paper below.).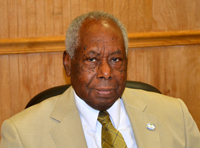 Lewis was still smarting from his own brief flare-up with DeLorenzo earlier in the meeting, when Lewis got tired of DeLorenzo questioning figures and studies' origins. That had taken place when the presentation noted one particular study, by Duncan Associates, a Texas-based consulting firm, that saw no appreciable benefit to impact fee moratoriums in Florida. DeLorenzo criticizing the authors of the study, saying they make their money consulting for governments that want to impose or preserve impact fees.
"But you're also representing another industry also and you are expounding their particular point of view," Lewis said. DeLorenzo is the government affairs director for the Flagler Home Builders Association, which is pushing for the impact fee moratorium. It is an inescapable fact that DeLorenzo is literally doing the association's bidding from his council seat.
"Let's not make this personal," Jon Netts, the mayor, intervened.
"I'm not personal. It's just putting the facts on the table and being honest," Lewis countered.
But DeLorenzo was as if on a mission, shredding apart the policy paper point by point. The paper had noted that an impact fee moratorium would hurt developers who "installed infrastructure to support the future development of their property in return for impact fee credits." In other words, developers who built the roads, the sewer connections and the parks they would have had to pay for through impact fees. Instead of paying impact fees, they got impact fee credits. One such development is Town Center, cited in the policy paper. "If a moratorium is enacted," the paper continued, "those impact fee credits will have no value and be additionally burdened with increased taxes to pay for the demand for infrastructure created by those who do not pay impact fees."
DeLorenzo didn't buy it.
"I called the Town Center developer and asked him about it," DeLorenzo said of developer David Lusby. "He said that credits would have no value while the moratorium was in place. It would have no effect on the overall value. He has a half a million dollars in credits, and when a moratorium was expired, he'd still have half a million dollars in credits, which he would then receive. He also said that there's currently no activity in Town Center, so he's not getting any of those impact fee credits back anyway, and that activity breeds more activity, so if the possibility that the moratorium would add businesses in Town Center, then that would breed more activity, and then Town Center would grow out and he'd have a better business at the end."
Landon then made another startling statement: "Well, then that developer is talking out of both sides of his mouth because I proposed to him many times to waive his impact fees on those credits and they refused to do so. We tried to do that to get the movie theater etc. in here, and say hey, waive your impact fees if that's going to help, and they would not do that."
Landon's talk of waiving impact fees to some developers only encouraged DeLorenzo to raise questions about Landon's transparency. "Regardless of where this discussion goes," DeLorenzo said, "I would like to see a schedule for waived impact fees, a published schedule of potentially waived impact fees. I think we're doing ourselves a disservice to have backroom, backroom—'oh, come, meet with me, we'll tell you what we can do.' We're missing opportunities if we're relying on them contacting us. We should have it published, it should be out in the open and say, we will potentially, we will do this if you bring us this many jobs. We are willing to do this."
Landon, clearly outplayed as he'd rarely been (he and DeLorenzo have something of a history that pre-dates DeLorenzo's accession to the council, when it comes to disagreements), was left to asking the council how it wanted to proceed on impact fees. The pre-emptive strike he'd crafted had make key points, but none that the council hadn't heard before: that a moratorium is an unproven economic tactic, that it unfairly rewards current builders at the expense of those who have already paid their impact fees, that it shifts the tax burden, and that it does nothing to reduce the city's infrastructure needs. But it does eliminate an important revenue source, which must be made up.
The city calculates that the property tax rate would have to increase to make up that shortfall, but even that claim was suspect: the city has also quit taking on infrastructure projects in the last couple of years to keep its tax rate low—possibly artificially low, given the demands on its infrastructure, and the city's willingness to impose other tax-like fees to make up the difference.
Council member Frank Meeker is on DeLorenzo's side. Netts and Lewis are opposed to a moratorium. ("If anybody can show me some documentation that a moratorium on impact fees stimulate growth, I'd like to see it. I just haven't seen that data," Netts says.)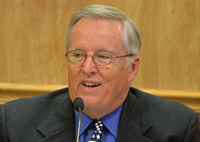 Council member Bill McGuire would be the swing vote, though on Tuesday he sounded far more skeptical than receptive to DeLorenzo's ideas.
"Jason made some great points, he's got some good ideas," McGuire said, "but we're the ones that are sitting here, prepared to stand or fall, and the guy that's going to benefit the most from it, it's a win-win situation for him."
"But the city grows not based on the city and on government, [but] by those that are willing to invest in the city," Meeker said.
"OK, Frank, and if you grow, you don't owe me a dime," McGuire replied. "But if you don't, and you say you're going to, and I cut my funds off, you owe me, buddy."
The council agreed to have both DeLorenzo's figures and Landon's vetted for better accuracy and perspective, and take on the debate again at a subsequent meeting. But it could be academic: Meeker is off the council. Today's was his last meeting. He's running for a county commission seat. Should he not win it, he could apply to return to the council, but the four remaining council members will be voting on an appointment, which could well come down to the applicant's position on such things as impact fees. That applicant will be picked in early November.


Palm Coast Impact Fee analysis, 2012



2012 Impact Fees for a Single Family House in Flagler County, Bunnell, Flagler Beach and Palm Coast
| Flagler County School Board | Schools | $3,600 |
| --- | --- | --- |
| Bunnell | Water | $1,800 |
| | Sewer | $1,800 |
| | Transportation | $1,438.10* |
| | Schools | $3,600 |
| | Total Impact Fees in Bunnell: | $8,638.10 |
| Flagler Beach | Water | $1,891.60 |
| | Sewer | $2,733.20 |
| | Transportation | $1,438.10* |
| | Parks and Recreation | $268.45* |
| | Schools | $3,600 |
| | Total Impact Fees in Flagler Beach: | $9,931.35 |
| Flagler County | Transportation | $1,438.10* |
| | Parks and Recreation | $268.45* |
| | Schools | $3,600 |
| | Total Impact Fees in Flagler County: | $5,306.55 |
| Palm Coast | Parks and Recreation | $1,208 |
| | Fire and Rescue | $189.75 |
| | Transportation | $2,827.56 |
| | Water | $2,430 |
| | Sewer | $2,480 |
| | Water and Sewer Required Hookup Charge | $2,535 |
| | Schools | $3,600 |
| | Total Impact Fees in Palm Coast: | $15,270.98 |
(*) The Flagler County Commission on Oct. 1, 2012, suspended the transportation and park impact fees for two years.