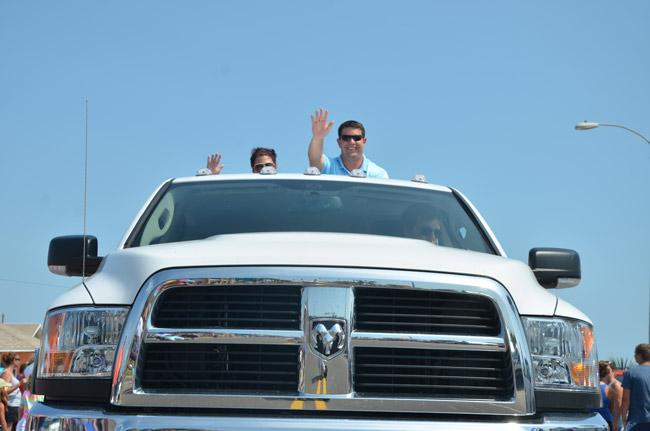 Last Updated: Oct. 9, 1 p.m.
With less than a month before Election Day, new campaign-finance reports show Republican legislative candidates often dominating the money game against their Democratic opponents. In few places is that more true than in the race for the 26th House District, the newly drawn district that includes all of Flagler County, where Republican candidate Travis Hutson is maintaining a 12-to-1 advantage over Democrat Milissa Holland.
The last two weeks of September saw Hutson add almost as much money to his treasure chest–$13,000–as Holland raised in the entire election cycle ($15,502). Hutson so far has raised $185,490, and spent $111,640, leaving him with $73,850 for the last weeks of the campaign. Holland spent $10,606, leaving her with just under $5,000.
In some races, the state Republican Party poured tens of thousands of dollars of cash into House candidates' campaigns during a two-week period in September — even into races that have drawn relatively little attention. In other instances, GOP candidates simply scooped up more contributions than their Democratic counterparts.
The Republican Party of Florida gave Hutson a $5,000 check on Aug. 27, but has given him in-kind support valued at $17,378 in September alone, In all, the party gave Hutson $28,878 (cash and in-kind). The Florida Democratic Party has not provided any support to Holland, according to her filings. She got a $100 check from the St. Johns Democratic Club, among her 75 contributors.
There was only one other surprise in the latest financial disclosures as they relate to Flagler County races: in the race for Flagler County Sheriff. Democrat Jim Manfre almost doubled his contributions in September, hauling in an additional $10,000, for a total of $19,184, and almost closing the gap with Republican incumbent Don Fleming, who's raised just under $24,000. But $4,000 of Manfre's haul was another loan to himself.
Among Manfre's contributors: Ray Stevens, the Republican candidate who lost to Fleming in the primary. Stevens contributed $200 to Manfre's campaign. The contribution is significant beyond its monetary value. During the primary, Stevens repeatedly attacked another Republican primary opponent, John Pollinger, for having once been a Democrat, and for now running as a Republican. Stevens's former campaign manager and one of his chief supporters, Anne-Marie Shaffer, sued Pollinger to try to get him off the ballot, saying she was doing so for the sake of "party purity." On Tuesday morning, Stevens made his endorsement of Manfre official through a news release by the Manfre Campaign.
On Tuesday morning, the Supervisor of Elections Office updated a few additional numbers, showing County Judge candidate Craig Atack increasing This total contributions to $33,661, a nearly $4,000 increase since the last reporting period, but with heavy spending in the last two weeks of September, too–including $3,230 on advertising.
And in the District 2 race for County Commission, Independent Abby Romaine took in $3,240 in the last two weeks of September, all of it from donors, raising her total past $10,000. While Romaine's total is still below that of Frank Meeker, the Republican contender for the seat, Meeker had spent about $6,500 during the primary election, when he faced an opponent. Looking at only the general election, Romaine has somewhat out-raised Meeker. The two candidates have roughly the same amount of money left for the remaining four weeks.
The remaining Flagler County races have seen little significant change in contributions. (See the updated chart below.)
Across Florida, The biggest fund-raiser among House candidates between Sept. 15 and Sept. 28 was Rep. Scott Plakon, a Longwood Republican who faces a tough challenge in District 30 from Maitland Democrat Karen Castor Dentel.
Plakon collected $71,910 during the two-week period, with $49,000 of that total coming in a check from the state GOP, according to the reports filed before a Friday deadline. Dentel, by comparison, raised $26,828 during the period, with none of that amount coming from the Florida Democratic Party. Both candidates received in-kind support, such as polling, from their parties.
Similarly, in nearby District 49, Orlando Republican Marco Pena collected $47,564 during the period, with $25,000 coming from the state GOP. Democrat Joe Saunders raised $10,090, though he appeared to hold a slight overall financial edge as of Sept. 28 because of earlier contributions and expenditures.
State law allows candidates to receive up to $50,000 from the parties, and the GOP has spread cash to numerous candidates. During the most-recent period, for example, it sent $49,000 each to Rep. Larry Ahern, R-St. Petersburg, and Rep. Shawn Harrison, R-Tampa. Neither faces well-funded opponents, and the races have not drawn much statewide buzz.
But not all of the Republican candidates' financial advantage stems from party contributions. With the GOP in total control of the Legislature and state government, many Republican candidates have been able to tap corporations and other donors who have interests in Tallahassee.
For instance, House District 7 candidate Halsey Beshears, a Monticello Republican, collected $32,700 in contributions between Sept. 15 and Sept. 28, far outdistancing Bristol Democrat Robert Hill, who raised $7,760. Among the industries that contributed to Beshears during the period: ophthalmologists, citrus growers, pari-mutuel facilities, nursing homes, HMOs and banks.
Plakon was followed in House fund-raising during the period by Harrison, with $61,825; Ahern, with $61,225; Pena; Rep. Tom Goodson, R-Rockledge, with $40,675; and Beshears.
Among Senate candidates, the top fund-raiser during the period was former Rep. Aaron Bean, R-Fernandina Beach, with $46,330. Bean was followed by Sen. Ellyn Bogdanoff, R-Fort Lauderdale, with $39,366; Sen. Bill Montford, D-Tallahassee, with $38,176; Sen. David Simmons, with $34,522; and Bean's opponent, Jacksonville Beach Democrat Nancy Soderberg, with $32,589.
Contributions to candidates are only part of the picture of financing legislative races. The parties can run advertisements to try to sway voters, as can outside groups that, at least in some instances, are linked to legislative leaders.
But the candidate contribution reports offer insight about where money is flowing — and where it isn't.
Among the candidates who raised little during the two-week period was Frostproof Democrat Eileen Game, who had been given little chance to win the House District 42 race until Sept. 24, when Rep. Mike Horner, R-Kissimmee, dropped out because he was linked to a prostitution investigation in Orange County.
Game raised only $1,235 during two weeks, including $715 between the time Horner dropped out and the end of the period. Celebration Republican Mike LaRosa replaced Horner on Oct. 1 as the GOP's candidate, though Horner's name will remain on the ballot.
As another example, Orlando Republican Will McBride reported raising $1,800 for his race against Rep. Darren Soto, D-Orlando, in Senate District 14. Soto raised $16,575. Nevertheless, McBride loaned his campaign $205,000 earlier this year, which has allowed him to outspend Soto so far.
–FlaglerLive and the News Service of Florida


Campaign Finance: Flagler County's Races as of Oct. 5, 2012
Candidates

Total Monetary Contributions

Total Monetary Expenses

On Hand

Flagler County Sheriff
Don Fleming (I, R)

$23,945

$19,807

$4,138

Jim Manfre (D)

$19,184

$12,822

$6,362

Supervisor of Elections
Trey Corbett (R)

$6,327

$6,551

$-224

Kimberle Weeks (I, D)

$17,300

$9,154

$8,146

Flagler County Judge
Craig Atack

$33,661

$31,949

$1,712

Melissa Moore-Stens

$37,516

$31,512

$6,004

County Commission, District 2
Frank Meeker (R)

$14,540

$8,104

$6,436

Abby Romaine (Independent)

$10,150

$4,302

$5,848

County Commission, District 5
George Hanns (I, D)

$3,850

$2,884

$716

Herb Whitaker (R)

$2,552

$1,543

$1,009

Florida House, District 24
Milissa Holland (D)

$15,502

$10,606

$4,896

Travis Hutson (R)

$185,490

$111,640

$73,850

U.S. Congress, District 6*
Ron DeSantis

$481,375

$276,286

$205,089

Heather Beaven

$122,937

$93,089

$29,848
Sources: Flagler County Supervisor of Elections, Florida Division of Elections, Federal Elections Commission.
(*) As of July 25.
Note: Tallies include monetary, not in-kind, contributions and expenditures.