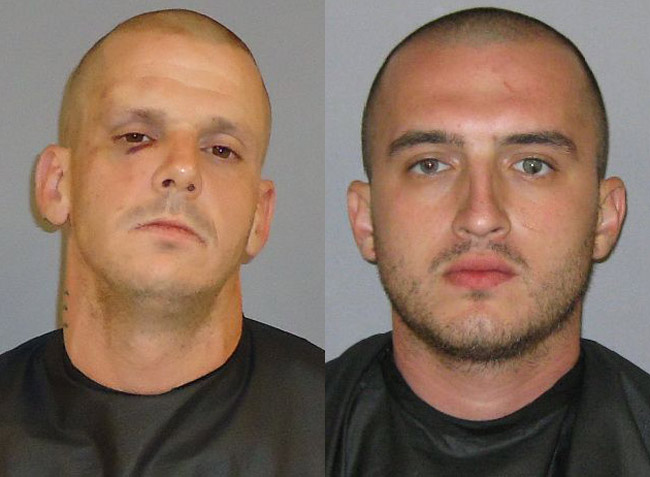 An unusually pronounced series of unrelated domestic and neighborhood issues, including a stabbing at European Village, resulted in the arrest of 5 people in Palm Coast between Friday and Tuesday.
The stabbing was apparently the result of a drug deal gone wrong. When cops arrived at the European Village apartment on the fourth floor Friday night (July 20), they saw Homer Winans, 35, and Vitaly Tsabak, 23—neither a stranger to arrests and previous bookings at the Flagler County jail—with blood on their faces, clothing and arms, according to a police report.
Tsabak told police that he and friends had been at Lollipops, the Daytona Beach strip joint, before going to a friend's place to party, when he went to an apartment on the fourth floor—and was followed by Winans, who then claimed Tsabak owed him $30 "for hanging out together." Tsabak didn't have the money. They argued. Homer, Tsabak claims pulled out a small knife with a 3-inch blade and allegedly attacked him, according to the report. The two wrestled and were separated by witnesses. Tsabak had a two-inch laceration behind his left ear and a half-inch laceration under his left arm, "consistent with being cut by the knife recovered on the scene," the report states.
Tsabak wouldn't tell cops what the $30 debt was about and asked for an attorney.  A witness who'd been with both men at Lollipops earlier, however, told police that the fight was over $100 and the purchase of illegal drugs, according to the report. Winans told police that he'd been picked up at McCharacter's in Palm Coast earlier and hadn't gone to Daytona Beach. According to the report, he told police that he'd given Tsabak $100 to buy cocaine. Tsabak allegedly told him he'd do so in an apartment on the second floor, telling Winans to stay in the parking lot.
Winans eventually went to the apartment in question, found it vacant, then chased down Tsabak, who by then said he did not have the money. Winans blames Tsabak for pulling out the knife, but four witnesses told police Winans had done so—and that they'd restrained him until cops arrived at the scene. Winans, who was also injured—his mug shot shows him with blood marks on his scalp—was treated at Florida Hospital Flagler then booked at the Flagler County jail on an aggravated battery charge. He was still in jail Wednesday, on $2,500 bond. He'd been booked there in 2010 on an oxycodone trafficking charge.
Tsabak was arrested four times in 2011 on various charges, including illegally carrying a concealed weapon, dealing in stolen property, burglary, criminal mischief and theft.
The unusual spike in domestic and neighborhood violence began on Monday, with 50-year-old Patrick Bray allegedly attacking his 17-year-old step-daughter over a cigarette. Bray, of 57 Brigadoon Lane in Palm Coast, told police his step-daughter "was upset with him because he wouldn't provide her with a cigarette, at which time she put a cigarette out in his bowl of food and then started to punch him" according to a police report. He said he reacted in self-defense. The report also notes  that the girl had been drinking, and that a witness heard Patrick pummeling her and attempting to kick her in the ribs by the time the witness was pulling him off of the 17 year old. Bray was charged with child abuse and released on $1,500 bail.
The same day, on Eric Drive, Christopher Lumbert, 37, and his 40-year-old wife Marsha had just returned from a difficult session with a marriage counselor, a sheriff's report states, when they began to argue.
"Marsha stated that while both parties were on the back porch of their residence," the report relates, "Christopher threw a drinking glass in her direction and that the water in the glass hit her in the face and also her upper body." No wonder, Marsha then  told her husband, that his ex-wife had filed for divorce, the report states, who then allegedly raised a chair over his head and ran toward her yelling, "how dare you" (according to the report).
At some point, Marsha told police, the chair hit her on the right hand, and Christopher "brushed his shoulder against her causing her to stumble back," the report states, eliciting a warning from her that he not touch her again or she'd call police. "Bitch," Christopher replied—according to the police report—"if I had really pushed you would have really known it and been laid out flat on your ass." Throughout the incident, the couple's 3-year-old son was asleep in another room. Marsha told police that her husband's "violent past" and his actions that evening rendered her in fear for her life.
Lumbert was booked on a battery domestic violence charged. He posted $5,000 bail.
The same evening on Llewellyn Trail, Ki'eira Woods, a 24-year-old resident of Burroughs Drive in Palm Coast, was arrested on a battery charge after Marciana Logu, 21, accused her of attacking her while she was buckled in a car and couldn't defend herself. Logu's boyfriend was in the residence at 35 Llewellyn Trail when Woods allegedly attacked her, pummeling her and pulling off clumps of hair. Logu had a golf ball-size lump on her forehead and swollen and bruised upper lip, according to a police report.
Dale Galvin, the victim's 25-year-old boyfriend, told police he hadn't witnessed the incident, but that Woods and he are parents to a child, and Woods doesn't like Logu because of Galvin's and her interracial relationship. According to Woods, it was Logu who provoked the fight when Logu spat in her direction and "mushed" her (placing two fingers together and pushing them against her forehead). "Woods," the police report states, "retaliated by slapping Logu with an open-hand slap to Logu's face" as both fell into the passenger seat of the vehicle. "She then explained that she was on top of Logu hitting her and pulling her hair at that time because she was mad about Logu" by then.
The rest of the night was apparently calmer around Palm Coast. But the following night violence flared at 6 Prairie Lane, where 21-year-old Nicole Stoner told police that her fiancé, 23-year-old Bryan Leonard, had kept "texting her and harassing her" through she was at a friend's house just three minutes away—with her fiancé's 4-year-old daughter and 1-year-old son, according to a police report. The couple had been arguing for a couple of days. When Stoner got home, she put the children to bed, and the couple started arguing. She alleges that Leonard hit her four times in the face before she tried to defend herself. Police noted that she was bleeding from the right ear when cops showed up, but she refused medical attention.
Deputies noted no signs of injuries on Leonard, who told them that she'd come home intoxicated, screamed at him, slapped, punched and spat in his face. Leonard was placed under arrest. As he was searched, deputies found prescription pills for which he had no prescriptions. He was booked into jail on a battery domestic violence charge and a charge of possessing a controlled substance without a prescription. He posted $6,000 bond.