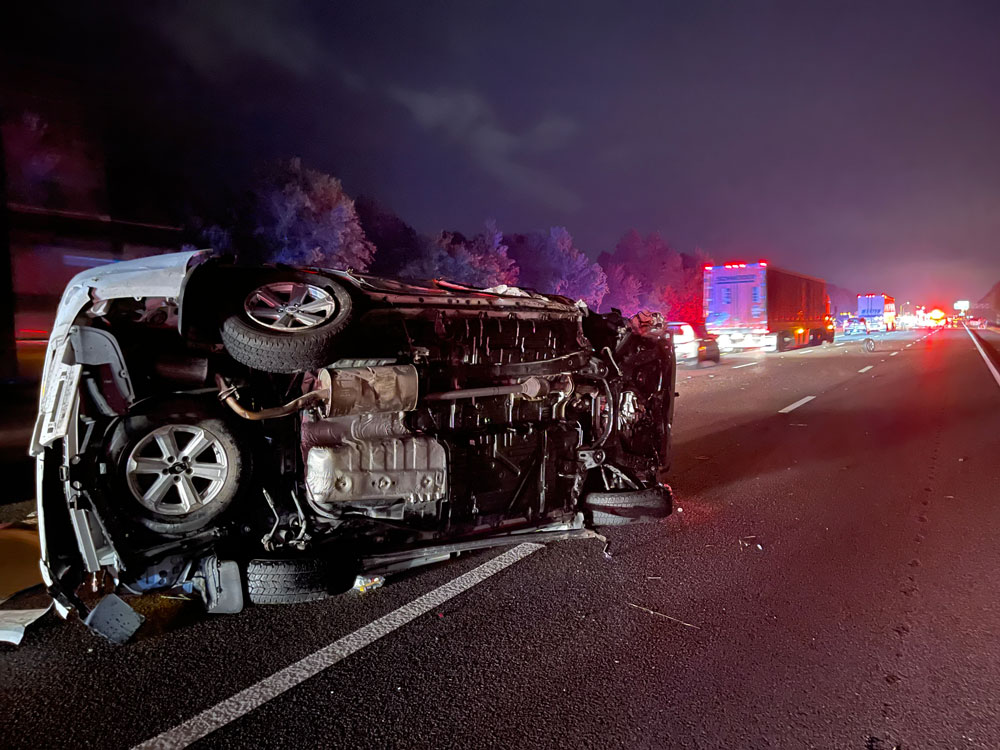 A four-vehicle crash triggered by the recklessness of a driver shut down I-95 in both directions early this morning and sent two people to area hospitals, according to the Florida Highway Patrol.
The crash took place at mile marker 294, just south of the Flagler-St. Johns County line, at 4:17 a.m.




According to FHP's reconstruction, A 27-year-old man was traveling north on a motorcycle, and riding recklessly, according to witnesses. He was passing cars by using the right-emergency shoulder lane.
An SUV had been abandoned on the shoulder. The motorcyclist crashed into it and was ejected. The motorcycle disintegrated, sending significant debris onto the northbound lanes of the interstate.
A 26-year-old man from St. Cloud was at the wheel of an SUV, traveling north. When the SUV struck the debris, it overturned several times, rolled over the center guard lane and crashed on the southbound side of I-95, in the center lane, on its left side.
Another SUV was traveling south, driven by a 23-year-old Lyman, S.C. woman, with two 23-year-old passengers from the same city. That SUV struck debris from the St. Cloud driver's SUV, ran off the road to the right shoulder, and caught on fire.
The motorcyclist had been wearing a helmet, and had been armed with a firearm, which was taken into sheriff's custody for safekeeping. An emergency helicopter was briefly put on standby but the motorcyclist ended up being transported by ambulance to Halifax hospital with serious injuries. The driver from St. Cloud was taken to AdventHealth Palm Coast. The driver and occupants of the gold SUV that caught on fire were not injured.
Authorities were still searching for the occupant or owner of the abandoned SUV more than half an hour after the crash.




In addition to FHP, which is continuing the investigation, the crash drew the response from the Flagler County Sheriff's Office, the Palm Coast Fire Department, Flagler County Fire Rescue, and St. Johns County authorities.
Note: the Palm Coast Fire Department was marking its 50th anniversary at Station 21, at 9 Corporate Drive in Palm Coast.