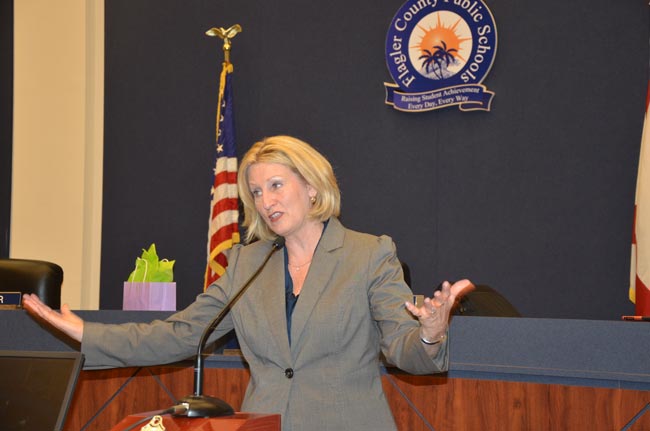 The contradiction was sharper than cheddar. It starred Florida Public Schools Chancellor Pam Stewart, who made a 75-minute appearance before the Flagler County School Board, teachers and others Tuesday afternoon. And it illustrated the vast gulf between the state Department of Education and the realities school districts and their teachers are contending with on the ground.
Hours earlier, the Florida Board of Education had dropped the passing grade on FCAT testing from 4 to 3, after results on this spring's tests showed a calamitous drop in scores for students across the state. The severity of the drop raised questions about the way the test was scored and again put the test's credibility as a "standard" measure in question, as it has repeatedly been in the past several years.
At 4 p.m., in a roundtable discussion scheduled long before the FCAT debacle, Stewart unreservedly described the FCAT as a "credible" test and a reliable measure of student achievement and celebrated a continuing rise in Florida school standards even as she described the new FCAT scoring method as a more accurate reflection of students' abilities. The discordance was somewhere in the range of John McCain describing the economy as "sound" as the nation's financial system was collapsing.
Stewart then spoke of a new generation of standardized tests that would bring the state in line with national standards over the next few years—news to many in the audience, and another
Board member Andy Dance didn't buy the chancellor's view of FCAT. "What I see as a problem is really the credibility that goes back to the test because we're basing school grades, we're basing teacher evaluation, and it seems like DOE [the Department of Education] can't even get the grading of the test correct," Dance said.
"I would suggest to you that I think the credibility is there. I think that over time we've gotten to the credibility. FCAT is seen as being a very valid and reliable assessment," Stewart said. She then assured Dance and an audience of about 40, including teachers, that evaluations are not based on passing grades, but on student progress, a nuance lost on most teachers' anxieties.
One of those teachers, Katie Hansen—president of the Flagler County Educators Association, the teachers union, was in the audience with a group of colleagues.
"In light of these writing scores that have been released," Hansen asked Stewart, "to me they have emphasized yet again the potential harmful effects of the high-stakes testing. When will the educational leadership of our state really, truly look for a measure of progress that is fair to our students?"
"I just would have to respectfully disagree," Stewart answered. "I think that FCAT over time has proven to be a fair measure. I think that if you look at what the scores are for writing, though it is a drop, if you look at what the expectation was for a 3, what the expectation was for a 4, there kind of isn't an expectation for 3.5 because you know that's kind of by default. It really is a fair and true measure of what a 3 writing would be. II think what we haven't established in Florida in grade 4 and grade 8 and grade 10—what is on grade level? Is that a 3? Is it a 3.5? Is it a 4? I would assume somewhere in there."
Oddly, the state has for years established that 3rd graders who didn't have at least a passing grade of 3 on the reading test didn't move on to the 4th grade, and that 10th graders who didn't clear the same threshold didn't graduate, thus declaring who was and who wasn't on grade level.
Hansen pressed on, asking Stewart whether the new scoring method had been properly described to teachers so they could better prepare their students.
"That's a very good question. Thank you for asking it," Stewart said. But her answer took tangents that would have cost her numerous FCAT points if she was being scored on staying on topic. And her answer was more veiled than clear. She spoke of a letter that went out to superintendents on July 5, the day after a holiday, that included a web link that took readers to "the calibration sets," which Stewart explained as "what teachers generally use in order to determine what is a 3 that we would write to." But not necessarily the difference between a 3 and a 4. "If there was something that some area that we kind of missed the mark with, with regard to that," Stewart continued, "I would say that it was in how you approach that."
Then came Evie Shellenberger's turn. The former Flagler County school board member hadn't wanted to miss Stewart appearance, or the chance to ask her directly the sort of questions she'd posed rhetorically from her board seat for years.
"We've talked about a lot of different tests today, and there are a lot of other tests in the schools," Shellenberger said, "to the point that our teachers spend more time testing the students than they have an opportunity to teach them, so how can we get a better end result if we don't have the time to spend with the students, particularly those that struggle, that have been struggling since elementary and all the way through, and without figuring out a way to go with a longer school day or a longer school year or something because there is not enough time in the school day for these people to accomplish what they're being asked to accomplish without killing themselves."
"I don't think I have an answer to that," Stewart said. It wasn't clear if she meant to be ironic when she continued: "I think there is more state or district driven assessment now than when I taught." (She'd been an elementary school teacher, a guidance counselor, a principal and a deputy superintendent in St. Johns County before her move to the Department of Education.) Her suggestion: teachers could choose to use the state tests and "give up on some other assessment that I may have."
When Shellenberger–who's now a substitute teacher–described how, with FCAT dominating the curriculum, students think school is essentially done after testing, Stewart said that may be the case only with a small segment of students. The teachers in back of the room groaned in chorus, underscoring the divide between the state's perceptions and local realities.
John Fischer, the school board member, recognized Stewart for putting in travel time in various counties. But he was skeptical. "Every time that we talk to somebody, a senator or whichever, it's very nice to get the offer as far as the questions," he said, "but then once you're out the door, nothing is ever done. I'm not saying you, but I'm saying this is history." Fischer asked Stewart "what will be done or accomplished to help these frustrated teachers and parents and the children?"
Stewart said she and her assistant had "captured the questions, the comments, the themes," and would follow up, while finding out what information the Department of Education needs to be putting out more clearly. She had alluded early in her presentation to the department's hiring of a firm to improve its communications—essentially, a PR effort. Stewart's visit had amounted to little else.
The Department of Education meanwhile took some responsibility for the drop in FCAT scores, saying it did not adequately prepare schools and teachers for more rigorous standards that were put in place this year, which included an increased focus on grammar and punctuation. Instead the new standard appears to have been rushed, which led to the dramatic increase in unsatisfactory scores.
School-specific writing scores will not be out until at least the end of the week, leaving many districts in limbo as they wait to see if their schools will garner the necessary scores to keep the overall school grade from dropping, which has financial implications for already cash-strapped districts.
Even with the lower standards, more students this year will not receive a satisfactory score, a drop in success that state education officials say is prompted by tougher testing criteria and the fact that each test was scored by two people. At the 3.0 threshold, 81 percent of fourth graders, 77 percent of eighth graders and 84 percent of 10th graders passed the test. Despite the lower standard, some districts will still be adversely affected. School grades are partially determined by FCAT scores. Schools that perform poorly must divert resources to fixing the problem, which takes funds away from other areas.
Some state board members reluctantly supported the lower standards, but made it clear they would not continue to do so. School scores are expected to be out by the end of the week.
"The change from 4.0 to 3.0 looks like we are lowering standards," said John Padget. "I'm only voting on this so we can hold (schools) harmless for this year only:"
The low scores brought concern from the top as well. Gov. Rick Scott, in a sharply worded statement Monday, said the lower scores were of great concern.
"The significant contrast in this year's writing scores is an obvious indication that the Department of Education needs to review the issue and recommend an action plan so that our schools, parents, teachers and students have a clear understanding of the results," Scott said.
Stewart's round-table in Flagler was followed by a school board workshop then a school board meeting, which didn't end until 8:30 p.m. Shellenberger waited until the end for the public comment period, when she told the board of Stewart's earlier appearance: "I was a little disappointed, because I didn't agree with too much of what the chancellor said. I guess I did have it verified that there's nobody up there fighting for us, for you all, for these folks, and that's really sad. Really sad."
–The News Service of Florida contributed reporting from Tallahassee.