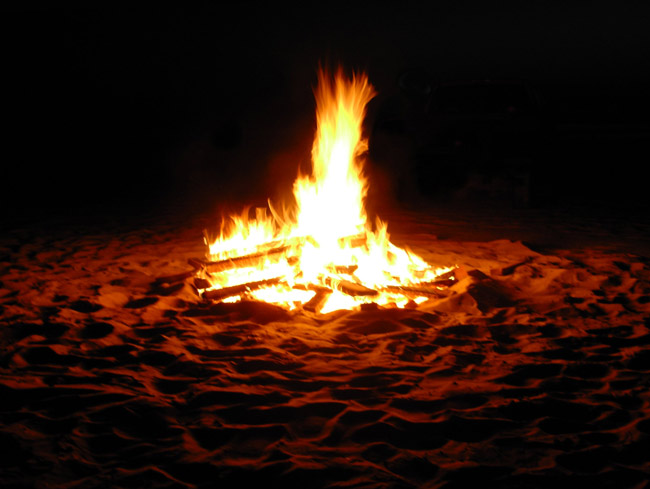 When the Flagler Beach City Commission agreed, at the end of a nasty hour of debate on April 26, to let voters decide in a referendum whether to allow bonfires on the city's beaches, you might have assumed that the issue was put to rest, at least until that referendum.
You'd have assumed wrong.
The bonfire issue will be blazing again come next Thursday's commission meeting as diametrically opposed intentions by Commission Chairman Jane Mealy and Commissioner Kim Carney have independently set up yet another clash over the matter.
And that's before the commission figures out when to put the matter to referendum—in the August primary, in the November general election, or in Flagler Beach's own municipal election next March. Commissioners never broached that subject, which is as fraught with political implications as the more fundamental issue, because a referendum next March would essentially render any regulation this season moot—unless the commission takes further action. Even a referendum in August means that for more than half this year's turtle season, beach fires will not be regulated.
Unless Mealy's motion for a permitting system, which she intends to bring up Thursday, wins a majority. That motion will be no less contentious than then previous batches of fuel that have kept the bonfire wars burning.
"We had talked last time that we have these two different permit applications," Mealy said Friday, "and we talked that I would combine the two, which is what I did, believing that we had consensus to do that. Maybe we didn't. But that's why I put it in there."
Bonfire-burners have never been required to apply for permits before lighting up. The proposed system would set out parameters within which fires would be allowed, including a 100-foot buffer from turtle nests, and beyond 5th Street North or 5th Street South. The application would create a written record linking fires to those responsible for them, that way if rules aren't being followed, the city can hold individuals accountable, and levy a fine. The fine's amount hasn't been set.
Last week the commission couldn't agree on whether to ban or allow bonfires by ordinance. So it punted to a referendum. The permitting structure is a different way of saying that the commission is endorsing fires on the beach, so its approval will be no less contentious, let alone assured. It's not an end-run around the referendum, Mealy said, but a measure to ensure that something is in place in the meantime. "In the interim," Mealy said, "if the burn ban ever gets lifted, until we have the referendum, people will still be able to have bonfires, and I think we ought to have a permit that tells us who it, is, where they're going and all that."
Carney had begun last week's debate on the matter by laying out the legal reasons why the city should back a ban on bonfires. But she also made her position on permitting clear: "If we do not find our way through this and the ordinance does not pass as written," Carney had said, "I'd like to stay on subject and address the need to take the permit out of the ordinance completely. If I were the fire chief or fire inspector in this city and know what I know now, I would not knowingly approve any permit for a fire on this beach during turtle nesting season. I would refuse to sign it. By allowing and permitting this fire, I believe there is exposure under the 2011 state statute 379.2431 [the Marine Turtle Protection Act]—I won't read it verbatim—but it sets us up for another party to a take. We are setting our employees up for risk. If you in fact do want to under-regulate, take the permit out. We have not been issuing them for years, so why would we start now?"
That's not Carney's only issue.
At that last meeting, Carney says, Commissioner Steve Settle made a motion to amend the proposed bonfire ordinance to specify that bonfires would be barred between dusk and dawn. Settle made the motion at precisely 8:06 p.m. The motion never got a second. But it was on the floor: it didn't die, because Mealy never actually called for a second. Rather, Commissioner Joy McGrew began outlining why she was opposed to a ban, prompt9ng Settle to address McGrew's points. The commission's debate went on from there, never addressing the Settle motion, right through to the public-comment period, which featured eight speakers. That period concluded with Settle making the motion for a referendum, which was seconded and approved, 4-1, with Carney in dissent.
None of the commissioners had apparently remembered Settle's original motion. Carney pointed it out a few days later in an interview, after going over a recording of the meeting. Mealy on Friday was aware that the matter might be brought back up at the next meeting, but she was under the impression that it related to the second Settle motion—the one concerning the referendum, which was handled properly through the vote.
"We still do not have a vote on the ban," Carney said. "A referendum is basically abducting our authority and our responsibility, which is to vote and to do what's right for the city." Carney's point, she said, was that "there was a motion on the floor, the chair did not call for a second, which I would have seconded if she had called for one, and that I'm hoping will force a vote." She added: "We seem to be hung up somewhere on somebody not wanting to get a vote."
Carney said she had consulted with the city's attorney about the procedure, and felt on firm ground to proceed and seek a vote on the motion, which she will likely make.
Carney and Mealy had a bit of a run-in during the last meeting when Carney suggested, without specifying names, that some people had not read the law at issue controlling turtle protection. Mealy took offense and rebuked Carney, asking her to address only the issue without leveling allegations she felt were obviously directed at commissioners. Carney complied.
The tension was revealing of the disagreements and difficulties the bonfire issue has unraveled among commissioners, who have yet to find their way clear of it. Mealy's and Carney's plans for the May 10 meeting suggest the embers are, burn ban aside, still crackling.