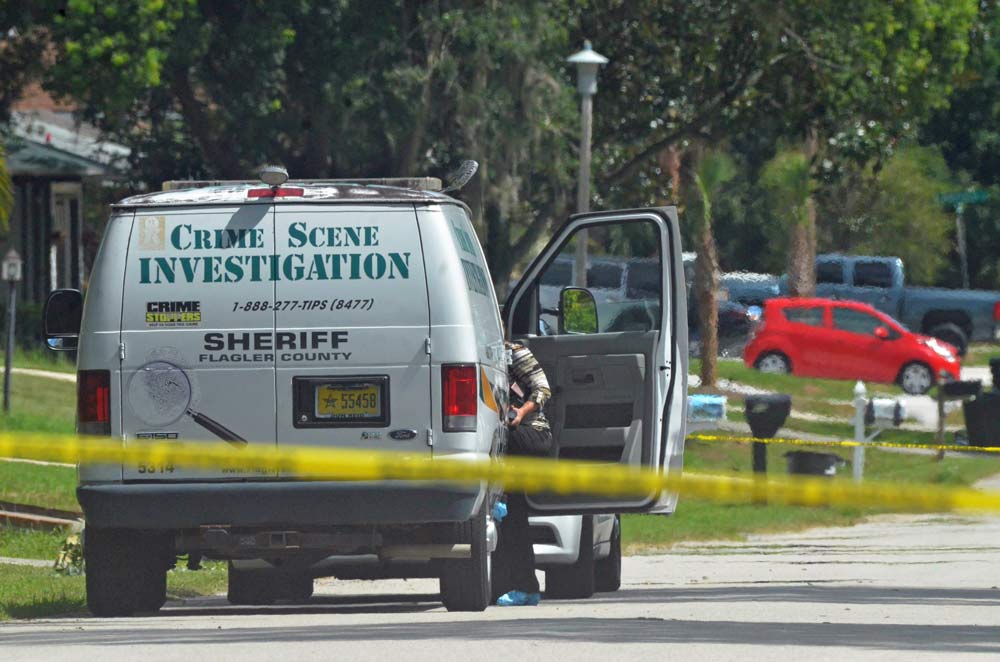 Last Updated: 8:46 p.m.
Charles Kidd Jr., 86, was arrested on a second-degree murder charge this afternoon following the early morning shooting death of 36-year-old Mark Ruschmeier, who has lived with Kidd at Kidd's Blare Drive home in Palm Coast's Woodlands for at least a decade. Kidd was said to have been threatening to kill the younger man for some time.
Ruschmeier was living there with his mother, Brigitte Ruschmeier, 69, the only other witness in the shooting. Kidd called 911 at 5:49 this morning to report his deed.




"Our detectives determined that there had been a verbal argument described as mild, not vey loud, in the hallway in the house," Sheriff Rick Staly said in an interview this evening, "and that Kidd Jr. pulled a gun and shot the victim, killing him. Detectives also determined that both Kidd Jr. and the victim had medical issues they were both dealing with."
Brigitte Ruschmeier in her interview with detectives–summarized in Kidd's arrest report–said that "there has been hostility between Mark and Charles for a couple of years for an unknown reason. She stated Charles has told her numerous times that he is going to kill Mark. Brigitte stated Charles has told her this in person as well as via text message."
The argument this morning was about the air conditioner. The two men scuffled in the bathroom. It had gotten serious enough that Brigitte Ruschmeier was walking to the living rom to call 911. Before she got there, she heard the first of two gunshots, then heard her son make a sound indicating he was hurt. The second shot then sounded.




Immediately after that, Kidd walked into the hallway and said: "He got what he deserved." He then went to his bedroom, from where he called 911. Ruschmeier rushed to her son. He was in a pool of blood in the bathroom, unresponsive. One of the gunshots had been to the head.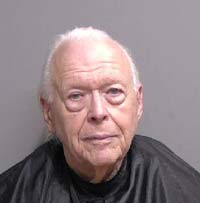 A man who described himself as the victim's nephew, and who had himself lived at the Blare Drive house for a while, said on the sheriff's Facebook page that Kidd suffered from dementia. If so, it is not uncommon for dementia patients to lose perspective and have disproportionate emotional reactions, including angry or violent reactions that can escalate quickly and unpredictably, in what would otherwise be minor confrontations. It would also raise the issue of Kidd's competence to stand trial, should it get that far. But Kidd's history of threats against Mark may belie that defense.
In his own interview with detectives, Kidd said he could not remember what was said or what took place with Mark. He said he recalled Mark "trying to choke him," according to what he told detectives, though Mark in the moments before his death had yelled out to Kidd to get off him. Kidd does remembers shooting Mark. But he could not explain what had led to the altercation. "He does not remember what happened afterwards or where he may have secured the firearm after the incident," his arrest report states. Kidd "believes he put it back into the lock box as he stated that is what he normally would have done."
Kidd confirmed that Mark did not brandish any weapons, and that he, Kidd, alone has firearms.
Kidd retired around 1985 from the U.S. Coast Guard, where he was a commander, and had been in investigations.
Staly said earlier today that the incident was "concentrated to that residence, so the community doesn't have to be concerned. It's a tragic incident." He added, "It's still a very active investigation by our Major Case Unit and CSI," a reference to the Crime Scene Investigation unit, which was still at the scene nearing noon today.




"We are securing the house until the medical examiner conducts their investigation and an autopsy to make sure that nothing changes in the investigation," the sheriff said this evening.
Blare Drive between Blaine Drive and Black Alder Drive was closed to traffic for much of the morning.
There were three adults in the house at the time of the shooting, all known to each other, no children. Alcohol or drugs appear not to have played a role in the incident, the sheriff said.
The significant amount of forensic work inside the house includes blood-spatter analyses, which hints at the possible defense by the assailant that the shooting may have been in self-defense: blood spatters could have helped investigators decipher the veracity of claims one way or the other–or determine whether the second shot was defensive at all.
"This is not a whodunnit, but we don't rush to make an arrest when everybody is identified and there is no threat to the community," the sheriff had said this morning. He predicted a "pretty significant update within 24 to 48 hours," and delivered the update in 12 hours. He said early indications are that the shooting was impulsive rather than calculated, "in other words it didn't appear to me to be a pre-meditated homicide." That explains the second degree murder charge, though the State Attorney may file a different charge.




It is still an extremely serious charge that can result in life imprisonment, although in Kidd's case, any sentence will be a life sentence. He will be 87 on Dec. 12.
In domestic homicides, it's not unusual that arrests are not made immediately. Investigators want to "make sure what we're being told matches with the evidence," the sheriff said. "We need to make sure all the evidence points in the direction we believe it does."
The house at 20 Blare Drive has been cause for nine sheriff's responses only since last October, not including today's incident–four times on civil calls (which can mean anything from issuing a subpoena or intervening in a private dispute to ensure the parties' safety–twice to assist another public agency, twice in response for verbal disturbances, and once because of an illegal parking issue.
The house, which is homesteaded, has been owned by Kidd at least since 2010, according to Flagler County Property Appraiser records, though he and his wife moved to Palm Coast in 1985. Kidd's wife Diane died 10 years ago. They have three grown children.




"Our prayers go out to the family and friends of the victim," Staly was quoted as saying in a release issued after the shooting. "Our detectives are working hard to determine what happened leading up to this incident." In an interview, the sheriff stressed that numerous resources are available in the community to address or hedge off domestic issues before they become violent. "Seek help before it boils over and somebody is seriously injured or dies," he said, noting a significant increase in domestic violence incidents, arrests and cases of stalking again this year, after a decline.
As for what happens next to Kidd, at least at the jail, that will depend on his medical evaluation. "Everyone arrested and booked in goes through a medical screening," Staly said. Depending on the screening, decisions will be made if he has to be held on the medical side of the jail, which has three beds, or if he would be held in solitary with a 24-hour watch, or placed in a maximum security cell base don his charge, "but all of that will be decided after he is assessed."
Asked whether there had been signs that might have prevented the shooting, with Kidd's medical issues, the sheriff said: "I'm not sure it could have been prevented with the information we know today. Law enforcement has the Baker Act capability. If we go to a call and someone qualifies for an RPO based on their actions that were observed by a deputy, information can be submitted to the Sheriff's Office's general counsel, who reviews it and sees" if it qualifies for what's called a Risk Protection Order. The attorney then makes the case before a judge, who then rules on whether firearms may be confiscated from that household, for the individual's protection. Several RPO's are typically in process at any given time through the agency.
"The other option that can be done is for the family or people that know an individual, if they feel they are unstable or [have] a medical condition that makes it where they shouldn't have a firearm," the sheriff said. "They can petition the court also. So there are ways for a family to handle if in fact that is the situation, because law enforcement is limited to what they see, and they're not living with people and interacting 24/7 like friends and relatives are. That's why they have the capability to petition the court. But they have to be willing to do tat, and what I've found in my law enforcement career is that family members are not willing to do that."