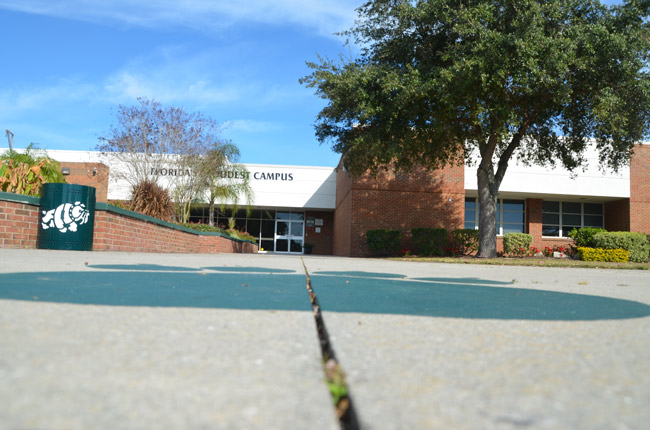 Last Updated: Jan. 24, 5:33 p.m.
The Flagler County school district ranks 29th among Florida's 67 districts in the state Department of Education's first-ever district-by-district ranking, and one of the first of its kind in the United States. St. Johns County ranked first, followed by Santa Rosa, Martin and Sarasota. Flagler was one of 30 districts scoring an A.
Madison was the lowest-ranked district, with the only D awarded. Thirteen counties got a C, including Putnam and Polk. Twenty-three districts got a B, including Volusia, Orange and Osceola. The Osceola B is relevant to Flagler in that Flagler just adopted a uniform policy for next year in large part based on the Osceola model. With Flagler's coming exception (and Alachua's), none of the state's A districts require uniforms.
"I always want to be better and I think all of us want to be better but we're proud of the fact that were an A district and we continue to be an A district,"  Flagler Schools Superintendent Janet Valentine said.
The rankings are based exclusively on FCAT scores, which limits the validity or reliability of the data, because it doesn't adjust for social or economic disparities between districts or take numerous other school-based factors into account, such as graduation rates, achievements on advanced placement or similar courses.
Scores on the Florida Comprehensive Assessment Test, for example, have become unusually inflated over the past several years, particularly through the writing portion of the exam. Last year the statewide passing rate on reading portion of the test was 72 percent for 4th graders and 55 percent for 8th graders. On the writing portion, an improbable 81 percent of 4th graders, 82 percent of 8th graders and 75 percent of 10th graders scored at least a 4 (out of 6), breaking records set in 2010 and 2009.
Flagler's FCAT scores are usually dragged down by students at the lower end of the achievement scale, the so-called at-risk students who are still struggling to get passing grades as they climb up the grades. Flagler Palm Coast High School two years ago became a Title I school, meaning that it became eligible for additional federal dollars to spend on needs as it sees fit. It hired a ninth grade graduation coach (Matanzas High School has one too), but all schools are focusing on lower-achieving students, Valentine said. The district is contracting with a company that enables schools to have a clearer picture of students' rankings so as to better target their academic needs individually.
Many of the districts at the top – St. Johns, Santa Rosa, Martin and Sarasota counties, the top four – all have large numbers of students who are socioeconomically fairly well off. Okaloosa County School Superintendent Alexis Tibbetts said she's concerned about the message the new rankings may send, especially for the districts at the bottom end of the scale.
Those counties tend to be poorer, or have a greater numbers of disabled and minority students, or those for whom English is a second language. Some of them have all of those factors. She cites studies done by the federal government over the last decade as a part of the "No Child Left Behind" system, which classifies groups of students into subgroups.
"And those subgroups of English-language learners, students with disabilities, minorities, and low- socioeconomic status are the four subgroups that have the lowest performance in school," she said. "And certain districts have a higher demographic that fall into those four subgroups…. The fact still remains that kids in poverty, our English language learners, our minorities and students with disabilities don't perform as well as other students."
Florida Education Commissioner Gerard Robinson acknowledges that some school districts have serious social and economic factors that weigh heavily on their ability to perform.
"…In no way are we saying that they are the bottom districts," Robinson said about the lowest-performing districts in a pre-taped video posted to the Department of Education's website. "What we'll do now is see how districts will move from year to year…and have a conversation about what we can do as citizens to support our public school system and support reform and innovation across the area."
In a conference call with reporters, Robinson added, "What I'd hate to do is people try to use poverty and socio-economic status alone as a reason why these students can't achieve. That would go against 10 years' worth of work that Florida's put in place to take our subgroups and move them higher."
Florida is continuing to stress "accountability" by means of a few, tangible measures applicable to every county, even though those measures have been increasingly questioned.
"Florida is considered a national leader when it comes to measuring the success of our schools," said Florida Education Commissioner Gerard Robinson. "The Florida Department of Education developed the first-ever school grading program in 1999, and since then we have provided our model to other states that wish to replicate our exceptional accountability system."
Florida's leadership on "accountability" has not translated into leadership in actual achievements. When the state is compared to the rest of the nation, it still ranks in the bottom in graduates who go on to college, ranks at or near the top of the drop-out charts, and is among the stingiest states in terms of per-student spending, which has been cut further in the past two years. Gov. Rick Scott vows to reverse the trend, but not enough to make up for recent years' losses. And while almost half the state's school districts score A's overall, based on their FCAT results, that achievement is not measurable against others states, because the FCAT is limited to Florida. When compared to students across the nation on national tests such as the ACT or the SAT, Florida, again, fares poorly, suggesting a disconnect between the state's focus on measurable outcomes such as the FCAT at the expense of nationally measurable academic achievements.
In the near future, the state Department of Education intends to push rankings down to the schools themselves, so that a school like FPC, for instance, will be ranked against all other high schools in the state. "Ranking districts and schools based on data-driven results demonstrates Florida's focus on ensuring students receive a high quality education and provides another helpful tool for parents, educators and taxpayers," Robinson said.
–The News Service of Florida contributed to this report.