Tony Robbin, Philharmonic Horns, the Art of Trash: Culture Worth the Miles
FlaglerLive | July 27, 2011
Tony Robbin at Orlando Museum of Art
If we credit Picasso with the original depiction of the four-dimensional cube on the Artist's canvas, then we may thank the technically, lyrical work of American painter Tony Robbin for bringing that concept into the computer age. Tony Robbin: A Retrospective opens at the Orlando Museum of Art on July 30 and runs through October 30. While that allows us plenty of time to see the exhibit, I suggest you go early, because you will want to visit this exhibit several times.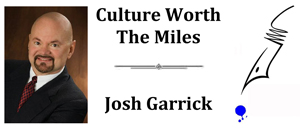 Robbin 'explores' four-dimensional objects on canvas; in prints (enhanced with brilliant water color); and in sculptures, resulting in vibrant works that are actually complex layers of geometric forms.  As both an artist – and an author – Robbin is a Master of contemporary painting. The new exhibit includes 25 paintings (arranged in chronological order), works on paper, a sculpture, and video animations. Each work invites the viewer into Robbin's complex world while offering the joy of discovery to those who linger long enough to follow the colorful, multi-dimensional 'road-map' he presents. A founding member of the Pattern and Decoration art movement (thanks to his love for rich patterns and colors), Robbin is a sought after lecturer at conferences for art historians, engineers, physicists, mathematicians, and computer scientists. "Art based on geometry is expected to be dry with only primary colors – who wrote those rules?" he asks. An author of 3 books, his most recent, Shadows of Reality, The Fourth Dimension in Relativity, Cubism, and Modern Thought was published in 2006. The OMA is located in Orlando's Loch Haven Park at 2416 North Mills Avenue. Parking is free. Call 407 896 4231 or visit omart.org
Mad Cow's 'Understudy'
For those who enjoy a witty look behind the scenes at the comic absurdities of the world of theater, the Mad Cow Theater presents The Understudy by Theresa Rebeck. The Understudy introduces us to Harry, played by Josh Geoghagan, who is hired to 'back-up' the lead in a Kafka play on Broadway. (Kafka on Broadway is a leap of faith to begin with.) Jake – the lead in the play within the play – is a Hollywood action-hero out to 'prove himself' as a serious actor. In a number of ways – designed to add to the chip on Harry's shoulder – he lets Harry know who the Star is. Coming between them is the stage manager, Roxanne who was – at one time – engaged to Harry. A Hollywood actor, a Broadway setting, a jilted bride-groom, and Kafka thrown in for spice mean the resulting collision of characters provides us with a smart new comedy willing to poke fun at the inner workings of the world of theatre. The Understudy will be performed from August 5 through August 28 at the Mad Cow Theatre at 105 South Magnolia Avenue in Downtown Orlando.  Call 407.297.8788 or visit madcowtheatre.com
If Andy Warhol Could Do It …
Orlando artists
Parker Sketch
and
M Scott Morgan
will fill Gallery Q (inside The Center at 946 N Mills Ave) with
TRASH
for the month of August! In a tongue-in-cheek homage to Andy Warhol (who elevated 'trash' to an art form), the
TRASH
pieces are created from discards. Works range from flattened paint cans to vinyl LPs 'melted' to create bowls. The artwork in
TRASH
challenges what we consider to be garbage.
Parker Sketch's
artwork may be painted on actual trash such as used screen doors or paint cans, and ALL his frames are 're-purposed.' While many pieces are 'traditional' in that they are painted on canvas, those paintings are of banana peels, beer cans, and apple cores presented as bold, pop art images. While the work has a pop art feel, Parker explores symbols, icons, and 'tools of communication, presenting them in a chaotic context. In college,
M Scott Morgan
discovered a talent for building set dressing and props for the theater. Scott's approach to
Trash
comes from a 25-year career that has forced him to be a resourceful Prop-Master,'re-purposing' found items from thrift stores, garage sales, and even from the side of the road. Where most people see 'trash,' Scott sees potential. He demonstrates how found objects can be salvaged into decorative art, saying, "One man's trash is truly another man's treasure." The Opening Reception will be held on August 6 from 6 to 9 pm at 'The Center.' Call 407.228.8272
More Sounds of Summer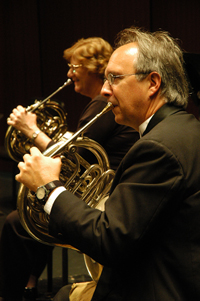 The Orlando Philharmonic's popular Sounds of Summer Series continues with Hornscapes on Monday, August 8 at 7 pm. The sheer enjoyment of this series is in music programming that ranges from the serious to the not-so-serious. "Hornscapes will give listeners the opportunity to explore the origins of the modern French Horn going back to the 'Natural' or 'Hunting' Horn," says Philharmonic hornist Mark Fischer. "The Horns of the Philharmonic will be joined by four professional hornists from Central Florida to perform original works composed by Kerry Turner for eight horns."  Other music includes J. S. Bach's Prelude and Fugue; Wagner's Tannhauser Quartet; Eugene Bozza's Chorale;and Anton Reicha's Trio for Natural Horns. Hornscapes will feature Philharmonic players Mark Fischer, Carolyn Blice, Kathleen Thomas and Kevin Brooks and guest horns Johnny Pherigo, Pamela J. Titus, Benjamin Lieser, and William Warnick. The performance will take place in the Shakespeare Center at 812 E. Rollins Street in Loch Haven Park in Orlando. Call 407-770-0071 or visit OrlandoPhil.org