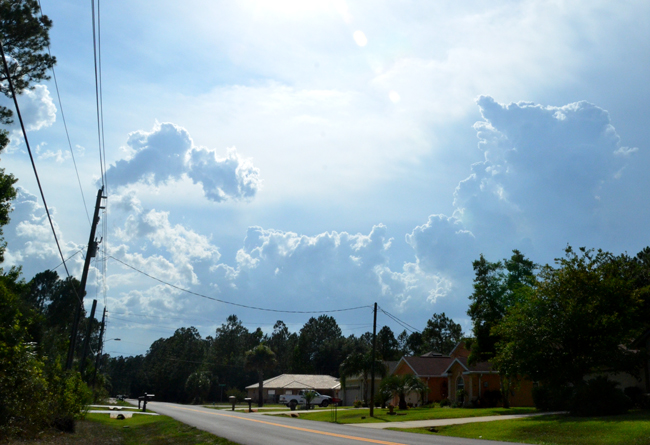 Last Updated: 4:21 p.m.
It's a bad news-good news sort of thing: Friday's rains dumped up to 2 inches on the 5,200-acre Espanola fire, but it also unleashed an artillery barrage of lightning, triggering 12 fires on Friday and four new ones discovered just between 2 and 4 p.m. Saturday. More are likely as the rest of the afternoon and evening unfold.
The new fires are relatively small: a 5-acre fire on western State Road 100, across from Shell Bluff; a 10 to 12-acre fire in the Favoretta area, near U.S. 1, south of Korona; and two additional fires in the area of the old Dog Pen fire, in northwestern Flagler County, both of them relatively small at last report, though their exact size has not been confirmed because Fire Flight, the county's helicopter, has had to return to the Flagler County Airport because of bad weather.
Today's fires are in addition to the 12 that declared on Saturday, though most of those are either controlled or out, with the exception of the two County Road 13 fires, near Opossum Lane, which were still burning strongly today–but had received considerable rain, too, keeping them from spreading. One of those two fires was 20 acres as of last night.
Whether the fires are small or large is initially immaterial in one critical regard: fire units have to be dispatched to them regardless, stretching the county's forces very thin. The Division of Forestry is concentrated on the Espanola fire, where it has about 200 fire fighters and most of its bulldozers. "It's still burning as if it's not raining," Flagler County Fire Chief Don Petito said. It'll burn less only with sustained, not spotty, rain.
County and city fire departments are responsible for responding to new fires, whether in the wild or in homes. The county remains responsible for responding to all medical calls.
The Division of Forestry has sent out a few dozers to help contain some of the new fires, but the county's units are stretched very thin, and getting stretched thinner as new fires are added to the list.
New fires continue to start across the state as well. In the last 24 hours, the Division of Forestry registered 55 new fires across the state, burning 611 acres, for a total of 387 active fires, burning a total of 45,308 acres.
Rain showers were falling in parts of Flagler County Saturday afternoon, with some heavy precipitation forming around the central portion of the county after 4 p.m.–a good sign, again, for the Espanola fire. But that system was also bringing more lightning, a bad sign for the rest of the evening and tomorrow.