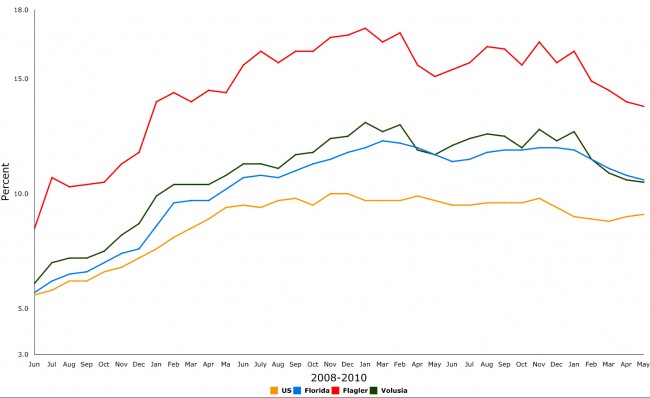 Flagler County's May unemployment rate was down to 13.8 percent in May from a revised 14 percent the previous month (when initial figures by the state's labor department had placed the rate at 13.8 percent). Flagler's labor force of 32,766 has shrunk by 3 percent over the year, from 33,809.
In Florida, the unemployment rate continued to edge down, to 10.6 percent from April's 10.8 percent, its best showing in two years. There were 980,000 unemployed Floridians last month. The state added 28,000 jobs, though the net increase overall in the past 12 months is still just 24,900 jobs, reflecting the extent of job losses along the way.
Flagler remains the county with the highest unemployment in the state, followed by Miami-Dade (13.7 percent) and Hendry County (13.3 percent). Monroe had the lowest unemployment rate, at 6.3 percent, followed by Liberty (6.5 percent) and Walton (6.6).
In May, compared with April, construction added 4,100 jobs, a 1.2 percent increase that reverses long losses in the industry. Trade, transportation and utilities added 5,900 jobs, Education and health services added 9,800, and leisure and hospitality added 6,700. The sector with the most job losses last month again as government, with 2,500 jobs lost, including 1,200 federal jobs and 1,000 local government jobs.
Over the past 12 months, most job gains were in leisure and hospitality, which added 45,100 jobs, a gain of 4.9 percent. That figure may take a dip in coming months as the state's wildfires may have an impact on tourism.
Other industries gaining jobs over the year include private education and health services (a gain of 24,500 jobs, or 2.3 percent), trade, transportation, and utilities (10,500 jobs), professional and business services (6,600 jobs) and other services (800 jobs). Industries losing jobs over the year include government (a loss of 41,500 jobs, or 3.6 percent), construction (14,300 jobs), information (4,700 jobs), financial activities (1,300 jobs) and manufacturing (900 jobs).