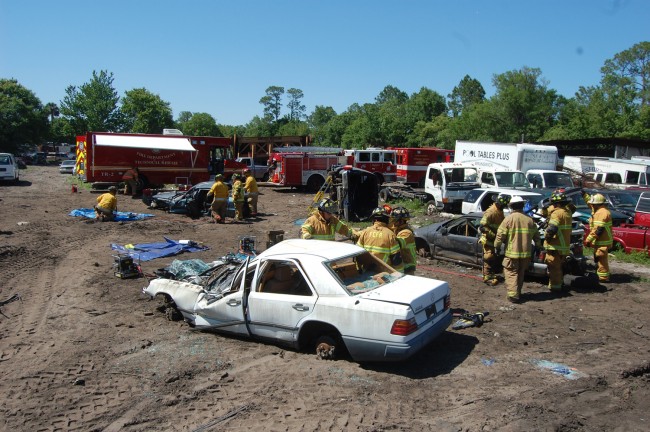 It looked like a disaster scene: smashed up cars everywhere, firefighters working in clusters around the smash-ups, some of them with hydraulic Jaws of Life equipment that can cut through metal with 38,000 pounds of pressure per inch, cutting up vehicle roofs, spreading open shuttered steel, stabilizing a car standing up on its side. Lined up behind the accident scenes were Palm Coast and Fire County Fire Department trucks.
Missing from the scene were actual people trapped in any of the cars. The scene, earlier today—and for most of the day at John's Auto Parts, the sprawling wrecking yard south of Bunnell on U.S. 1—was one of many like it every month when firefighters from the county and each of Flagler's three cities combine for training exercises on skills and tactics they use routinely, from extrication of trapped accident victims to rescues from enclosed spaces to firefighting techniques in homes or bigger structures.
The exercises have two purposes: practicing those skills and tactics, and developing seamless communications, from command to execution, between the firefighters from various agencies, because they often find themselves working the same scene together. The county and the three cities' fire departments have been emphasizing cooperation to more efficiently handle emergency scenes: every month, a particular type of tactic or scenario is chosen, and every one of the 150-some firefighters working for the four firefighting agencies will, over the course of a week or two, go through the same training, usually in combined teams from the four agencies.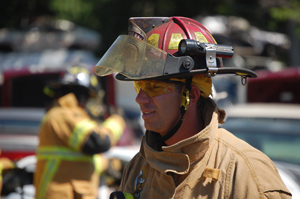 About 15 men and women from the Palm Coast Fire Department and the Flagler County Fire Department were training this afternoon under the joint leadership of Lt. Jason Wagner of Palm Coast and Lenny Ensalaco, training chief for Flagler County.
"We're not doing the big, advanced possibility of a tsunami hitting," Flagler County Fire Chief Don Petito said. "We're training on car accidents, extrications, the treatment of patients in certain situations, how to attack a fire in an apartment or a house or a commercial structure, and I think one of the calls that would come to mind that this is the way it needs to be is the warehouse fire." That's the fire at Eagles Nest Storage in Flagler Beach last week. "We had Flagler Beach, Palm Coast, Flagler County, and I think Bunnell might have showed up on that one. But you had all those crews working together and they put that fire out without burning the whole building down, which is a good thing."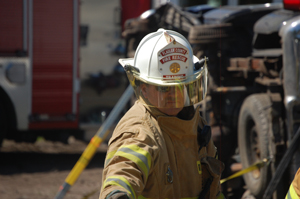 On Tuesday, Palm Coast Fire Chief Mike Beadle briefed his city council on the stepped-up cooperation between the city and the county, summarizing in words and Powerpoint what the firefighters were putting in practice on Wednesday. Beadle, Petito and their line chiefs have been meeting since last July to devise better ways "basically to get along," Beadle said, communicate more efficiently, and save some money. "It's working very well."
Beyond emergency situations, the city and the county are combining purchasing methods and vendors and  computer language—literally, enabling county and city computers on fire trucks to interface, reducing the need for verbal communications or mix-ups. The city is also adopting the county's paperless documentation of medical call. Each medical call entails about 136 pieces of information that have to be documented. "It's going to help us with transfer of information not only within the departments but again within the receiving agencies, the hospital," Beadle said.
Plenty more is being shared as well, down to standard operating procedures.  "We decided to combine the EMS protocols and the fire department standard operating guidelines—basically, procedures on how to do things," Petito said on Wednesday. "Same thing with EMS medical protocols, which is: these are the medical treatments we're going to do and this is how we're going to do them. Once we got that done we started training on those particular procedures, protocols and so forth. This is just a small part of the training that you see here."
What prompted the presentation to the city council the previous day, beside the update on routine cooperation, is what amounts to the first step toward consolidation of services between the agencies—a step the council members had to approve, because it's a matter of fiscal policy. Palm Coast and the county have agreed to share a medical director.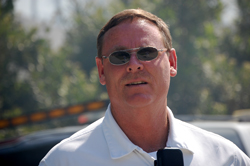 Until now, each agency had its own medical director. Edwin Forsberg was a physician on contract with the city for $24,000 a year. The city's medical director, Carol Grigg, was a county employee, at close to $40,000. They'll be replaced by Andrew Coleman, director of the emergency room at Florida Hospital Flagler, on a contractual basis, for $55,000–$20,000 to be paid by the city, the rest by the county. The savings are more modest than the efficiency that will presumably be gained.
Every fire department needs a medical director because firefighters conduct medical procedures and dispense 48 types of medication in the field, eight of them narcotics controlled under Drug Enforcement Agency protocols, such as morphine and valium. What medical procedures firefighters do and medicines they dispense have to be run through the medical director. At times, when county and city firefighters have responded to a scene, there's been disagreement between the directors—and subsequent disagreement from the ER director, who also weighs in. Combing the two agencies directors into one position, which happens to be that of the ER director, will eliminate those disagreements.
For the men on the line, the joint training matters because it eliminates frictions and mis-communications, improving responses in emergency situations. "We're very excited about the training we're doing. It's very, very good for everybody. Lt. Richard Bennett of the Flagler County Fire Department said. "Obviously working together on the training gets everybody on the same page. We use the same equipment, the same techniques. It provides a better service for the taxpayers. Better cooperation as far as medical directors puts us on the same page as far as treatment for our patients."
Whether this is, in fact, a first step toward broader consolidation is open to question—a question council members did not ask Tuesday morning, though Jim Landon, the city manager, told them: "When you start dealing with who's going to provide what service and where and all that, we still have a ways to go." What was important, Landon said, was to get a "success" notched up, such as the consolidated medical director position, and move from there.