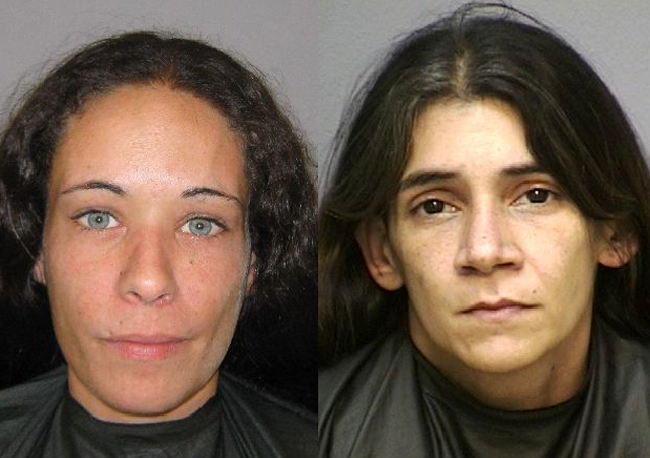 Flagler County Sheriff's deputies arrested Lisa Touhey, 29, and Jennie McAfee, 30, Monday evening on charges of burglary after a homeowner at Ryan Drive in Palm Coast discovered the two inside her house.
The victim reported arriving home around 6:40 p.m. and seeing shadows moving inside the house at 3 Ryan Drive, a small house near the corner of Ryan and Rymfire Drives, off of Belle Terre Parkway. The house is owned by Maureen Day.
Touhey and Jennie McAfee, both of 39 Bellaire Drive, were found inside the home when deputies arrived.
"Our victim did just what she should have done; she called the Sheriff's Office when she saw suspicious activity. We encourage everyone to call when they suspect something is wrong. Don't investigate it yourself- that's our job," said Sheriff Don Fleming.
Deputies reported the two women were seen exiting through the backdoor of the house. When deputies identified themselves, McAfee stopped, but Touhey ran towards the front of the house where she was taken into custody by two waiting deputies.
The two told deputies they had been living in the house since March 18, after being released from jail.
The homeowner reported miscellaneous jewelry and a lawn mower were missing.
McAfee was charged with burglary and theft. Touhey was charged with burglary, theft and resisting an officer without violence.
Both were booked into the Flagler County Inmate Facility. Touhey is being held on $2,500 bond and McAfee's bond is set at $2,000.
Touhey, a native of Long Island, was jailed in March on a probation violation charge, a misdemeanor. She was jailed last October on a failure-to-appear charge. And she was jailed in October 2009 for knowingly driving with a suspended driver's license. She's also been in jail in Volusia County, where she was arrested that same month on a petit theft charge.
McAfee, a native of Las Vegas, was arrested three times in Volusia County between 2005 and 2008 on various minor charges. Her first arrest in Flagler dates to October 2009, on four charges, including drug possession, driving on a suspended license and a
snatching robbery. She's been jailed three times since, including the last booking.


In a separate incident on Sunday evening–the same evening when deputies responded to an apparent murder-suicide in northern Palm Coast–Flagler County responded to the apparent accidental shooting of a 20-year-old Walton Kinney III of West Flagler County.
Kinney was shot once in the stomach about 11:30 Sunday evening at his home on County Road 105. Friends who were with Kinney at the time of the incident reported an argument had occurred between Kinney and another man, Lawrence Cowart, 22, of 13643 County Road 100 West, Bunnell. Witnesses said Kinney grabbed a gun and began swinging it around. Cowart attempted to wrestle the gun away and the weapon discharged during the struggle, according to statements given to the deputies.
Witnesses told deputies Cowart put Kinney into a truck to drive him to the nearest hospital, but deputies intercepted them on County Road 305 and began administering aid until Flagler County Fire Rescue arrived on scene. Kinney was airlifted to Halifax Hospital with a non-life threatening injury.
Deputies reported Kinney, Cowart and others at the house were intoxicated.
The incident is under investigation.