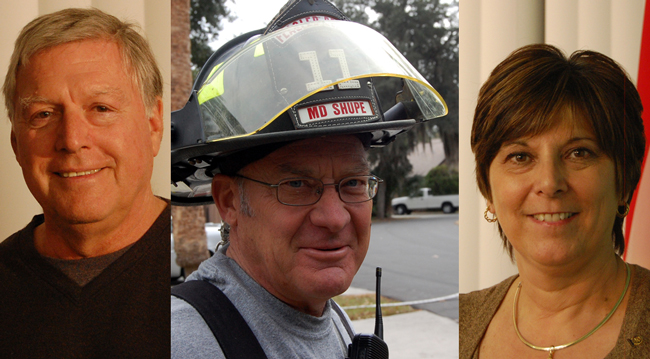 The electoral fortunes of three candidates for two open seats on the Flagler Beach Commission rose significantly when a fourth candidate, Jamie NeJame, surprisingly withdrew his candidacy just before the qualifying period ended earlier this week (on Jan. 26). That leaves Phil Busch, Kim Carney and Marshall Shupe vying for the two seats being vacated by Ron Vath and Joy McGrew, who decided in December not to run for re-election. So two of the three candidates are bound to be elected.
NeJame had run twice before, once against Mayor Alice Baker, and once for a city commission seat, polling distantly back both times. He said family and work commitments changed his mind. Both his daughters are in the military–one has just returned from Afghanistan, the other is stationed in Guam–and he plans to visit them. He'll also be piloting yachts for clients to or from the Bahamas and a Caribbean island (he's a yacht captain and brokers yachts for sale). "With the things that are coming up, if I can't do the job right, I don't want to do it," NeJame said, "and I think it's important whoever gets in there has the time to do it right."
NeJame's late withdrawal, intentionally or not, may have worked to keep other prospective candidates from throwing in their candidacy. Even after the passing of the qualifying deadline, his withdrawal was not generally known, though his candidacy had been.
Busch and Schupe haven't run for office before, though Busch's wife, Randy, is a former city commissioner. Carney ran in March 2009 and polled third in a similar situation–in a field of three running for two open seats. Commission Chairman John Feind and Vath were the winners at the time.