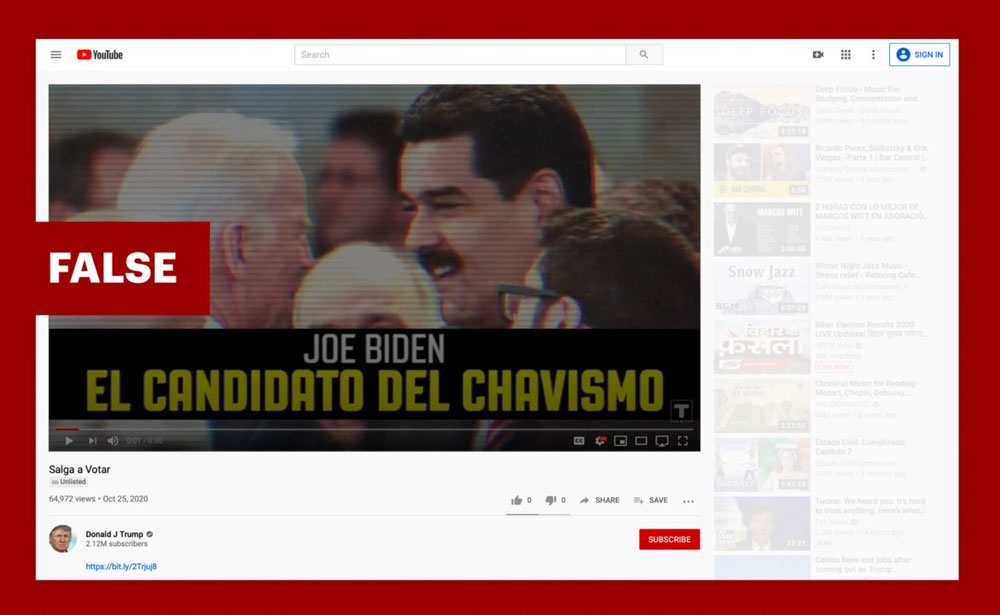 In Florida, where President Donald Trump gained crucial support among Latino voters, his campaign ran a YouTube ad in Spanish making the explosive — and false — claim that Venezuela's ruling clique was backing Democratic nominee Joe Biden.
YouTube showed the ad more than 100,000 times in Florida in the eight days leading up to the election, even after The Associated Press published a fact-check debunking the Trump campaign's claim. Actually, Venezuelan President Nicolás Maduro expressed opposition to both presidential candidates.
The video was part of a broader Trump campaign strategy in heavily Latino South Florida that sought to tie Biden to Socialist leaders like Maduro and the late Cuban President Fidel Castro. Trump won Florida by about 375,000 votes, the largest margin in a presidential election there since 1988. He carried about 55% of the Cuban American vote, according to exit polls by NBC News.
"Latinos who live here in the U.S. have left socialist or communist regimes," said Diego Scharifker, a Venezuelan American lawyer, former city councilor in Caracas and co-founder of the pro-Biden group Venezolanos Con Biden. "There is of course a big impact or fear or scarring in the Latino community in the U.S. from communism. Trump with his false accusations and false information was fearmongering and playing on the pain to promote his agenda."
The ad illustrates gaps in the policing of misinformation by Google, which owns YouTube. While Google nominally prohibits all false claims in advertising, it rarely takes down political ads. In addition, shortcomings in its transparency tools make it harder for watchdogs and fact-checkers to scrutinize ads.
Google's political ad rules are "trying to have it both ways" with respect to fact-checking, said Bridget Barrett, a political communication researcher at the University of North Carolina. "In reality, basically everything stands." Google sees claims like the one about Maduro as being "within the public arena that should be contested by Biden's campaign or fact-checked by journalists," Barrett added.
YouTube approves ads by both human and machine review. Its policies prohibit any advertiser from making "a false claim — whether it's a claim about the price of a chair or a claim that you can vote by text message, that election day is postponed, or that a candidate has died."




Charlotte Smith, a company spokeswoman, told ProPublica in an email that "we don't make any special exceptions for politicians." Nevertheless, YouTube takes down only a "very limited" number of political ads making "demonstrably false claims that could significantly undermine trust in democratic or electoral processes," she said.
The Trump campaign ad "doesn't meet that bar," she said. "This video does not violate our policies. … Political ads are known for being hyperbolic, and we're not going to attempt to adjudicate every claim or counterclaim."
Other platforms are at least somewhat more restrictive. While Facebook doesn't fact-check campaign ads, it banned new ones within a week of the election. (The Trump ad does not appear to have run on Facebook, according to its ad library. If it had, the ban may not have applied to it, because it began running on YouTube on Oct. 26, eight days before the Nov. 3 election.) Facebook's fact-checking partners do vet ads by political action committees and other third-party groups, some of which get removed. Twitter banned all political advertising. Although broadcast television stations aren't allowed to choose candidate ads by content, cable networks can, and sometimes do, reject ads. The Trump ad didn't appear on TV, according to Advertising Analytics, an ad-tracking firm.
The Trump campaign saw YouTube as a key to its strategy, according to a Politico report in September. It ran more than 18,000 video ads on YouTube this year. The campaign spent $106 million, including $37.2 million in the last month of the campaign, on Google's platform, including both YouTube ads and Google search ads.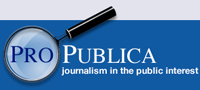 The questionable video begins by describing Biden as "the candidate of Chavismo," referring to the brand of socialism associated with Hugo Chávez, the late leader of Venezuela, and Maduro's government. It then shows Diosdado Cabello, a Maduro ally and Venezuela's second-most powerful politician, saying on his television program that the "brisa Bolivariana," or the "Bolivarian breeze" of Latin American socialism, "is blowing, blowing, blowing, blowing. … Let's see what happens. Maybe the Bolivarian breeze will reach the United States. In how much time? In 13 days until the elections." The term "Bolivarian" is an allusion to Simón Bolívar, the 19th-century revolutionary, claimed as an inspiration for many Latin American socialist movements.
Then the text on the screen reiterates that "the Chavistas" — the political party that controls Venezuela — "want Joe Biden to win." The video concludes with a statement that it was paid by the Trump campaign and Trump saying that he approved the message.
There's little doubt that the relationship between the Trump administration and the Maduro government is tense. Trump has imposed sanctions on Venezuela and on Maduro and Cabello personally. The U.S. government indicted both Maduro and Cabello on narco-terrorism and drug trafficking charges in March. Venezuelan state-run television has struck a "completely anti-Trump" tone, said Daniel Acosta-Ramos, an investigative researcher at First Draft, a nonprofit that tracks misinformation and an Electionland partner.
Yet Maduro said in late September that he didn't care who was elected. "If Trump wins the elections, we will confront him and defeat him, and if Biden wins, we'll confront him and defeat him too," he said. An AP fact-check of a video that resembles the one in the Trump campaign ad concluded that neither Biden nor Maduro "has declared that there is any kind of affinity between them or between their national projects."



In the television segment from which Cabello's "Bolivarian breeze" remark was clipped, he didn't explicitly mention Trump, Biden or the Democratic or Republican parties. While the remark could be interpreted as hoping that Biden would be elected and promote the agenda of his party's progressive wing, Cabello has a reputation for being a provocateur and saying unclear things on purpose, according to Acosta-Ramos. "That ambiguity creates an environment ripe for misinfo," he said.
The ad, Acosta-Ramos said, was "micro-targeted for people who know what the 'brisa Bolivariana' means. Not just Venezuelans, but also Cubans and Colombians."
Other YouTube ads from the Trump campaign reinforced the false message. They showed clips of Maduro referring to Biden as "Comrade Biden" in a 2015 speech. Although it was only a passing reference, and Maduro accused Biden shortly afterward of plotting to overthrow him, Donald Trump Jr. framed it as evidence that Biden was weak on socialism.
The Trump campaign's official bilingual Twitter account also claimed that Maduro's regime supported Biden. A tweet from President Trump called Biden a "PUPPET of CASTRO-CHAVISTAS." Trump ads on Facebook called Biden a "socialist" and pictured him with Rep. Alexandria Ocasio-Cortez and Sen. Bernie Sanders, both of whom refer to themselves as democratic socialists.
"There was a concerted effort by the Trump campaign and their allies to misrepresent Joe Biden and his values because they knew they couldn't win on Trump's disastrous record," a Biden campaign official told ProPublica.
Florida's Venezuelan population has grown to about 200,000, of whom an estimated 50,000 are registered to vote. In Doral, a city in Miami-Dade County that's home to many Americans of Venezuelan, Cuban and Colombian descent, Trump pulled in roughly 49% of voters in 2020, up from 29% in 2016. Overall, in Miami-Dade, Trump garnered nearly 200,000 more votes than he had in 2016, shaving the Democratic margin from 29% to 7%.
The Trump campaign, the White House and the Venezuelan Embassy did not respond to requests for comment.
The Trump ad may have attracted relatively little notice during the campaign because of inadequacies in the political ad report that Google established in 2018 to improve transparency. Unlike Facebook's political ad archive, Google's doesn't group identical ads together if, for instance, they were shown over different time periods. Google's transparency tools showed three different copies of the "brisa Bolivariana" ad, giving separate data for each. Google also doesn't make videos searchable or any ad content downloadable in bulk.
The design doesn't allow opponents, journalists or watchdogs to meaningfully analyze the 263,000 political video ads (and 361,000 other ads) that Google sold in 2020, Barrett said.
"You're just drowning in content and overwhelmed by these individual pieces of advertising content, and really many of them are the same, you're stuck trying to swim through this overwhelming sea of ads," Barrett said. Ads "can disappear into the depths of the ad library."
Google has said that it only allows advertisers to target political ads by users' location, age and gender, and that it discloses these targeting choices on its transparency website. The three copies of the "Bolivarian breeze" ad were targeted by location to Florida users.
Although it's not disclosed in Google's transparency tools, YouTube ads also may be targeted by language, for example to Spanish speakers, Smith said.



It's unclear exactly how much the Trump campaign spent on the ad and how many times it was shown. Google's data show that the Trump campaign spent between $1,000 and $5,000 on one copy of the ad; between $100 and $1,000 on another; and less than $100 on the third. Two of the copies were shown fewer than 10,000 times, and the third was shown between 100,000 and 1 million times. Facebook publishes more precise information.
Trump supporters amplified the campaign's message, professing to connect Biden and other Democrats to "Castro-Chavismo," a term linking Venezuelan socialism to Cuba's. False posts on social media, of undetermined origin, purported to show Jill Biden, Joe's wife, standing next to Fidel Castro. It was actually Jacqueline Beer, the wife of a Norwegian explorer.
"We saw a huge number of WhatsApp messages being shared in Venezuelan, Cuban groups, saying the governments of these countries that we escaped, [they] want Biden — so we should vote Trump," Acosta-Ramos said.
What a Biden staffer described as a flood of information put the Democrat's campaign on the defensive. The Biden campaign mounted its own fact-checking effort to push back against the claims about Biden and socialism. It invested heavily in outreach to Florida Latinos, including six-figure media buys in the last two weeks of the campaign targeting the community, a staffer said. At an early October rally in Miami, Biden said, "Maduro, who I've met, is a dictator, plain and simple, and he's causing incredible suffering among the Venezuelan people."
–Jeremy B. Merrill for ProPublica, and Ryan McCarthy, ProPublica; Ronny Rojas of Telemundo, Derek Willis and Ivette Leyva contributed reporting.
En Florida, donde el presidente Donald Trump ganó el apoyo crucial de los electores latinos, su campaña publicó un video propagandístico en español en Youtube con la explosiva -y falsa- afirmación de que la élite gobernante de Venezuela apoyaba al candidato demócrata Joe Biden.
YouTube reprodujo el video más de 100,000 veces en Florida en los nueve días previos a las elecciones, incluso después de que The Associated Press publicara una verificación de información que desacreditaba la afirmación de la campaña de Trump. En realidad, el presidente venezolano Nicolás Maduro había expresado su oposición a ambos candidatos presidenciales.
El video fue parte de una estrategia más amplia de la campaña de Trump en el sur de Florida, densamente poblado por latinos, que buscaba vincular a Biden con líderes socialistas como Maduro y el difunto presidente cubano Fidel Castro. Trump ganó en Florida por unos 375,000 votos, obteniendo el mayor margen en una elección presidencial en ese estado desde 1988. Se adjudicó alrededor del 55% del voto cubano-estadounidense, según las encuestas a boca de urna.
"Los latinos que viven aquí en EEUU han huido de regímenes socialistas o comunistas", dijo Diego Scharifker, abogado venezolano-estadounidense, ex concejal de la ciudad de Caracas y cofundador del grupo Venezolanos Con Biden. "Desde luego, existe una gran repercusión o temor o cicatrices a causa del comunismo entre la comunidad latina de los EEUU. Trump, con sus falsas acusaciones e información falsa, estaba sembrando el miedo y jugando con el dolor para promover su agenda".
El video ilustra las lagunas en el control de la desinformación por parte de Google, el propietario de YouTube. Aunque Google prohíbe en teoría todo tipo de declaraciones falsas en la publicidad colocada en su plataforma, rara vez retira los anuncios políticos. Además, las deficiencias de sus herramientas de transparencia dificultan que los supervisores y los verificadores de información examinen los anuncios.
Las normas que rigen los anuncios políticos de Google "tratan de tener ambas posturas" en lo que respecta a la verificación de información, señaló Bridget Barrett, investigadora de comunicación política de la Universidad de Carolina del Norte. "En realidad, básicamente todo vale". Google considera que afirmaciones como la que se refiere a Maduro se encuentran "dentro de la esfera pública, por lo cual deberían ser impugnadas por la campaña de Biden o verificadas por los periodistas", añadió Barrett.
YouTube aprueba los anuncios mediante la revisión tanto de personas como por máquinas. Sus políticas prohíben a cualquier anunciante hacer "una declaración falsa, ya sea una afirmación sobre el precio de una silla o una declaración de que se puede votar por mensaje de texto, o que el día de la elección se ha aplazado, o que un candidato ha fallecido".
Charlotte Smith, una portavoz de la compañía, informó a ProPublica en un correo electrónico que "no hacemos ninguna excepción especial para los políticos". No obstante, YouTube sólo retira un número "muy limitado" de anuncios políticos que hacen "afirmaciones que se demuestra son falsas y que podrían socavar significativamente la confianza en los procesos democráticos o electorales", precisó.



El anuncio de la campaña de Trump "no incumple con ese criterio", afirmó. "Este video no infringe nuestras políticas…Los anuncios políticos son conocidos por ser hiperbólicos y no vamos a intentar juzgar cada reclamo o réplica".
Otras plataformas son algo más restrictivas. Si bien Facebook no verifica la información publicada en los anuncios de campañas políticas, sí prohibió algunos nuevos en la semana previa a las elecciones. (El anuncio de Trump no parece haber sido publicado en Facebook, según su repositorio de anuncios. De haberlo sido, es posible que la prohibición no se le haya aplicado porque se comenzó a difundir en YouTube el 26 de octubre, ocho días antes de la elección del 3 de noviembre). Los socios de verificación de datos de Facebook sí revisan los anuncios de los comités de acción política y otros grupos de terceros, algunos de los cuales son eliminados. Twitter prohibió toda la propaganda política. Aunque las estaciones de televisión no pueden seleccionar los anuncios de los candidatos según su contenido, las redes de TV por cable sí pueden y a veces rechazan los anuncios. El anuncio de Trump no apareció en televisión, según Advertising Analytics, una empresa de rastreo de anuncios.
La campaña de Trump consideró a YouTube clave para su estrategia, según un reportaje de Politico en septiembre, y publicó más de 18,000 anuncios en video en YouTube este año. La campaña gastó $106 millones, incluyendo $37.2 millones en el último mes de la campaña electoral, en la plataforma de Google, tanto en los anuncios de YouTube como en anuncios de búsqueda de Google.
El cuestionable video comienza describiendo a Biden como "el candidato del chavismo", refiriéndose al tipo de socialismo asociado con Hugo Chávez, el difunto líder de Venezuela, y el gobierno de Maduro. Luego muestra a Diosdado Cabello, un aliado de Maduro y el segundo político más poderoso de Venezuela, diciendo en su programa de televisión que la "brisa bolivariana" del socialismo latinoamericano "está soplando, soplando, soplando, soplando…Vamos a ver qué pasa. A lo mejor llega hasta Estados Unidos la brisa bolivariana. ¿En cuánto tiempo? En 13 días que faltan para las elecciones". El término "bolivariano" es una alusión a Simón Bolívar, el revolucionario del siglo XIX reivindicado como inspirador de muchos movimientos socialistas latinoamericanos.
Luego el texto en la pantalla reitera que "los chavistas" -miembros del partido político que controla Venezuela- "quieren que gane Joe Biden". El video concluye con una declaración de que el anuncio fue pagado por la campaña de Trump, con la voz de Trump diciendo que aprueba el mensaje.
Hay pocas dudas de que la relación entre el gobierno de Trump y el gobierno de Maduro es tensa. Trump ha impuesto sanciones a Venezuela, así como a Maduro y Cabello directamente. El gobierno de EEUU acusó a Maduro y Cabello de narcoterrorismo y tráfico de drogas en marzo. La televisión estatal venezolana ha adoptado un tono "completamente en contra de Trump", dijo Daniel Acosta-Ramos, investigador en First Draft, una organización sin fines de lucro que realiza seguimiento de la desinformación y es también colaboradora de Electionland.
Sin embargo, Maduro dijo a finales de septiembre que no le importaba quién fuera electo. "Si gana Trump las elecciones lo enfrentaremos y lo venceremos; y si gana Biden también lo enfrentaremos y lo venceremos", dijo. La verificación hecha por AP de un video que se asemeja al del anuncio de la campaña de Trump, concluyó que ni Biden ni Maduro "han declarado que haya algún tipo de afinidad entre ellos o entre sus proyectos nacionales".
En el segmento de televisión del que se extrapoló el comentario de Cabello sobre la "brisa bolivariana", no se menciona explícitamente a Trump, a Biden, al partido Demócrata o al Republicano. Aunque el comentario podría interpretarse como un deseo de que Biden fuera electo y promoviera la agenda del ala progresista de su partido, Cabello tiene la reputación de ser un provocador y de decir cosas poco claras a propósito, según Acosta-Ramos. "Esa ambigüedad crea un ambiente propicio para la desinformación", opinó.
El anuncio, dijo Acosta-Ramos, estaba "dirigido específicamente a personas que saben lo que significa la brisa bolivariana. No sólo venezolanos, sino también cubanos y colombianos".
Otros anuncios en YouTube de la campaña Trump reforzaron el falso mensaje. Estos muestran imágenes de Maduro refiriéndose a Biden como "camarada Biden" en un discurso de 2015. Aunque era sólo una referencia pasajera y Maduro acusó a Biden poco después de conspirar para derrocarlo, Donald Trump Jr. lo presentó como prueba de que Biden tenía debilidad por el socialismo.



La cuenta oficial bilingüe de Twitter de la campaña Trump también afirmó que el régimen de Maduro apoyaba a Biden. Un tuit del presidente Trump calificó a Biden de "TÍTERE DE LOS CASTRO-CHAVISTAS". Los anuncios de Trump en Facebook tildaron a Biden de "socialista" y lo fotografiaron junto a la representante Alexandria Ocasio-Cortez y el senador Bernie Sanders, quienes se refieren a sí mismos como socialistas democráticos.
"Hubo un esfuerzo concertado por la campaña de Trump y sus aliados para desvirtuar a Joe Biden y sus valores porque sabían que no podían ganar con el récord desastroso de Trump", dijo un funcionario de la campaña de Biden a ProPublica.
La población venezolana de Florida ha aumentado a unas 200,000 personas, de las cuales alrededor de 50,000 están registradas para votar. En Doral, una ciudad del condado de Miami-Dade que alberga a muchos estadounidenses de ascendencia venezolana, cubana y colombiana, Trump captó aproximadamente el 49% de los electores en 2020, frente al 29% en 2016. En todo Miami-Dade, Trump obtuvo casi 200,000 votos más que en 2016, reduciendo el margen de votos de los demócratas de un 29% al 7%.
La campaña de Trump, la Casa Blanca y la embajada de Venezuela no respondieron a las solicitudes de comentarios al respecto.
El anuncio de Trump puede que no haya sido detectado durante la campaña debido a las deficiencias del informe de anuncios políticos de Google, establecido por la compañía en 2018 para mejorar la transparencia. A diferencia del archivo de anuncios políticos de Facebook, el de Google no agrupa anuncios idénticos cuando, por ejemplo, son publicados en distintos períodos de tiempo. Las herramientas de transparencia de Google mostraron tres copias distintas del anuncio de la "brisa bolivariana", arrojando datos separados para cada uno. Google tampoco ofrece una función de búsqueda para los anuncios de video, ni permite la descarga masiva de contenido publicitario.
Ese tipo de diseño no permite que los oponentes, periodistas u órganos de control analicen de forma significativa los 263,000 anuncios políticos en video (y otros 361,000 anuncios) que Google vendió en 2020, dijo Barrett.
"Uno se ahoga en el contenido y queda abrumado por estos anuncios individuales, y en realidad muchos de ellos son iguales; uno se queda varado tratando de navegar por este agobiante mar de anuncios", comentó Barrett. Los anuncios "pueden desaparecer en las profundidades del repositorio de anuncios".
Google ha dicho que sólo permite a los anunciantes orientar los anuncios políticos según la ubicación, la edad y el sexo de los usuarios, y que divulga estas opciones de segmentación en la página de transparencia de su sitio web. Las tres copias del anuncio de "brisa bolivariana" estaban segmentadas por ubicación para dirigirse a los usuarios de Florida.



Aunque las herramientas de transparencia de Google no lo divulgan, los anuncios de YouTube también pueden estar orientados por idioma, por ejemplo, para dirigirse a los hispanohablantes, dijo Smith.
No está claro cuánto gastó la campaña Trump en el anuncio y cuántas veces se publicó. Los datos de Google muestran que la campaña de Trump gastó entre $1,000 y $5,000 en una de las copias del anuncio; entre $100 y $1,000 en otra copia; y menos de $100 en la tercera. Dos de las copias se reprodujeron menos de 10,000 veces, y la tercera se reprodujo entre 100,000 y 1 millón de veces. Facebook publica información más precisa.
Los partidarios de Trump amplificaron el mensaje de la campaña, pretendiendo conectar a Biden y otros demócratas con el "Castro-chavismo", un término que vincula el socialismo venezolano con el cubano. Publicaciones falsas en las redes sociales, de origen desconocido, pretendían mostrar a Jill Biden, la esposa de Joe, de pie junto a Fidel Castro. En realidad se trataba de Jacqueline Beer, la esposa de un explorador noruego.
"Vimos un gran número de mensajes de WhatsApp compartidos en grupos venezolanos y cubanos, diciendo que los gobiernos de estos países de los que escapamos, [querían] a Biden, así que deberíamos votar por Trump", dijo Acosta-Ramos.
Lo que un miembro del equipo de Biden describió como un aluvión de desinformación, puso la campaña del demócrata a la defensiva. Esta montó su propio esfuerzo de verificación de información para repeler las afirmaciones sobre Biden y el socialismo. Invirtió mucho en el alcance a los latinos de Florida, incluyendo compras de espacio publicitario en los medios que alcanzaron seis cifras durante las últimas dos semanas, dirigidas a la comunidad latina, dijo un miembro del equipo. En una manifestación a principios de octubre en Miami, Biden dijo: "Maduro, a quien conocí en persona, es lisa y llanamente un dictador y está causando un sufrimiento enorme al pueblo venezolano".
–Jeremy B. Merrill, en reporte especial para ProPublica y Ryan McCarthy; Ronny Rojas de Telemundo, Derek Willis e Ivette Leyva contribuyeron a este reportaje. Traducción de Candice Carmel, edición de Ivette Leyva.