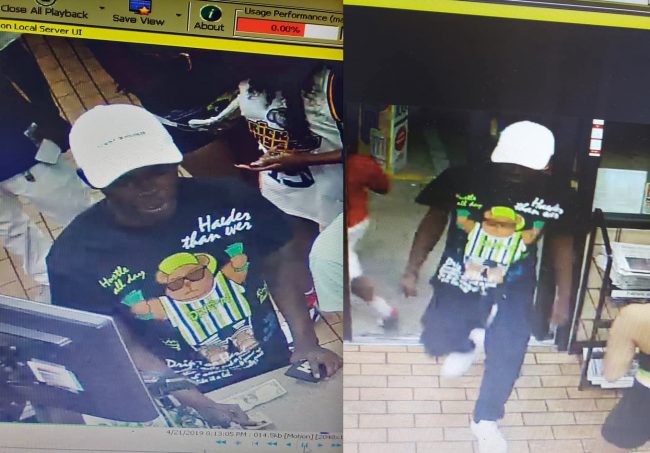 Last Updated: 3:42 p.m.
For the second time in eight days, Flagler County was the scene of a night shooting outside a business, following an argument that escalated.
Shortly after 8 p.m. Sunday, an 18-year-old man was shot in the back outside the Bunnell Circle K, at 500 East Moody Boulevard, authorities say. The Flagler County Sheriff's Office this afternoon said the shooter is believed to have fired at least four times at the victim.
Flagler County Fire Rescue transported the man by rescue to Halifax hospital in Daytona Beach, Fire Chief Don Petito said. The man survived the night. Trauma One, the emergency helicopter, had been called in, but its arrival time was to be 20 minutes. Rescuers found it quicker to drive south. (Flagler County Fire Flight, the county's own emergency helicopter, goes out of service at 8 p.m. because of staffing limitations, and the county commission's continued resistance to restoring more expansive hours. The helicopter is in service only between 8 a.m. and 8 p.m.)
The Flagler County Sheriff's Office is seeking a suspect captured in surveillance video–a young, black man wearing a white baseball cap and a black t-shirt imprinted with a large illustration and wording (see above). A preliminary sheriff's incident report redacts the name of the suspect, suggesting that his identity may have been established.
The case report notes that deputies were not far from the scene, assisting the Bunnell Police Department in a security detail for "a large gathering" in the area of the Bank of America, when they heard five to eight gunshots. Once at the scene, "everyone" was shouting the name of the suspect–and additional gunshots were reported in the area of East Court Street and South Moore Street.
"I asked multiple individuals if they saw anything and they all advised they did not see anything but did hear the gunshots that occurred in the area of E Court St and S Moore St.," a deputy reported.
The Bunnell Police Department and the Flagler County Sheriff's Office had responded to the scene, initially with the sheriff's office assisting. Witnesses described a couple of large gatherings at the Dollar store, diagonally across the street from the Circle K, and at the Circle K itself. They describe an argument between women that escalated, then the shooting.
Bunnell Police Chief Tom Foster did not return a call. Bunnell City Manager Alvin Jackson was boarding a plane inbound from Boston this morning and could not be reached until later this morning. Bunnell Vice Mayor John Rogers had spoken with Foster just before 8 this morning. "The fellow is still alive, he was shot in the back, they do have a suspect, they turned it over to the sheriff to work it," Rogers said. "Chief Foster talked to [Flagler County Sheriff Rick] Staly, they're taking over the investigation, which is a good thing, they've got resources."
A sheriff's spokesperson confirmed that sheriff's detectives took the lead in the case.
Rogers had driven by the scene earlier that afternoon. "It's a shame on Resurrection Sunday," he said, "I went through there earlier and all the families and everybody seemed to be having a good time. Then later on that night it turned violent. That's a tragedy."
Eight days earlier, near a convenience store and shopping strip at the intersection of Palm Coast Parkway and Belle Terre Parkway, 18-year-old Curtis Gray of Flagler Palm Coast High School was gunned down after an argument shortly after midnight. Marion Gavins Jr., 17, was arrested and charged with murder the following day.
Though the victim in Sunday's shooting has not yet been identified, a Flagler County school district spokesman said this morning that "the latest information we have is that the victim is not one of our students."
The last time Bunnell was the scene of a potentially homicidal shooting goes back to last June, when Darryl Wilson, 56, was shot in the head and killed at a house on North Bacher Street. Tammy Almond, 44, was charged with manslaughter. The case is ongoing through court.
In early morning today, the sheriff's office posted the surveillance stills of the suspect on its Facebook page and a message to the public: "FCSO needs your help identifying the man pictured below. He is wanted for questioning in reference to a shooting that took place earlier this evening at the Circle K at 500 East Moody Blvd in Bunnell. If you have any information please contact FCSO at 386-313-4911 or e-mail is at TIPS@FlaglerSheriff.Com."
Anyone with information regarding this incident is asked to contact the Flagler County Sheriff's Office at 386-313-4911 and mention Case Number 2019-37325 or Crime Stoppers of Northeast Florida at 1-888-277-TIPS (8477). Crime Stoppers will award up to $5,000.00 for any tips leading to the arrest of the suspect.