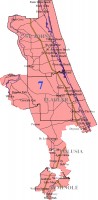 U.S. Rep. John Mica, the nine-term Republican congressman representing Flagler, was at the Palm Coast Yacht Club last night doing what incumbents do best–combining advertisements to themselves with campaigning in front of clubs with a thing for self-importance. The local Chamber of Commerce and beleaguered Enterprise Flagler, fresh out of their latest disaster, had put on the coupling of local Whigs and fly-by wigs.
Enterprise Flagler is supposed to be a public-private partnership. It is mostly public: it wouldn't exist without the $260,000-some sums cities and the county shovel its way. Its private contributors, even collectively, are a lot stingier. So its involvement in a nakedly political event should raise all sorts of questions. But this is not merely Flagler County: it's Florida, where ethics tend to be the undocumented alien of politics and fraudsters rediscover their self-esteem.
The chamber likes to pretend that it doesn't endorse candidates. It only buys them off. Last night's event was of course a lot more than an endorsement. It was a cleverly timed tribute featuring lots of people with titles and positions to protect, and contracts to nurture, with one of Washington's best pork-shovelers in the business, especially since Robert Byrd's death. For "conservative" duplicity in action it doesn't quite get more barefaced than these affairs, provincial power's equivalent of the old circle-jerk. (To the chamber's credit, at least some money was raised for a more relevant cause.) Heather Beaven, the Democratic candidate running against Mica (and allegedly scaring him), was not invited.
As the textbook definition of what Daniel Boorstin called "pseudo-events" go, it wasn't worth covering (especially not with Jesus, Judas and Mary on their way), but a reliable friend who was there wrote in:
The meeting was sold out, they say, but I don't know how many people that is. The room seemed full. Raven Sword was there, as was Holsey Moorman (city council member). No sign of her opponent. Mica was cordial working the crowd along with aides Wiley Deck and John Booker.

The cast of characters was to be as expected.  The President of Enterprise Flagler, Jim Cullis,  on crutches from his broken leg surgery, spoke about the challenges and was clear and fairly good.  Greg Rawls, executive director of Enterprise Flagler, was enthusiastic with decent slides, but he held the microphone too close to his mouth, even though he was requested in mid speech to move it away.  He did seem to have a lot of facts at his command but he audio conditions didn't help.  The acoustics in the Yacht Club aren't the best. I like Greg and don't intend to be critical.

Margaret Combs' remarks were notable. She's the lady who's moved her business to the old CAPT/ ERAU hanger from Kentucky.  (MH Operations. See your story from 8/16)  She spoke clearly in telling her story of how Flagler's efforts won them over to locate here.  She was articulate and full of praise for the Enterprise Flagler team – including staff, board, county officials, chamber and so forth.  Very gracious. Michael Chiumento, the attorney, talked a bit too about Enterprise Flagler and the effort to put the referendum on the ballot.  People were thanked for their work.   Michael's spin we've heard is that the community has expressed support for the need for development, and the discussion to follow is how to do it.

Michael introduced Congressman Mica.  He had some familiar pro-business free enterprise lines that got some applause.  He recalled back when he and his wife cashed out her retirement plan to start his development real estate business and suggested to the crowd that real estate prices won't be as good as they are now for a long time.  He encouraged the crowd to buy real estate. He said either that properties in Flagler County are on sale or that there's a fire sale.  Not sure – no notes.   No mention of the people in those properties. Given Mica's seniority on Transportation, it's the old case that "pork is no good" but make sure we get ours anyway.

Mica was funny when it came time to swearing in the new officers and board members of EF.  "Raise your right hands (they did) and repeat after me — I solemnly swear to tell the truth, the whole truth… " and people got the joke. Then he did it straight. The evening was finished before 9, and a good time was had by all. Actually the dinner was quite good, and the decision to do it for $35 at the PCYC instead of $50 at Hammock Beach was probably a good one.

Pols included Commissioners Holland, Revels, and Peterson along with Craig Coffey, the county administrator, and Sally Sherman, his deputy. Mayor Jon Netts with Priscilla, along with Bill Lewis, Holsey Moorman and Frank Meeker. They announced Mary DiStefano, but I didn't see her.  Nor Jim Landon, the city manager.  Jane Mealy and Joy McGrew, the Flagler Beach city commissioners, were there, as were Enterprise Flagler board members. The pastor of the small 70-person Grace Tabernacle Church which meets on Old Kings Road in rented space gave the invocation, and it was one that was generally OK for a mixed crowd.  Some donations went his way. They did have a silent auction in the side room, and chamber staff passed out info to the winners quietly, so it didn't disturb the program. The primary dinner sponsor was Palm Coast Ford, and the manager gave a pitch about buying locally and buying Fords.  Couldn't blame the guy for that."
No word on whether pork medallions were on the menu.
–Pierre Tristam