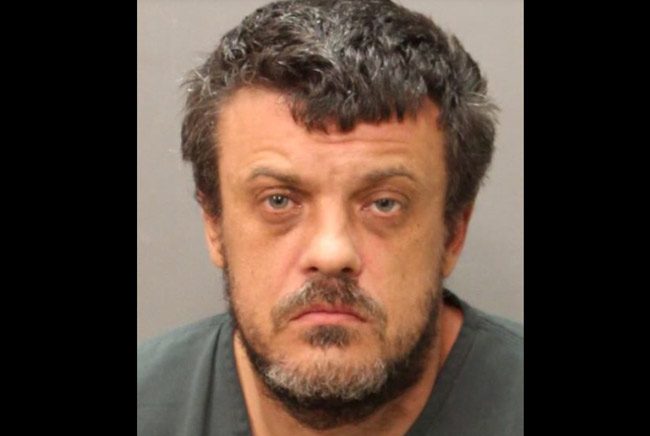 Last Updated: 3:32 p.m.
"I don't know why, it just did," Michael D. King told the girl's mother over the phone, when she asked him what happened with her daughter, whom King is accused of raping for years starting when she was 5.
The near-daily rapes are alleged to have taken place in Palm Coast when the girl was between 7 and 10. They carried on in other counties until a few months ago, the last alleged attack taking place on March 5. The girl is now 16. King is 40.
Shortly after this story first published, the Flagler County Sheriff's Office issued a release stating King is "an illegal alien from England" who is under an immigration hold. A Flagler County Sheriff's spokesperson could not explain King's immigration status, though hundreds of thousands of travelers–600,000 in 2017–overstay their visas every year, some for years longer.
"We had sex," King tells the mother in a phone call last March he didn't know was being recorded by law enforcement. "It just happened, you know?" He asks the child's mother if she wanted him to turn himself in. "I don't know what I was thinking, you know, she would come on to me and I would come on to her."
During the call, he tells the child's mother that he is at the "embassy" in Miami. There is no British embassy in Miami, but there is a consulate, and King reportedly was attempting to flee the country. He had lived locally on the child's mother's dime, never working.
When the victim was interviewed by the Child Protection Team at Flagler Hospital in July, she recalled vivid details from the recurring abuse in Palm Coast. She said he would carry out the abuse when her mother was at work on overnight shifts, or when she would be asleep at home: King, she said, purposefully left doors to squeak in the house so he would know who was where. It was one of various ways he would be calculating.
She said he never used protection, tracked the victim's periods, and, according to his charging report, "told her if her period was late, he would push her down some stairs, kick 'it' out of her, or she could use a coat hanger to perform an abortion herself. The suspect would tell [the victim] that she was his and he 'owned' her, while groping her in a sexual manner."
She told the Child Protection Team that when she began bleeding when she was 6 or 7, after anal sex with King, he told her it was normal–just as he did regarding sexual relations between fathers and daughters: he allegedly showed her videos to that effect, stored on a computer no longer in existence.
King had known the girl since she was a few months old and was in a custodial relationship with her. The rapes, she alleges, continued when the family moved to Holly Hill, when they stayed in a hotel in the Orlando area for a month between moves, and when they moved to Gainesville. Incidents were also alleged to have taken place in Duval County.
---
"He knows what happened was wrong because of what people have told him, but he does not feel in his own mind that it is wrong."
---
The girl's younger brother, who was also interviewed by the Child Protection Team, told team members he knew of the abuse, "saw things happen numerous times that corroborated" his sister's statements, and tried to tell his mother about it in 2016, but said he didn't have any "proof." The girl denied the abuse at the time, and when she did, her brother decided not to report any suspicious activities anymore.
In early March, the victim's mother told King during the call recorded by law enforcement that she was unable to sleep and having anxiety over the allegations her daughter was making, and needed to know the truth. That's when King revealed some of it, which led to his arrest.
King was arrested in Jacksonville in March and charged with a slew of child-rape charges stemming from incidents in Duval County. Detectives there in the course of their investigation traced the history of the alleged abuse across several counties, informing law enforcement in each. Flagler County Sheriff's detectives George Hristakopoulos and Nicole Quintieri conducted their own investigation, interviewing King at the county jail in Jacksonville in July.
There King again placed blame equally on himself and on the girl, not taking account of her age, and admitted to having sex with her from the time she was 13. The report concludes: "The suspect states that he is willing to accept his punishment for what he has done with [the victim]. The suspect stated that he knows what happened was wrong because of what people have told him, but he does not feel in his own mind that it is wrong."
A Flagler County judge signed the warrant on the Flagler Charges Thursday. The warrant would have been served King at the jail.
Given the multiplicity of charges King faces in other counties, it is not clear if and when he would be extradited to Flagler to face local charges. In all cases, he faces life felonies if convicted. He currently remains at the Jacksonville jail without bond. (A previous $1.5 million bond was revoked).
"Not only has this violent offender spent the past decade preying on an innocent child, but he is also in this country illegally," Sheriff Rick Staly said. "I hope there is a special place in hell for people like him as anything less is too lenient. He is a threat to any child and I hope he spends the rest of his life in prison. Our children are the future of this country and they deserve a loving and safe childhood. This dirtbag took that away from our victim."
The sheriff's release, however, blared the words "illegal alien" in its headline and on Facebook, purposefully taking advantage of the King arrest to play into–and inappropriately stoke–immigrant-baiting fears focused on the ongoing debate about undocumented immigration on the country's southern border, with which King's case clearly has no relation.
A sheriff's spokesperson conceded that the agency does not know the details of King's immigration status: "I spoke with ISD in an attempt to gain more details about King's illegal status," the spokesperson said in an email, referring to the local agency's detective division, "and they have asked me to refer you to the Jacksonville Sheriff's Office, they were the ones who made the arrest so they will be the best contact for you."
A Jacksonville Sheriff's Office spokesperson referred an inquiry to the Immigration and Customs Enforcement for details on the hold, but a call to ICE's media line went to voice mail, and ICE's media-contact web pages noted that because of the federal shutdown, "Transactions submitted via this website might not be processed and we will not be able to respond to inquiries until after appropriations are enacted."