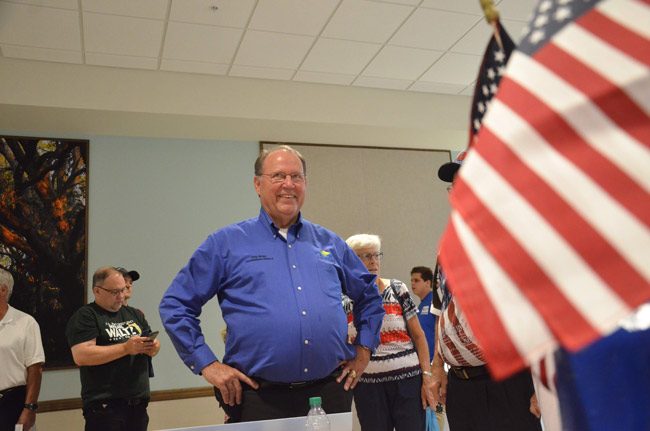 Last Updated: 9:01 p.m.
Nails could rest easy tonight: few were bit as election-night results quickly sharpened into certainties, only a few of them surprising, soon after the release of the first batch of numbers: those numbers set a tone that prevailed the rest of the evening. And one of the biggest winners wasn't on the ballot: Supervisor of Elections Kaiti Lenhart, who saw turnout surge to a level not seen in at least four off-year primary elections.
County Commissioner Greg Hansen decisively won the Republican primary against fellow-Republican Abby Romaine in District 2. Romaine campaigned little, Hansen spent much. But it was Hansen's first election win: he'd been appointed to the seat by Gov. Rick Scott less than two years ago, after the death of Commissioner Frank Meeker.
The Georgia newcomer Joe Mullins, who contended with searing questions of character throughout his campaign, defeated Nate McLaughlin in the Republican primary for District 4, a stinging defeat for the two-term incumbent who not long ago was eyeing a legislative seat. The result also bodes ill for County Administrator Craig Coffey: Coffey has now lost one of his most loyal defenders on a commission where his survival hangs by only one vote anymore, if that, as Mullins made clear he would aim to fire Coffey. McLaughlin is the first political casualty of the controversy over the Sheriff's Operations Center, with which he's been closely associated since he approved that seemingly befouled building's purchase in 2013.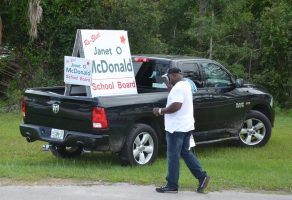 With nearly all votes counted, incumbent School Board member Trevor Tucker has easily defeated Paul Anderson, in Anderson's second lunge at a school board seat. Tucker, who reviles campaigning, did little of it, but Anderson campaigned even less and helped out Tucker by espousing positions often foreign to most conventional cardinal points.
In the more contested school board race, incumbent Janet McDonald is headed for a rematch in a November runoff with John Fischer, who was the incumbent when McDonald beat him four years ago. McDonald and Fischer are edging out Carl Jones in what may be the biggest surprise of the evening. In a straw poll a few weeks ago at a Chamber of Commerce event, Jones beat Fischer and McDonald, the latter coming in third. The assumption was that Jones, a Democrat, could count on the Democratic vote while McDonald and Fischer split the Republican vote in this non-partisan race.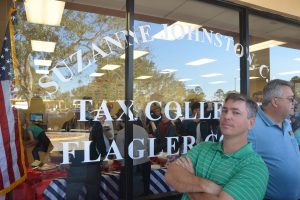 But the primary drew an overwhelming number of Republican voters (55 percent) and comparatively fewer Democrats (37 percent), while independents largely stayed home (7.9 percent of the vote was independent in a county where 28 percent of voters register independent), thus wiping out Jones's presumed advantage.
The vote did split between McDonald and Fischer, but also propelled both into the run-off. Jones may have to choose whom to endorse, a decision that could make the difference in the November election.
Hansen, ahead with 64 percent of the vote, will face Dennis McDonald, an independent, in the general election in November. Mullins, with 57 percent of the vote at last count, will face another newcomer, Jane Gentile-Youd, also an independent, in the general election.
Tucker will be elected outright, unlike McDonald and that race's second-place finisher. Tucker had previously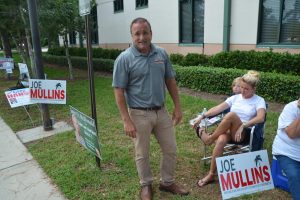 In the non-partisan Palm Coast City Council race for District 4, Eddie Branquinho and John Tipton battled it out for the lead, with Branquinho finally edging Tipton out by a handful of votes and Corinne Hermle in third. Branquinho and Tipton are headed for a run-off in November, since none of the candidates will clear the 50 percent threshold. The results are surprising in one regard: Hermle hardly campaigned and did not have so much as a campaign account to speak of, yet nevertheless polled very strongly. In the Live Interview, she had come across as the brightest and most accomplished of the three. Tipton and Branquinho are now likely to cover her endorsement.
The Palm Coast Council has another race on the ballot in November: that between former Mayor and Council member Jon Netts and former Sheriff candidate and Teens-In-Flight Founder and director Jack Howell.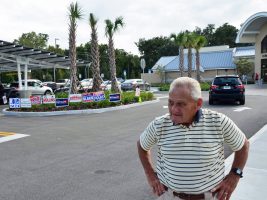 In Flagler and in Florida, Republican Ron DeSantis was well ahead of Adam Putnam for the nomination for governor, but if Gwen Graham was ahead of Andrew Gillum in the Democratic race in Flagler, it was too close to call statewide. Democrat Nancy Soderberg easily beat John Upchurch and Stephen Sevigny for the 6th Congressional District seat DeSantis is vacating, both in Flagler and across the district (with 55 percent of the vote). Michael Waltz won the Republican primary in that race, ahead of John Ward and third-place finisher Fred Costello. Rick Scott has won the Republican primary for Senate and will face incumbent Democrat Bill Nelson, who had no opposition.
Off-year primary election turnout is notoriously low. But turnout this year was significantly higher than it's been in the past three off-year primary elections: 30 percent of the registered electorate voted this year. In 2014, the previous off-year primary election, turnout was just 19.3 percent. It was 22 percent in 2010, and 23 percent in 2006. The higher rate this year may have at least something to do with Supervisor of Elections Kaiti Lenhart, elected in 2016 and in office since 2015. Lenhart has emphasized voter outreach.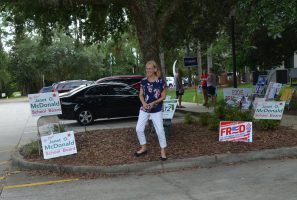 Election Day itself was again anticlimactic: 62 percent of Flagler's registered voters chose to vote by mail or in early voting. Fewer than 10,000 did so today.
There was one documented issue of a voter reporting that there'd already been a signature on the signature pad she had to sign, before she had a chance to sign her name. (Eligible voters present their identification at their polling place, and once cleared, are required to sign on an electronic, so-called EViD pad, the electronic polling book that's replaced the paper and pen version. See details about EViD here.) Lenhart had been told of the issue, and said in an email that balances and totals, between signatures on the pad and the actual votes cast, were equal. The previous signature had been that of a voter who'd been at the wrong precinct. Since that signature had not been accepted for voting, it did not automatically clear and had to be manually cleared by an EViD monitor, Lenhart said.
The incident appears isolated. "I confirmed the signature verification procedures were being followed at this location by phone at 8:45 A.M. with the Assistant Clerk," Lenhart said. "I have no reason to believe that 'ballots are mysteriously marking themselves' at any location in Flagler County."


Primary Election 2018 Results: Flagler County's Local Races and State Races
Candidate and Race

Votes

Percent

Flagler School Board, District 2
Janet McDonald
(incumbent)
8757
40.81
John Fischer
6835
31.85
Carl Jones
5867
27.34
Flagler School Board, District 4
Paul Anderson
9140
44.61
Trevor Tucker
(incumbent)
11347
55.39
Palm Coast City Council, District 4
Eddie Branquinho
5745
35.27
Corinne Hermle
4876
29.94
John E. Tipton IV
5666
34.79
Flagler County Commission, District 2, Republican Primary
Greg Hansen
(Incumbent)
7498
64.07
Abby Romaine
4205
35.93
Flagler County Commission, District 4, Republican Primary
Nate McLaughlin
5201
43.09
Joe Mullins
6869
56.91
Circuit Judge, Group 15
Linda L. Gaustad
(6695)
(32.57)
Sebrina L. Slack
(6290)
(30.60)
Ryan Will
(7571)
(36.83)
US Senate, Republican Primary
Roque "Rocky" De La Fuente
(1059)
(8.11)
Rick Scott
(12001)
(91.89)
Congressional Representative, District 6, Republican Primary
Fred Costello
(2932)
(23.57)
Michael Waltz
(5456)
(43.85)
John Ward
(4053)
(32.58)
Congressional Representative, District 6, Democratic Primary
Stephen Sevigny
(2180)
(25.41)
Nancy Soderberg
(5020)
(58.52)
John Upchurch
(1378)
(16.06)
Attorney General, Republican Primary
Ashley Moody
(6500)
(52.37)
Frank White
(5912)
(47.63)
Attorney General, Democratic Primary
Sean Shaw
(5346)
(67.03)
Ryan Torrens
(2629)
(32.97)
Commissioner of Agriculture, Republican Primary
Matt Caldwell
(4415)
(37.85)
Denise Grimsley
(3371)
(28.--9075)
Mike McCalister
(1868)
(16.01)
Baxter Troutman
(2011)
(17.24)
Commissioner of Agriculture, Democratic Primary
Nicole "Nikki" Fried
(4638)
(57.29)
Jeffrey Duane Porter
(1378)
(17.02)
Roy David Walker
(20280
(25.69)
Governor, Republican Primary
Don Baldauf
(60)
(.46)
Ron DeSantis
(9009)
(69.47)
Timothy M. Devine
(96)
(.74)
Bob Langford
(112)
(0.86)
John Joseph Mercadante
(62)
(.48)
Bruce Nathan
(81)
(.62)
Adam H. Putnam
(3370)
(25.99)
Bob White
(179)
(1.38)
Governor, Democratic Primary
Andrew Gillum
(2258)
(25.79)
Gwen Graham
(3629)
(41.45)
Jeff Greene
(1079)
(12.32)
Chris King
(243)
(2.78)
Philip Levine
(1413)
(16.14)
Alex "Lundy" Lundmark
(54)
(0.62)
John Wetherbee
(80)
(0.91)
Note: For statewide and multi-county results, as in the races for governor, senate and judicial races, the total tally appears first, followed by the Flagler-only tally in parenthesis.
See the Supervisor of Elections' chart here.