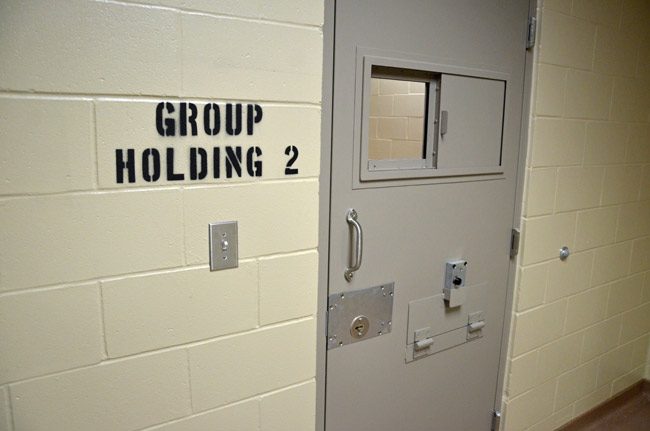 Alphonso Perry is a 79-year-old resident of Bunnell. The most he's ever had to do with the law over the past many years was a traffic ticket he got for going straight instead of making a right turn when he was in a right-turn lane at State Road 100 and Belle Terre Parkway a little over a year ago. He requested a hearing but eventually paid his $166 fine. Adjudication was withheld. He's had other traffic issues–speeding, proof of insurance–but nothing since 2010.
On Monday (Aug. 20), he turned himself in at the Flagler County jail at 2:48 p.m. He thought there was a warrant out for his arrest. Someone had called him and told him so, and that he could clear up the matter by paying $2,000.
Perry was being lied to-scammed, as older people frequently are, and as the Flagler County Sheriff's Office has warned on repeated occasion over the years. But Perry didn't know that Monday.
But as if the scam wasn't grievous enough, Perry's voluntary surrender at the county jail turned into an ordeal of its own: It was two and a half hours before he was brought into the booking area–where according to policy he should not have been brought in to start with, if a warrant check had been conducted–and six hours before he was finally released and driven home.
In the meantime, because of an especially busy booking period, a relatively new detention deputy, a shift change and what the Sheriff's Office described as a first ("this has never occurred in the past," Chief Steve Cole wrote of an individual turning himself in on a non-existent warrant), Perry sat for three hours in a jail holding cell.
It was 8 p.m., more than five hours after he had turned himself in, that a corrections deputy began working on his file and discovered that there was no warrant out for Perry's arrest–that he had, in fact, himself been the victim of a crime.
"Regardless of an individual's age, when something like this happens that is wrong," the Sheriff's Chief Mark Strobridge said this afternoon. "These kinds of things shouldn't happen. That is why Chief Cole is taking immediate steps so that it does not happen. It's very regretful that this would happen to anybody of any age." Steve Cole is in charge of the jail. "Nobody at the FCSPO wants anybody to be wrongly accused or be wrongly held or detained," Strobridge added.
The incident was embarrassing as much for Perry as it as for the Sheriff's Office, it exposed weaknesses at the jail's "intake" juncture, led Sheriff Rick Staly to order immediate remediation, including the installation of a Rapid ID device that checks for warrants before an individual is taken into the secure booking area, and a review of why the policy in place designed to keep individuals from reaching the secure area–and be held in a cell–before their status is checked was not followed. The incident also resulted in disciplinary measures for at least one corrections deputy.
"I know that the sheriff has directed that before you bring anybody in, regardless of their age or how busy processing is," Strobridge said, "They will verify warrants before they bring anybody inside."
---
An issue that could have been resolved in a few minutes takes six hours as assumptions and a shift change obstruct a resolution.
---
The following is based on memos and documents FlaglerLive obtained on request Wednesday and Thursday, ostensibly all the documents relating to the Perry incidents, including a timeline with time stamps written by Cole today when we noted to the Sheriff's Office that documents provided Wednesday included only sporadic time references.
Perry turned himself in at the jail's public lobby at 2:48 p.m. Monday. He spoke to Karen Perry–no relation–the clerk at the window, telling her he needed to turn himself in on a warrant. Karen Perry informed Christopher Lewis, a booking deputy, of Alphonso Perry's arrival. Alphonso took a seat in the lobby and "could have exited the building if he wished to," according to Cole's memo–though it's uncertain how far an individual might have gotten, leaving the jail's grounds with jail officials under the impression that he has a warrant out for his arrest: at that point, no one had checked, or had reason to think Perry's warrant was bogus.
Some time later, Sgt. Randy Vickers notices Alphonso Perry still in the lobby. The time is not clear, because Vickers apparently had contact with Perry twice in the lobby. "I had asked him if he was being helped and Mr. Perry stated that he had given Karen Perry his information to confirm his warrant," Vickers wrote in a memo. "At approximately 1645 Hrs while conducting
security rounds, I observed Mr. Perry still sitting in the lobby," Vickers continued: that was two hours after Perry had arrived. "I then opened door # 15 and advised Mr. Perry that Booking was a little busy but they did not forgot about him and then I continued on to my office to prepare the shift briefing."
It was 5:10 p.m. when Lewis asked another deputy, Justin Bailey, to bring him behind the locked doors into the secure, booking area of the jail: that's where suspects are brought in to be processed. Perry told Vickers the next day that he thought the civilian clerk had checked Perry's warrant. "I then questioned Deputy Lewis as to when does a civilian secretary verify warrants?" Vickers reported. "He stated 'Never.'" Lewis has been on the job for two and a half years.
But neither Lewis nor Bailey processed Alphonso Perry. He was placed in a holding cell.
At 6 p.m., Lewis went off duty. Sara Radford, a seven-year veteran deputy, took over booking. She had been handed a stack of pending bookings from the previous shift. "When I got to the folder for Alphonso Perry I only located a property sheet from his intake and 2 other intake documents that he had signed," Radford reported. "Due to the fact that there was no 707 or any other supporting documents that reflected the reason he was brought into the jail I figured he might have a warrant that had not been printed out by the previous shift when he came in." A 707 is an arrest affidavit or charging document associated with an individual's arrest.
By then a criminal history had been completed on Perry but he was not fingerprinted nor were other booking functions carried out. Radford worked on other intakes. Booking typically is conducted on what would be called a first-come, first processed basis–whether it's individuals being booked into the jail or individuals being processed out of it–with priority given to booking individuals brought in by patrol cops of various agencies: they get priority because the intent is to get the cops back on their patrols as soon as possible.
It was only at 8 p.m. that Radford got to Perry's case, looking him up in a law enforcement database called Aegis. That would prove to be the first time all afternoon and evening that anyone at the jail had looked up Perry's name to verify his warrant. "Once I had a chance I conducted a search in Aegis to see if I was able to locate a warrant in Alphonso Perry's jacket, which I was not," Radford reported. "I immediately called dispatch to inquire if they had confirmed any warrants or were showing any active [warrants] for Alphonso Perry, they had not and also showed no active warrant for this subject."
Radford looked up a courthouse database. Same result. She spoke to Perry to find out how he'd ended up at the jail. "He had no idea why he was arrested aside from the fact that he had received a phone call telling him that he owed money and if he did not pay the owed amount that law enforcement would be sent to his house," Radford wrote.
Radford called Cpl. Peter Descartes, her supervisor. Descartes in his memo says Radford contacted him at 6:50 p.m. "Reference a Subject by the name Perry, Alphonso B/M DOB 5-18-1939," and was briefed on his situation. Descartes called the 911 center, where a teletype specialist conducted yet another search in the system and came up empty, but said he'd continue searching and let Descartes know what turns up. Descartes contacted Cmdr. Glenn Davis. Cole was also contacted.
According to Cole's timeline, Descartes and Davis entered the booking area at 8:15 p.m. and spoke with Alphonso Perry, who was still in the holding cell. Perry again told his story. Descartes and Davis concluded that he'd been scammed. Deputies returned Perry's property to him.
At 8:44 p.m., Descartes was directed to drive him home to Peach Street in an agency vehicle. It was never made clear how Perry, who could not be contacted, made it to the jail that afternoon.
"Once we arrived at his residence I told Mr. Perry that I was sorry for all of the confusion but, I was glad that he was not a victim of the attempted scam," Descartes wrote in his memo.
Cole, listing "contributing factors" in the incident, wrote in his memo that booking had been "unusually heavy" that day, with a total of 11 intakes and releases conducted by Lewis and "additional intakes left for night shift to complete. Deputy Lewis is a fairly new booking deputy and possibly became overwhelmed."
Cole, according to his memo, issued a directive pointing to an existing policy that "requires all arrest paperwork must be completed prior to the arresting officer/deputy bringing the arrested subject into the detention facility."
Lewis is to receive remedial training as a booking deputy and "appropriate discipline for failing to verify a warrant before accepting a subject into our secured facility. All booking deputies and supervisors will also be getting additional training and reviewing the incident in after-action fashion, as agencies do after a serious issue.
"We are going to look at where that fell apart as well," Strobridge said of the initial contact with Perry in the lobby. "That should not have happened as well." Strobridge said the presence of Rapid ID would resolve such an issue immediately.
"As Sheriff Staly said many times," Strobridge said, "we work under the motto that it is an honor to serve and a duty to protect. Protecting means everybody, even when they may think that they have a warrant or something like that. We always need to be right all the time, and it's very regrettable that something like this would happen."