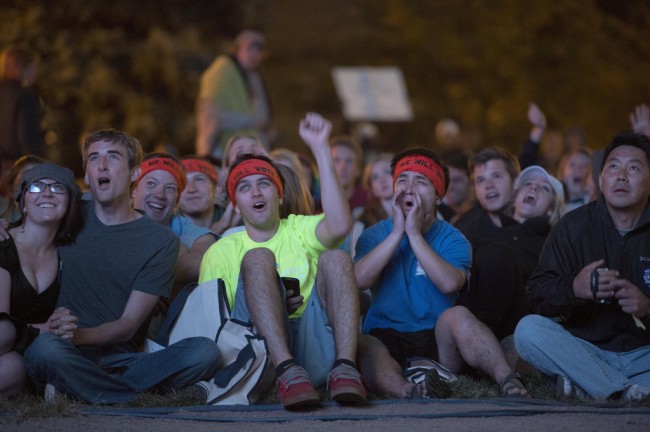 Mitt's win: "Barack Obama and Mitt Romney have both been running for president since about 2006, and have participated in a lot of debates in that time. I think this was Mitt Romney's best debate in that entire time, and Barack Obama's worst. Obama was the more surprising. He was weaker than usual in every way — poor on substance, poor on style, very tired; he missed opportunities and failed to defend himself. I personally think the president's record is in most respects indefensible, but presumably Obama doesn't agree with that. He didn't show it tonight. Romney was less surprising because he has always been a good debater, but he was just superb tonight. Forceful and clear, a good balance of details and generalities, he missed very few opportunities (I thought he could have scored even more points on Obamacare, but he did score some solid ones; he could have offered a clearer defense of his Medicare proposal from the false charge of shifting costs, but he was effective on Medicare on the whole), and he came across very well. He was strong where he has often been weak — on policy specifics (up to a point), defending his tax proposal, a clear contrast on the role of government. And he was in control — he basically talked about what he wanted to talk about, and didn't talk about what he wanted to avoid, and Obama more or less let him do it." Yuval Levin in National Review.
See Also:
Jailing of 'Innocence of Muslims' creator raises free speech worries: "one of the film's creators, Nakoula Basseley Nakoula, is sitting in jail in downtown Los Angeles. He may face two years in prison for allegedly violating the terms of his probation through his actions surrounding the film's production. News of his arrest and detention has been widely covered around the world, causing some to worry about the perception that the United States was punishing Nakoula because of the content of his movie. Government officials maintained that Nakoula was back in custody not because of the impact of the movie, which portrays the prophet Muhammad as a womanizer and a child molester, but because he had used aliases in producing the film and lied to probation officers. Nakoula, who was on a type of probation known in the federal system as supervised release, served time in prison for a 2010 conviction for taking out bank and credit cards under myriad fake identities. He now faces eight charges of probation violation. The allegations include making false statements to authorities about the film — claiming his role was limited to writing the script — and denying he used the alias "Sam Bacile."" From the L.A. Times.
To Encourage Biking, Cities Lose the Helmets: "In the United States the notion that bike helmets promote health and safety by preventing head injuries is taken as pretty near God's truth. Un-helmeted cyclists are regarded as irresponsible, like people who smoke. Cities are aggressive in helmet promotion. But many European health experts have taken a very different view: Yes, there are studies that show that if you fall off a bicycle at a certain speed and hit your head, a helmet can reduce your risk of serious head injury. But such falls off bikes are rare — exceedingly so in mature urban cycling systems. On the other hand, many researchers say, if you force or pressure people to wear helmets, you discourage them from riding bicycles. That means more obesity, heart disease and diabetes. And — Catch-22 — a result is fewer ordinary cyclists on the road, which makes it harder to develop a safe bicycling network. The safest biking cities are places like Amsterdam and Copenhagen, where middle-aged commuters are mainstay riders and the fraction of adults in helmets is minuscule. […] Recent experience suggests that if a city wants bike-sharing to really take off, it may have to allow and accept helmet-free riding. A two-year-old bike-sharing program in Melbourne, Australia — where helmet use in mandatory — has only about 150 rides a day, despite the fact that Melbourne is flat, with broad roads and a temperate climate. On the other hand, helmet-lax Dublin — cold, cobbled and hilly — has more than 5,000 daily rides in its young bike-sharing scheme. Mexico City recently repealed a mandatory helmet law to get a bike-sharing scheme off the ground. But here in the United States, the politics are tricky." From the Times.
My Insignificant year: memories of seventh grade: "A few months ago I went back to Dallas, Texas to visit my father. He greeted me at the door and told me if there was anything I wanted to keep from around the old place I should pack it up and ship it now. He was 90 years old and blind. My mother, the official caretaker of our past, had passed away five years ago. Dad was certain that if anything happened to him the house would be cleared out and bulldozed before I had a chance to get back to sift through the rubble. Welcome home. The unfortunate flip side of a long life. The joke is, we all know decrepitude and isolation are waiting for us—but only if we're lucky enough not to die young. It's the fine print of the writing on the wall. […] Let me be clear, there was absolutely nothing of any real value on my shelves. There was nothing there I had missed or even thought about for decades. This wasn't even first-tier junk like the dinosaur with a goiter. This was second-tier junk. To my surprise, it was every bit as valuable to me as the things I had already determined were indispensable." Stephen Tobolowsky in Slate.
John Gillis and Jack Gillis Dirty Identical-Twin Campaign: