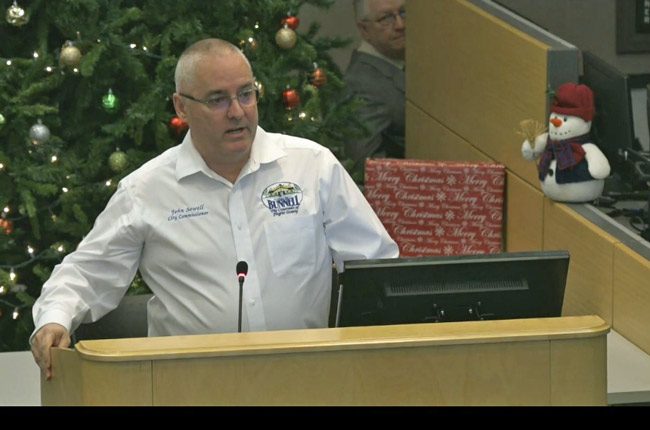 Flagler County and Bunnell landed a pair of substantial grants from the St. Johns River Water Management District on Wednesday to help pay for expensive sewer and stormwater improvements. Flagler Beach and Palm Coast had also applied but fell short.
The Palatka-based management district board—which has no representation from Flagler–voted unanimously to award Flagler County $500,000 for the county's ongoing, $3.2 million improvements of the Plantation Bay utility, and $462,000 for a water project in Bunnell. Bunnell is not required to match the money. Its project was ranked first in worthiness on a list of seven that were approved, totaling $3.4 million.
The grants are part of the so-called Rural Economic Development Initiative that the management district started in August 2015. Each project must have quantifiable benefits that improve water quality and reduce environmental impact of such things as nitrogen while adding to residents' clean water supply.
In Bunnell, the money will go toward rehabilitation of the sewer collecting and sanitation system and it will enlarge and replace a storm sewer and culvert. Flood protection is an additional benefit to the project. For Bunnell, the grant is a substantial boost in a very limited budget.
"I just want to thank you for the consideration that you're giving to our needs," Bunnell City Commissioner John Sowell told the water management board in person Wednesday. "I can't begin to tell you how important this money is to our city. It actually represents more than one third of our entire general fund. When you have a town of less than 3,000 people and the needs are always going to be unmet, even if we went to 10 mils on our tax rate we could never meet the needs of our city without assistance from you all—from our county, Craig Coffey and our Chairman Mr. Greg Hansen who are here today as well. We do everything we can to partner up, to find money to make our city better and to also in this case improve our environment and our flood situation in this city, which is actually quite critical."
---
"It actually represents more than one third of our entire general fund."
---
Hansen spoke to the board immediately after Sowell to proffer the county's thanks for money that will defray what amounts to the rehabilitation costs of the Plantation Bay utility, which the county and Bunnell jointly bought for $5.5 million from private developer Mori Hosseini a few years ago, before the county took full ownership. The utility serves more than 1,600 customers. It was in severe disrepair. The county has been seeking water management and state dollars since.
"We're a small county, we need your help, we appreciate your help," Hansen told the management board. "You've helped us greatly after Matthew, Irma, we appreciate that. You do great things, keep it up."
The Plantation Bay utility is undergoing two separate major revamps: wastewater is one part of it. That will cost $3.8 million. Now that the water management district will underwrite $500,000 of that, "the rest of the money is going to come from a DEP loan," Coffey said this afternoon, referring to the state Department of Environmental Protection, "and we're already set up for that, we have all the approvals in place." In fact, the county ran a legal advertisement for the project in a newspaper on Wednesday. Bids are due back in February, and construction will proceed shortly after that.
Customers won't see much of an effect from those improvements, at least not directly. The improvements will essentially create a more efficient way of treating wastewater by upgrading the filters and upgrading some of the processes that ensure that recycled water meets the proper standards before it can be reused again. That kind of re-use water is only used on Plantation Bay's golf courses (there are 45 holes in the development). The plant's electrical systems will also be improved, as will its reliability.
Where customers will notice a difference is in the other portion of the big revamp of the utility—the portion that sends fresh water to customers' tap. That $4 million project, Coffey said, "is right behind the wastewater." Design for the project is all but completed. The county is now in the permitting stage and expects to have secured the permits by the new year.
The county and its legislative delegation secured a $2 million grant through the Department of Environmental Protection. The rest will be borrowed through a local commercial bank.
All those costs—the $3.8 million for the wastewater portion and the $4 million for the potable water—will eventually be assumed by customers within Plantation Bay: county taxpayers are not to see any impact from those costs, Coffey said. "We're trying to incrementally restore the system with newer processes and equipment, it just takes time," Coffey said. "There's a balance between charging the customer and having rates too high. We're trying to manager all that."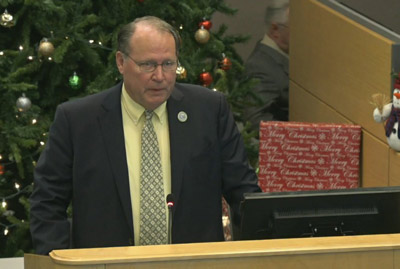 Both projects will take 12 to 18 months.
The water management district accepted applications for the grants through mid-October. The projects had to show a documented benefit or improvements to water supply, water quality, natural systems, and flood protection. The projects must be completed by the end of 2020.
Out of 17 applicants, seven were dismissed as ineligible for not meeting the scope of the program. Palm Coast was among those seven. The remaining ten were ranked in order of worthiness, with Bunnell coming in first and Flagler's PlantatioN Bay project coming in sixth. The cutoff was not so much worthiness as available money: since the total available was $3.4 million, no project beyond that limit could be included.
Flagler Beach's project ranked ninth.
Applications were scored based on four criteria, including the clarity of the narrative description, goals and measures, the benefit to the water management's mission, how soon the project could be executed, and how cost-effective it is. Applicants' past performances were also evaluated. (Flagler County had secured a previous $500,000 grant in 2015 for its Malacompra Road drainage improvements.) Though applicants could have lost points for a history of poor performance–not staying on schedule, not staying within budget and so on—none were actually assessed a deduction.
The St. Johns River Water Management District is a tax-supported entity that regulates water resources in 18 counties, including Flagler. Flagler residents typically pay about $36 a year for a median household with a taxable value of $150,000.