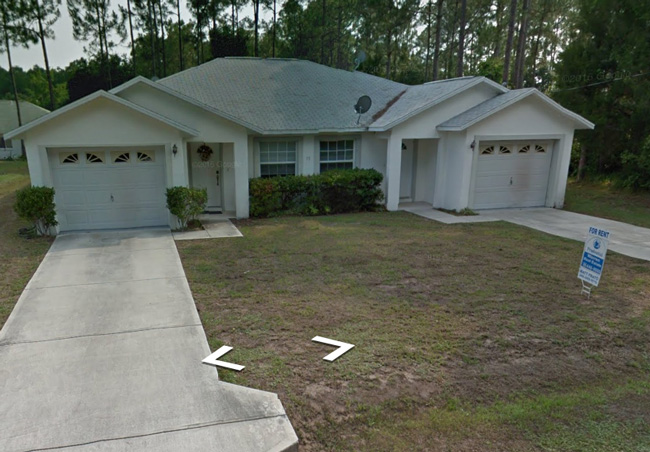 An attempted armed robbery authorities are calling "brazen," at a home in Palm Coast's B-Section, forced Indian Trails Middle School and Belle Terre Elementary on lock-down this morning just as students were streaming in for the day.
The incident was reported at 8:19 a.m. It began at 15-B Bunker Knolls Lane, a duplex, when the resident heard the doorbell. The resident opened the door, and a man in a hooded sweatshirt put a gun in his face, according to a Flagler County Sheriff's spokesperson.
The resident fled the house. "They're not sure what this guy took, if anything," the spokesperson said, describing the assailant as black, about 6 foot tall with short hair, and a dark hooded sweatshirt.
"They saw him running away from the house, so now we've set up a perimeter, we have the K-9s out there," the spokesperson said. Flagler County Fire Flight, the emergency helicopter, has been called in to assist in the search.
The resident at the house cut his arm as he fled the house, but the injury does not apear to be directly related to the attempted robbery, which the sheriff's office is currently categorizing as an armed burglary.
Indian Trails Middle School was immediately put on lockdown. Students were arriving at Belle Terre Elementary, where classes were to begin around 9 a.m. "They have all the deputies out there letting the kids into the school, then the school is on lockdown," the spokesperson said.
The two schools were given the all-clear at 9:45 a.m. and resumed normal operations. The school at United Methodist Church had also been placed on lockdown, and that lockdown lifted at 9:45.
"They have not located the suspect but don't believe he's in that area" anymore, the sheriff's spokesperson said at 10:15 a.m. "The dogs lost the track."
The resident "said he had no idea who it was," the spokesperson said of the alleged assailant. "He was definitely armed, he had a revolver." The alleged assailant was seen fleeing behind the house.
The spokesperson described the attempted robbery as "pretty brazen."
"It was right around school bus time. There were kids in the area," the spokesperson said.