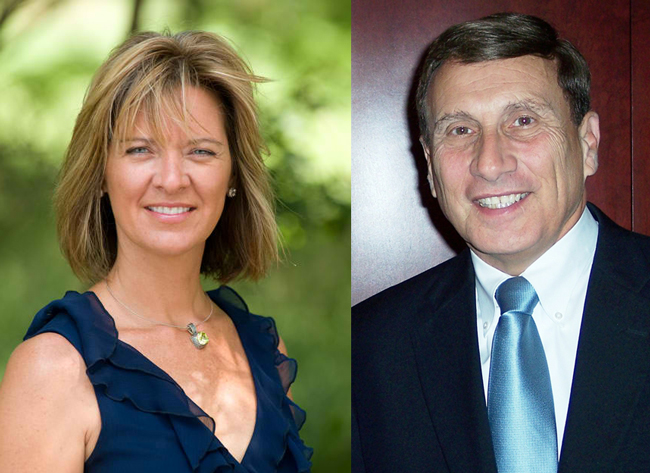 Democrat Heather Beaven, John Mica's challenger in Florida's 7th Congressional District, has done plenty to tidy up what had been a messy beginning to her campaign. She's trying to do a little more. She has her first TV ad. It's called "Determination." It's worth a look–and a quick analysis. I'd love to do the same for Mica, but so far he's taking his victory pretty much for granted. No ads from him yet. It's a matter of time: he has too much money to let sit around, and to hear some of these tea party fogeys, it isn't out of the question that rage against incumbents couldn't help Beaven, even if that rage is blowing from the right.
Here's the text of the Beaven ad:
She's a decorated Navy veteran who fought in the drug and immigration wars on America's southern border. Now she runs a non-profit, helping kids learn job skills and find employment. As a first-time candidate, she has the guts and determination to take on the special interests in Washington, to help Florida's small businesses expand, and start hiring again. She's Heather Beaven, one of us, for Congress.
The voice-over is nothing unusual. Its male baritone is actually familiar, which is disappointing in one sense: when will women be the accepted voice-over for political candidates' TV ads–especially for a woman who's making a point of bucking stereotypes (Navy veteran and all that)?
Here's the ad itself:

[media id=86 width=500 height=350]
It's a surprisingly non-confrontational ad for a campaign commercial less than two months away from the election. This is the sort of ad you roll out in the spring as a nice introduction to all the Rotary and Kiwanis clubs that should come after you. But as an ad prefacing a showdown over issues worthy of a showdown–Mica's Saudi-prince-like oil addiction, his virtual sense of entitlement to the very same seat he uses to bash every entitlement he can, his reckless shilling for keeping all the Bush tax cuts at the expense of a fiscal future already mortgaged twice over–there's not much of a there there.
The ad is empty of anything suggesting a race against an eternal incumbent, which should be any challenger's first parry this year, if that challenger has been paying attention: Mica has been in office since 1992, making him not merely a contemporary of Bill Clinton, but a pre-historic incumbent, the Internet being the start of history as we know it. The ad is obviously designed as an introduction to a vast public that still doesn't know who Beaven is, though there's no word about her family (she is married, she has children), her roots (actually, she's a Missouri native, but who in Florida isn't a native of elsewhere?) or her current whereabouts (Palm Coast and Flagler Beach). So it does what these sorts of ads do regardless of who's running: it appeals to simple, and relatively simple-minded, instincts of militarism, gutsiness, kid-friendliness (insterad of kissing babies, she gets older kids jobs, which is more useful), plus a little nativism. Beaven lays it on a bit thick, though she'd have to: for all the Democrats outnumbering Republican registrants in Flagler County, the 7th District is Republican country where m&m reigns.
Nevertheless, it's not exactly clear what the Navy was doing fighting "in the drug and immigration wars" down south, since we're not exactly at war there (nor should be), and no Navy was deployed in any "war" on our borders. If Beaven is suggesting that her ship took her to the deep waters off Colombia, where the Clinton and Bush administrations did waste a few billion dollars fighting a proxy war, there's the small matter of geographic accuracy.
Still, most people don't know that, so they'll pump a fist or two over the Beaven ad's rah-rah warmongering over undocumented immigrants. Making immigration one of the few centerpieces of the ad just when Obama is angling again for immigration reform raises another question: would she resist the road to citizenship offered to most undocumented immigrants in such a reform plan?
The cause-and-effect bit about being a first-time candidate is weak: It doesn't follow that just because someone is a first-time candidate, she can get the economy going or take on special interests. Off-the-rack logic like that can just as easily bite back in Robert Louis Stevenson style: "Politics is perhaps the only profession for which no preparation is thought necessary." Besides, Obama is a first-time president. Look where he is now.
The usual necessities of introductory ads aside, there is one clearly disturbing, ugly line: "one of us." Really? What does that mean? What does it imply? I wouldn't mind a few more liberals in this swarm of conservative stupor we've been in for more than a quarter century (a couple of Obama's moderate dares aside), but one of us? Who exactly is not "one of us"? Republicans? Immigrants? John Mica? There is no acceptable answer to that question no matter how you pose it, how you phrase it. It's a tasteless question that, no matter how seemingly noble the answer implies superiority on one hand–hers–and inferiority somewhere on the other. That sort of line reminds me of the Alabama candidate who wanted to outlaw driver's tests in any language but English.
We don't need xenophobia in any language. Especially not from a Democratic candidate. There's plenty to tackle in Mica's two decades (or his last two months, if short attention spans are an issue). Sounding like him isn't a good strategy. ("Any careful review of these new proposals for reform will reveal that their primary objective is to grant amnesty or so called pathways to citizenship," Mica just wrote fearfully of the Obama immigration reform package.) Then again, it's not as if the man in the White House has been much of an inspiration.
Democrats these days are in their own wilderness. Beaven's ad shows to what extent.
—Pierre Tristam