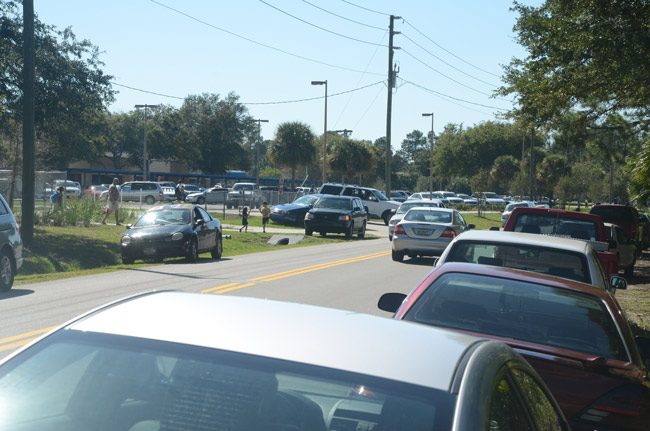 Officials have concluded from detailed studies of transportation patterns for Flagler County's six elementary schools and two middle schools that too many parents are driving to and from schools to drop off and pick up their children, increasing congestion around schools, causing hazardous conditions for pedestrians and bicyclists, and increasing the risk of harm to students at the beginning and end of the school day.
That's the case even at Old Kings Elementary, where almost no students were observed walking to school, and where most live beyond the minimum one-mile perimeter from the school that makes them eligible to ride district buses. But potential problems were also detected at other schools in the district.
Ironically, the district's emphasis on school choice, permitting parents to enroll their child in any of the county's schools, space permitting, has only encouraged car riding, as buses don't always accommodate school choice. So the district's own policies may be at odds with the studies' safety-minded conclusions.
The studies also found that for pedestrians and cyclists, sidewalks around several of the schools could be improved, striping on roads should be brightened, road signage increased and enforcement of traffic laws intensified, with more tickets periodically issued to set an example.
Palm Coast government and the school district have attempted to better understand safety issues around schools and in neighborhoods, but in a largely improvised, non-systematic and anecdotal way. The studies sponsored by the Transportation Planning Organization are the first comprehensive, empirical analyses to that end. Each school's study is more than 100 pages long. The studies were conducted by Orlando-based Kittleson and Associates, a planning and engineering firm, and paid for by the River To Sea Transportation Planning organization, which represents Flagler and Volusia counties and sets the agenda for road, rail and other transportation-related development and safety issues. Elected officials from all local governments serve on the board of the organization.
The studies have no enforcement component. But they give local governments—in this case, the school board, primarily, but also Palm Coast and Bunnell governments and the Sheriff's Office—more empirical evidence on which to base their safety and development plans. The studies also coincide with heightened concern over the past two years in Flagler and Palm Coast for students' safety at bus stops and on the way to and from school, as the county has wrestled with numerous crashes involving students on foot or on bicycles, including three fatalities.
But the studies had two major blind spots: Matanzas High School (two of whose students have been killed on Palm Coast's roads since December) and Flagler Palm Coast High School. Flagler County School Board members, who heard a briefing on the studies at a workshop last month, want those blind spots remedied. The board members agreed to further discuss studies at their next workshop on July 18 to come up with an action plan, though when the agenda for the July 11 meeting was posted today, that discussion did not appear listed.
---
Too many parents using the car-rider option, too few sidewalks, but many suggestions.
---
"One of the main culprits is the amount of cars that access" school campuses, School Board member Andy Dance said. "Even schools having a decent pedestrian access, there's still too many cars utilizing the pick-up drop-offs, so how do we make the routes safer, how do we give parents the feeling of a safe route to school?" Dance has taken part in joint efforts with Palm Coast, going back to last year, to improve student safety, but those efforts to date have led mostly to largely cosmetic changes at a few bus stops and more heightened education campaigns for students who walk and bike to school. None of the safety measures have addressed parental car lines to date—and none had even considered that to be an issue.
"Why are so many parents not utilizing the bus service, and is there a way we can find out what their concerns and fears are," School Board member Colleen Conklin said, "or some of the reasons for why they're not using the buses, that we might be able to address some of those concerns and increase the number of students who actually ride the bus, if that's possible." She suggested a mandatory workshop for parents if they are to qualify for a pass to pick up and drop off their children, a proposal almost certain to draw some resistance from parents. And, she said, she wants a discussion between the school district, the city council and the sheriff's office.
Too many parents using the car-rider option, too few sidewalks, but many suggestions. Adam Burghoff, senior engineer with Kittelson and Associates, presented the firm's findings to the board with Winnie Oden, the district's safety coordinator.
Burghoff had encouraging words to say about the relationships between crossing guards and students at the various schools, with crossing guards filling an effective role to efficiently get walkers in and out of campus. He noted that was especially the case at Belle Terre Elementary, a school with hundreds of students who walk or, judging from the amply used bike pens, bike to school. The issue in that zone, which also affects Indian Trails Middle School, is sidewalks: while the sidewalks are broad along Belle Terre Parkway and on some collector roads, they disappear on smaller roads. For example, a sidewalk ends abruptly at Bird of Paradise Drive and Borroughs Drive. Nevertheless, students were observed walking "comfortably in the streets."
The majority of vehicles tend to observe the speed limit, except for the random motorists who do not: those, of course, are the motorists who cause damage. One of the recommendations that came out of the study is to step up enforcement where we can," Burghoff said. Another issue on side streets, observed particularly on Bird of Paradise Drive: private driveways cause students to walk in the street. The firm recommends speaking with property owners to be less restrictive.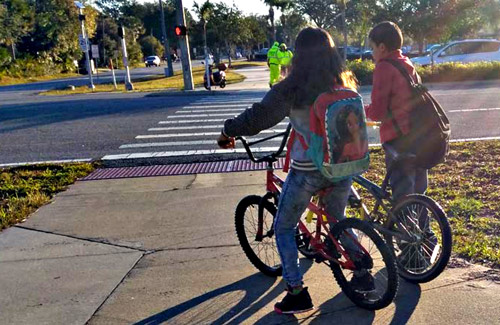 There were more serious issues at Rymfire Elementary, where parents are often reluctant to go into the car-rider loop, so they drop off students on Rytmfire Drive instead. Avoiding car rider lines isn't uncommon anywhere in the state, "but in this particular case," Burghoff said, "we were starting to see that the parent pick-up drop-off behavior in and around the school was actually leading to safety issues that could be avoided, when a parent drops off their student outside the road, then the student darts across the road, or maybe they go down to the crosswalk and they're walking in an area where there might be no sidewalk today. That does create a safety issue that could be addressed."
One of the recommendations is enhance the signage to give police better ground to enforce unsafe behavior. The city should also freshen up the striping on the road, Burghoff said.
Another recommendation from the study: "Install street lighting on Rymfire Drive in front of School Campus, especially at the intersection of Red Mill Drive which has the crosswalk across Rymfire Drive." And to improve safety between a deep drainage ditch and the sidewalk along Rymfire Drive, "Plant continuous dense shrubs between the sidewalk and drainage swale to fill the gaps." There's also a recommendation to forbid left turns from Rymfire Drive onto the school's north entrance.
And this, which could get residents as riled up as they have been in the F Section, over a proposed footpath along an FPL easement there: "Conduct a feasibility study to explore options for constructing shared use paths within drainage easements located on east of Rymfire Drive & Regency Drive as well as on northwest of Rymfire Drive/ Ralph Carter Park to better connect neighborhoods."
At Wadsworth, a lot pf parents drop off their children on Parkview, by the park near the school, which analysts found problematic, along with building congestion on Parkview.
"Whenever you have vehicular congestion, it creates an environment for unsafe behaviors for pedestrians and bicyclists because they're concentrating more on cars than they would be a bicyclist coming in quickly from one direction, or a pedestrian," Burghoff said. The consultants are proposing finding ways to reduce the number of parents who drive their children to school there, and encourage bus riding instead, as with Old Kings Elementary. "If we can mitigate the number of conflicts between cars, bicyclists and pedestrians, it improves safety."
At Buddy Taylor Middle School, the recommendation is to reconfigure the endless "serpentine" pick up and drop off area so parents aren't locked into the line for so long. "The buses aren't the issue, it's really just parents," Burghoff said.
There was an issue with walkers who walk up ands down Belle Terre, particularly at the level of the pedestrian bridge over a ditch, a short distance south of the school's campus. Burghoff said a lot of students congregate on that bridge, while a lot of other students then opt not to walk the gauntlet, choosing to cross the parkway and walk on the other side instead. Further into the neighborhoods, same story: a lack of sidewalks.
Around Bunnell Elementary, the issue wasn't so much a lack of sidewalks as narrow sidewalks.
Every study may be accessed below:


The Complete Studies:
Belle Terre Elementary School
Buddy Taylor Middle School
Indian Trails Middle School
Old Kings Elementary School
Rymfire Elementary School
Wadsworth Elementary School
Bunnell Elementary School
Kittleson and Associates' Presentation (2017)
<![if !IE]><![endif]>