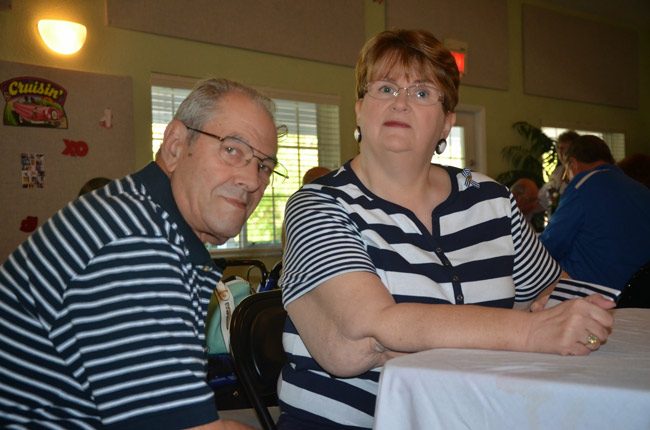 Mary Ann Dominessy Reese had become something of a celebrity, and not just around Plantation Oaks, where she lived. Her Facebook page, "In the Fight With MADR," citing her initials, was an unsparing, public diary of her fight with ALS, or amyotrophic lateral sclerosis, the progressive disease that slowly paralyzes its victim from heat to toe, robbing all physical powers down to eating and, eventually, breathing.
Though she kept it an invitation-only group, the page was read widely as she continued to write, though less and less as time—as the disease—progressed. And then nothing since Feb. 17. "It has been a long time since my last post," Mary Ann wrote that day. "Some of that is because nothing new was happening. Other times, there were things to share and I couldn't find the words. This week has been trauma filled so I'm going to attempt to get things out there. Wish me luck." She wrote of her latest struggles, not least of them having to communicate entirely with a stylus on a tablet, which was "slow and tedious," of resembling "someone from a concentration camp," of having to withdraw from almost all community events, though she was looking forward to a couple of concerts.
As always, she reserved her greatest affection for Ed Reese, her husband of 15 years. "Ed is beyond incredible in the care, love and support he gives me," Mary Ann wrote in mid-February. "He is my rock through all of this I am so lucky to share this life and love with him."
This morning, Ed Reese announced the death of his wife on her page. Mary Ann Dominessy Reese was 63.
---
"I cannot sit around and wait to die."
---
"We managed to win some battles in our fight against this god forsaken disease but very early this morning we lost the war, and I lost the love of my life," Ed wrote. "You all know how brave and determined she was about anything to which she committed herself. Please know that she revered and valued everyone with whom she corresponded and who followed this web site. Please also know that all your participation meant a great deal to her and provided her a lot of pleasure. Lately, ALS took away her ability to hold a stylus almost completely and 'typing' was a slow and tedious process for her. She kept up as best she could but nowhere near what she would have liked. I would like to thank you all for the pleasure your participation gave her."
Responses were quick to combine admiration and emotions Mary Ann with scorn for "that awful disease."
Mary Ann, a retired teacher who moved from Pennsylvania to Flagler Beach in 2008. She had no reason to imagine she'd be one of the 5,800 people a year who are diagnosed with ALS. But something odd started in the winter of 2014. She started falling, having reflux issues, more falls. She visited doctor after doctor, was given one erroneous diagnosis after another until, just before Christmas, she was told she had ALS. She was given two to five years. She lived with what amounted to a death sentence almost two and a half years more.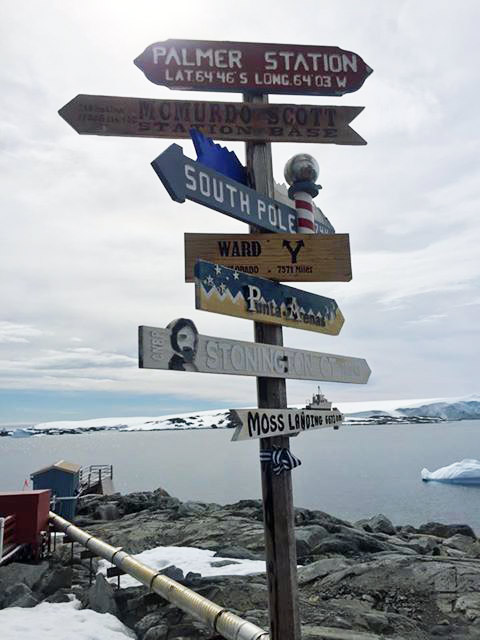 But as with all she'd done in her life, she refused to let it be. She became a campaigner in the fight against ALS. At the time the ALS Association's ice bucket challenge was drenching the nation. The concept went viral and helped raise $115 million in a matter of weeks, but then largely dried up, as many such campaigns do. Mary Ann saw the fight against the disease as a long-term battle, one that would depend on sustained awareness until a cure is devised. So she developed an awareness campaign of her own, urging people to tie blue and white ribbons somewhere on a prominent structure on their property. The ribbon knots went up all over Plantation Oaks, and then on properties in other states as people started contacting Mary Ann for ribbons, until she had managed to have ribbons tied across all 50 states and a few other countries. A friend's son had traveled to Antarctica, and there, at Palmer Station, below the slabs of arrows pointing to the South Pole and other landmarks on the continent, was Mary Ann's ALS ribbon.
A year later, the woman's son had returned to Palmer Station, "and despite an addition made to the sign, the frigid temperatures, and gale force winds," " she wrote, attaching a picture, "your ribbon is still holding true. It's just like you, it is still holding strong."
"I cannot sit around and wait to die," Mary Ann had said at another event in April 2015, a fundraising dinner for ALS at Plantation Oaks, where she raised several thousand dollars. "I know the time is coming where I'll be in a wheelchair all the time, and I won't be able to speak. I don't know how that's going to be. Beyond horrible. But in the meanwhile, I am enjoying my family." She was about to go on a cruise.
The awareness of her fate, and of worse things to come, was always with her: that was the point of her Facebook page, to disseminate that awareness from inside the prison that was becoming her body. She did it with verve and wry humor. "On my left hand, all of my fingers have started to curl except the middle one. So, when I wave at people, it kind of looks like I'm flipping them off," she wrote on September 29, ending her sentence with a smiley face.
There's no such thing as respite from decline when ALS strikes: it doesn't stall, it doesn't get better. It only gets worse, usually unimaginably so. Whatever the difficulties, Mary Ann kept chronicling them when she could. "I started August by spending 5 days in the hospital with breathing issues," she wrote in September. "I never saw that coming. Until then, the impact this disease had on me had been obvious. Not being able to walk or talk are pretty hard to miss. This hospitalization forced me to realize my ALS continues to progress. I didn't like that realization. It hit me hard!!"
And yet in the same post, she insisted she'd go on, that it was time for a party, one of those parties for which she was well known. "Waiting for life to be perfect is futile. Much better to just go with it. Time with friends is therapeutic," she wrote. "This disease will continue to take a toll on me. I can't stop that. What I CAN do is make choices that enhance the time I have left. I can feed off the love and support of my wonderful family and many friends here in Florida, up North and on FaceBook I can be intensely thankful for the incredible love of my amazing husband. i can love and delight in Tom and Colton and my step-family. I can continue to pray for strength and a cure. I can squeeze every bit of joy available out of each day. And, until the day I die, I can and will continue to LIVE!!!"