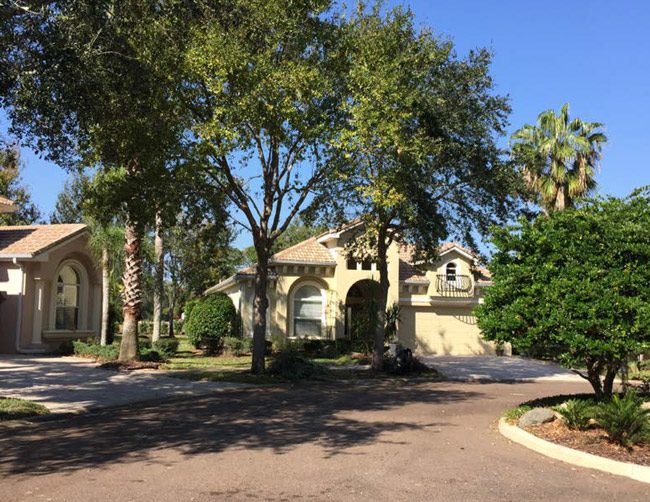 Palm Coast's L Section may get a new gated community of some 102 homes on 6,000 square-foot lots, with two lakes and a canal, all of which are yet to be dug, creating waterfront access to a third of the properties and improving drainage in the area. The development, Matanzas Lake, is conceived by Jim Cullis, developer of Grand Haven in southeast Palm Coast.
Cullis compared the proposed homes to properties at Grand Haven currently selling between $300,000 and $400,000.
Palm Coast's planning board voted 6-1 on Nov. 16 to recommend the project for approval by the city council. The council unanimously did so Tuesday evening, ratifying the necessary rezoning for the project, after an 80-minute discussion.
"This is a classic in-fill site," Cullis told the council, using the term intended to describe what is essentially the opposite of sprawl: in-fill development seeks to "fill-in" areas already surrounded by development, without extending development outward. Palm Coast includes thousands of such vacant lots, and several large parcels that may be filled in with larger developments.
The project has nothing to do with the troubled Matanzas Woods Golf Club in the same section of town, though Cullis has had his eyes on acquiring that property as well.
The rezoning at Matanzas Lake is tied to two city goals: to continue rezoning several areas in the city from parcels zoned for multi-family homes to single-family homes, and to improve stormwater drainage systems. Cullis's Matanzas Lakes does both.
The nearly 29-acre rectangular parcel Cullis was bringing before the council had been zoned for up to 142 multi-family homes—that is, town houses and condominiums. The rezoning will make it eligible for 108 single-family homes built around a central lake, with a clubhouse and swimming pool near the main entrance on Laramie Drive.
The 6,000 square-foot lots are similar to about a quarter of the lot sizes at Grand Haven, but they are smaller than the typical 80-foot lot in Palm Coast. "These are patio homes," Palm Coast Mayor Milissa Holland explained. "It's about choices and options that we offer to our residents. This is one of many that are coming in to different communities as a way of residents that are retired, that are elderly, that do not want big properties or homes to take care of, and it offers them the different option." The transition to such lots is not uncommon, she said.
The project will also help the city improve drainage in the area. In heavy rains at nearby U.S. 1, water backs up into a canal, then into ditches, then into swales, putting yards and potential homes at risk. The city has been working on improvements by re-digging ditches and adding stormwater storage capacity. It also owns an 11-acre parcel that runs the length of the Cullis property, to its east. Cullis is proposing to dig that land at his own company's expense into another lake, providing room for overflow stormwater, as well as docks for kayaks and similarly light boats for residents of his development. Cullis would also pay the $100,000 for environmental permitting and mitigation costs. He would also dig a canal along the southern edge of the development, parallel to Lynbrook Drive.
The city is also making a concession in the form of park impact fee credits worth $15,300. But the city is making the Cullis development partially contingent on progress and completion of the artificial water bodies on city land.
The 29 acres Cullis owned envelop a small, 2-acre enclave owned by the city. The agreement approved Tuesday swaps that acreage for 3 acres split into two properties elsewhere, to help the city's drainage system, rendering the Cullis property itself whole.
In a promise to Matanzas Woods neighbors, Cullis said he's committed to ensuring that the new development will mostly not be a haven for "transient" or short-term housing. The rental restrictions, he said, are similar to those at Grand Haven: "You can't rent your home any less than a month at a time any more than three times a year," Cullis said, " so that keeps out any type of transient rental, and I've committed to making that condition in our approval here."
There was some concern about traffic, with the gated community's twin entrances and exits both on Laramie Drive. A transportation consultant told the council that the new development would generate about the same amount of traffic as if the acreage had been developed under its previous zoning.
Eric Josie, a resident whose property neighbors the project, protested to the council that meetings Cullis held with neighboring residents were not properly noticed, as "many of the residents are not aware of this project." The main concern was the Laramie Drive entrances and exits, which he said could not accommodate that large a number of new homes. Another neighborhood resident raised concerns about traffic making bus stops more hazardous for students along Laramie. (City officials disagreed with Josie's claims of legal improprieties regarding notices about meetings.)
But if numerous residents had not had a chance to hear about the project, several who did speak to the council had only applause for it.
Heather Beaven, a London Drive resident, said she "wholeheartedly" supports the project if it's going to "jump-start that neighborhood." She was one of the buyers of property near the ill-fated golf course. "Those are our nest eggs, those are our biggest purchases, and if we can bring somebody in with the caliber and the history of Mr. Cullis and his developments, if we can jump-start Matanzas Woods into the newest Grand Haven, I cannot support that enough," Beaven said.
Brad West, a 12-year resident of Matanzas Woods and another property owner along the golf course, commended the transformation of the zone into single-family housing and called it an overall win for all. "Any time you put a house on water, property values just naturally goes up around here," West said, "so everybody there that's going to win, tax revenue goes up, it's going to be a huge improvement for the area and the stormwater piece, I know exactly what you're talking about, I've lived through that on several occasions, so having more drainage area just makes sense. And thank you to Mr. Cullis for having a commitment to the neighborhood when he hasn't always been very well received around there."
Three others echoed the same enthusiasm, with the only caveat regarding traffic concerns.