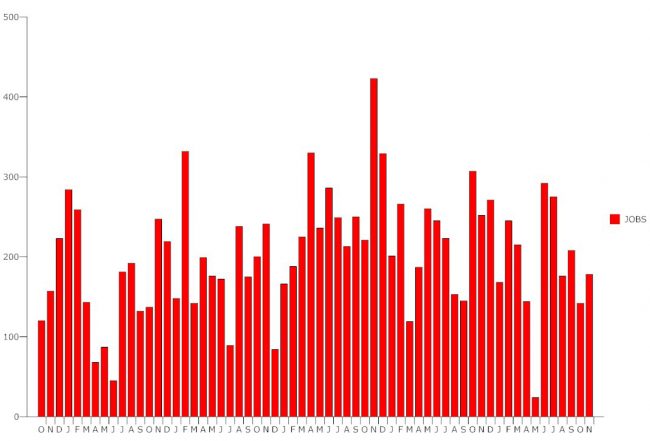 The national economy added 178,000 jobs in November, sharply reducing the unemployment rate three decimal points to 4.6 percent, its lowest level since August 2007.
But the Labor Department's November report was not as good as it may seem, for several reasons. Wages dropped. After hourly earnings increased 19 cents in September and October, the best rate of increase since 2008, wages feel by 3 cents in November cents in September, though for the year the increase remains at 2.5 percent.
And the drop in unemployment was due more to a reduction in the labor force than because new jobs were created: The labor force participation rate dropped to 62.7, down from 66.3 percent in November 2006. Part of the decline was expected: it's due to the growing ranks of retiring baby-boomers. But that only accounts for part of the figure.
Still, President Obama will be leaving office and turning over the reins to Donald Trump after 81 straight months of private-sector job creation, a streak never equaled before–not even during the large economic expansions under Presidents Clinton, Reagan, or Johnson. Housing prices continue to rise, consumer confidence is approaching a 10-year high and the economy as a whole grew by a muscular 3.2 percent annual rate as of the third quarter.
After a tepid month in May, when the economy added just 24,000 jobs, it's added 1.27 million jobs, averaging 211,000 net new jobs a month in the past six months and reducing the number of unemployed Americans to 7.4 million. But 1.9 million persons were marginally attached to the labor force, up by 215,000 from a year earlier. The marginally attached are workers who had dropped out of the labor force but wanted and were available for work, and had looked for a
job sometime in the prior 12 months. They were not counted as unemployed because they had not searched for work in the four weeks preceding the survey. More than half a million of those were considered "discouraged," meaning that they'd given up on looking for work.
The number of people employed part time for economic reasons–workers who could not find full-time work or whose hours had been cut back–stood at 5.7 million. That figure decreased by 416,000 over the year.
When discouraged, marginally attached and involuntary part-time workers are calculated into the unemployment figures, thus reflecting not only unemployment but under-employment and those who have dropped out of the workforce, that alternative rate of unemployment rises to 9.3 percent, a decline of two decimal points from October.
Looking at the finer print of the November report, employment in professional and business services rose by 63,000, administrative and support services added 36,000 jobs, health care employment rose by 28,000, construction added 19,000, with a 15,000 gain in residential specialty trade contractors. The average workweek for all employees on private payrolls was unchanged at 34.4 hours. In manufacturing, it declined by 0.2 hour to 40.6 hours, while overtime was unchanged at 3.3 hours.