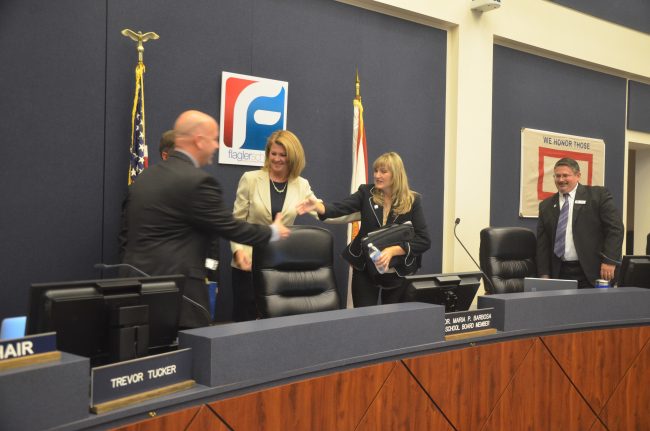 It was a day of investitures for the Flagler County School Board and the County Commission, where a combined five officials were sworn-in at separate, morning and afternoon ceremonies: two of them for winning reelection, three for winning their first election.
Circuit Judge R. Lee Smith, who officiated throughout, swore in School Board member Colleen Conklin after she won her fifth consecutive election to the school board, now making her the longest-serving elected official in Flagler County. She was first elected in 2000. She is also the last surviving Democrat on the county's major boards or among constitutional officers, now that Barbara Revels and George Hanns were voted off the county commission. (Flagler Beach and Bunnell's commissions each have one surviving Democrat.)
Hanns had been the senior elected official until then, having won his first election in 1992. He was defeated by Donald O'Brien. Dave Sullivan defeated Revels. Maria Barbosa was also sworn-in at the school board, filling the seat held since 2000 by Sue Dickinson, who opted to retire.
The school board still manages to have at least a modicum of diversity: three women, one of them of Portuguese birth, but all white in a district significantly more diverse than the collective make-up of its elected officials or its now-much more diverse administration. The county commission, never a font of diversity, has reverted to an all-white, all-male corps whose average age is 65 (compared to 52 on the school board), with one more seat to be filled once the governor gets around to it.
The investitures were remarkable only for the underlying changes they portend, particularly on the county commission, which will have a new majority. The county commission moved on to electing its chairman and vice chairman–Nate McLaughlin as chairman, Ericksen as vice-chair–but not yet make committee appointments: that'll be done at its next meeting. (Nate McLaughlin, the senior member of the commission, has reportedly been lobbying to get a two-year appointment, thus ensuring that he's chairman during his next reelection season. Though the vote wasn't clear, the chairmanship is"annual," a county spokesperson said.). (An earlier version of this story incorrectly reported that the commission had not yet voted on the chairmanship.)
The school board held a full business meeting, however, electing Trevor Tucker its chairman and Janet McDonald, in a divided 3-2 vote, its vice-chair. Tucker nominated Dance for vice-chair but that nomination failed.
The newly-elected had a few words of thanks to the electorate and promises to be accountable. O'Brien and Sullivan magnanimously spoke highly of their predecessors, with O'Brien quoting a line from a biography of John Adams he's been reading, where the story is told of Thomas Jefferson replacing Benjamin Franklin as a minister in Paris, only for Jefferson to correct that no one gets to "replace" Franklin, only to succeed him. "It's not easy to succeed a legend," O'Brien said of George Hanns, noting that he, too, was merely succeeding him.
Hanns was in the audience, and had managed, against all odds, to be part of this investiture ceremony after all: elected officials usually have their spouses at their side when taking the oath, a hand on a Bible. Recently divorced Ericksen chose to have Hanns at his side, less than a day after Ericksen had roasted him and wondered what it was exactly that had kept him from voting for him.
McLaughlin ended the brief meeting by warning his colleagues: "The citizens of Flagler County are watching us with a magnifying glass."
The last significant changing of the guard will not take place until the first week of January, when constitutional officers' terms end. But only one change will be significant–at the sheriff's office, where Rick Staly will replace Jim Manfre. Other constitutional offices will see continuity, with existing officers starting new terms or, in the case of Tom Bexley, the next clerk of court, moving from one office to the next and assuming the title of a responsibility he'd been fulfilling as Gail Wadsworth's deputy. A farewell for Wadsworth is scheduled in front of the courthouse on Dec. 16 at 3:30 p.m.