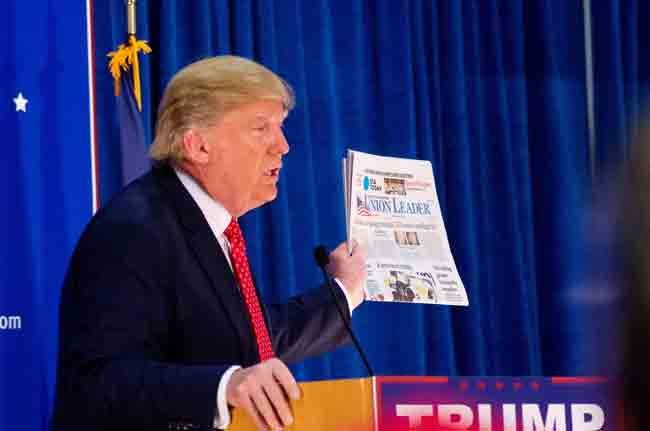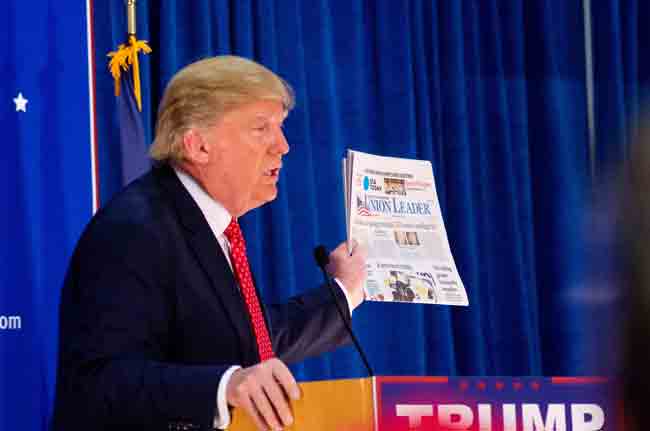 By Nancy Smith
Voters delivered a humiliating rebuke to America's political establishment and to the hangers-on — the pollsters, the pundits, the celebrities who surrounded Hillary Clinton, even as Donald Trump stood alone — and especially the biggest hanger-on of all, the media elite. What an Election Day.
I'm convinced the media created the Donald Trump we will inaugurate in January.
And by the way, though I'm hardly an "elite," I'm not excluding myself as part of the problem. At times I behaved as badly as the others.
It was the media's wall-to-wall coverage of Trump's every word for more than a year that powered his victory.
The press didn't even pretend to treat him like a normal candidate: CNN's chyrons fact-checked him (but not Hillary Clinton) in real time; the Washington Post reacted to being banned from Trump with a shrug; BuzzFeed News published a memo telling reporters it was fine to call him "a mendacious racist" on social media; the New York Times published a viral video in which it simply quoted the most vile statements it heard from Trump's supporters.
"When I see Donald Trump, I think he wakes up every day knowing that 20 of the best investigative reporters in the country working for The Washington Post are assigned to find dirt on him," Geraldo Rivera said during a TV interview last month. "Every day the best investigative reporters at The New York Times are assigned to find dirt on Donald Trump," Rivera said. "He wakes up to that every day. We talk in general terms about the mainstream media and bias but (until now) I have never in my half century of doing this seen actual proof."
The bias through the campaign was like a dissonant crescendo. The media felt increasingly free to cover Trump as an alien, dangerous, and dishonest phenomenon. CNN, for example, never made an attempt at its usual faux-evenhandedness.
Is it any wonder pollsters are now admitting Trump supporters, when contacted during a survey, were lying to them, unwilling to admit they favored the "bigot" Trump? When the worst revelations of the campaign came out about Hillary Clinton, CNN commentators would jump in to defend her, even before her surrogates did. Their tone was always, always respectful. When Trump campaign manager Kellyanne Conway challenged a CNN attack on her boss, commentators quickly ended the discussion, interrupting her. "We have to go to break now," they would say. This happened over and over.
And even when Clinton came out with her "basket of deplorables" remark, did a single network make an effort to bring in the ordinary Americans who committed so early to Trump, who showed up at his rallies carrying signs and wearing hats? Not that I saw. Not even once.
I saw news-show guest appearances by Hispanics, Muslims, African-Americans, LGBTs, disabled people, anti-Trump veterans, aggrieved women of every description — tokens from any group Trump had allegedly wronged. But never were the "deplorables" invited in. Never were viewers given the chance to understand them, hear their pain, share their aired grievances.
All the while, America was watching. Taking it in and reacting.
Meghan McCain, John McCain's daughter, got it right on Fox News when she said the media need to take a cold, hard look at themselves.
"How can you talk about this election when you don't know a single Trump supporter?" she asked a Fox commentator. "I know many, many" she said. "Going forward, we can't have (as reporters) just these elites, people who make millions of dollars, people who never leave Manhattan, people who never leave the Beltway …"
We now can see that over the last full year of nothing else on news channels but round-the-clock Trumpbusters, the true independents viewing at home were quietly making up their minds, working up from annoyance to a slow seethe.
This is why I say the media created Trump's victory. The backlash against irresponsible "journalism" in presidential campaign coverage began long before Voting Day.
In line at the polls, I struck up a conversation with the woman ahead of me. "My husband and I didn't decide who we were going to vote for until two weeks ago," she told me. "We figured, yes, we do need change and the deck is stacked against the one candidate who wants to bring it to us. So we decided for Trump."
How painful it must have been for Hillary Election night. She had expected to win. For months — day after day — the media, not just the pollsters, were telling her she would.



Nancy Smith is the editor of Sunshine State News. She started her career at the Daily Mirror and The Observer in London before spending 28 years at The Stuart News/Port St. Lucie News as managing editor and associate editor. She was president of the Florida Society of Newspaper Editors in the mid-1990s. Reach her by email here, or follow her on twitter at @NancyLBSmith.