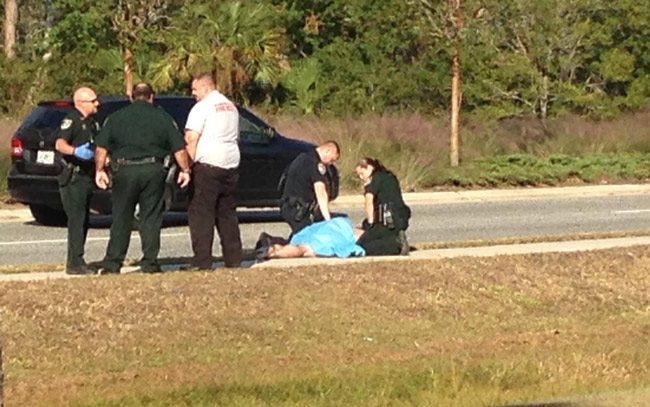 Hearts are breaking at school district offices at the Government Services Building in the wake of an unsettling incident Wednesday afternoon involving one of the district's most admired and prized administrators.
Shawn Schmidli, the 35-year-old director of assessments–a key position that coordinates the district's incessant and ever-changing cocktail of standardized tests–was Baker Acted on Moody Boulevard outside the Government Services Building after running down the street unclothed and speaking incoherently, according to a sheriff's incident report.
Schmidli was not working Wednesday but had been at a Thanksgiving holiday celebration organized at the district offices. What happened to trigger the incident, just after 3 p.m., is unclear. Sheriff's and rescue units were dispatched to the building in response to a call about an employee acting "irrational," according to the report.
On his way there, a deputy observed a county ambulance in the eastbound, right lane of State Road 100, just east of the courthouse, traveling slowly with its emergency lights activated. Schmidli was running east on the sidewalk, "weaving back and forth." He ran faster when the cop pulled up next to him and asked him to stop. There was a brief pursuit before the cop caught up to him on foot and took him to the ground on the grassy shoulder, detaining him. He was taken to Florida Hospital Flagler and subsequently Baker Acted, that is, confined to a psychiatric unit for evaluation for up to three days. It is a distressing intervention but not an uncommon or unfamiliar one to many families who've had a loved one Baker Acted at one time or another, only to see him or her fully recovered.
Superintendent Jacob Oliva today called Schmidli among "the best of the best," and "an outstanding employee, highly valued and even revered statewide."
It's not an exaggeration: his rise to the central office after teaching biology at Matanzas High School was itself unusual, for someone barely 30, and spoke to his talents. Schmidli, who's been in charge of the district's assessments for six years, in March 2015 was able to anticipate technological problems with testing that other districts did not. His anticipation helped Flagler avoid disruptions caused by unresolved glitches in the testing system.
Schmidli has also been uniquely qualified to routinely translate into lucid language for the school board the evolving arcana of the state's byzantine testing system, its annual transformations and its bewildering formulas.
Schmidli is known for his command of the facts and a steadying demeanor that dates back to his years on the Matanzas High School faculty, where he was among the most popular teachers: his accumulation of five-out-of-five stars and testimonies from his students on sites such as Rate My Teachers tell the story: "His students love him and he make the learning process enjoyable." "Best class ever, he is amazing!" "Amazing teacher can't get any better than him!" "Great teacher, explains things fantasticly [sic.], but his classes are for those who will actually try to do great in them. Awesome teacher." "Awesome teacher, I wish I could've taken him for all my sciences. Very funny and makes Biology easy to understand."
The same evaluations have applied to his handling of his administrative responsibilities.
Colleen Conklin, who chairs the school board, says he's been "an exemplary employee" who always "goes above and beyond in everything he does."
Oliva said Schmidli is "part of our family," still very much employed with the district but on personal leave.
Late Friday evening, Schmidli's family issued a statement through the school district that read in part: "A few days ago my brother suffered a medical episode that could have happened to anyone. This was NOT a drug or alcohol related event. His condition was caused by a bacterial infection. Thanks to the prompt response by the medical staff with treatment, we are looking forward to a speedy recovery." Schmidli's brother is not named in the statement. He also thanked the community's love and support. "Shawn is blessed and fortunate to live and work in a community that loves and supports him as much as we do. "