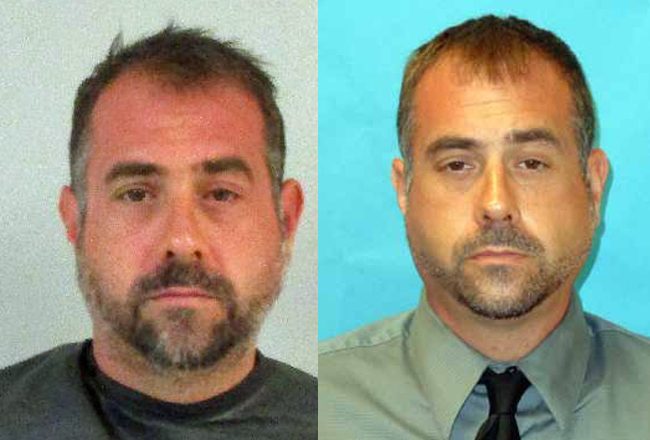 In mid-April, David Scott, a 36-year-old resident of 4th Street in Flagler Beach, was found guilty and sentenced to three months' probation after assaulting his girlfriend of three years and choking her. As his girlfriend managed to run to her car to get away, he chased after her and urinated on her car, threatened to defecate on the vehicle, then shattered the front windshield of the 2009 Mitsubishi Galant with his fist.
It took several Flagler Beach police officers and Flagler County Sheriff's deputies to arrest him, and only after he threatened to fight the cops and was eventually tased into submission. He became no less combative at Florida Hospital Flagler, where he was taken to be medically cleared, yelling out words like "rape" and "fire" in the emergency room despite being shackled to his bed. It was only after he was pepper-sprayed, apparently when he was still in shackles, that he "complied" and fell asleep, according to his arrest report at the time. That incident took place in February.
On Tuesday, a variation of that same incident unfolded, again involving his girlfriend, Flagler Beach cops and deputies, bodily functions, the smashing out of a car window–this time it was a cop's car–and, this time, an injury to a police officer. Passers-by noticed part of the incident as a Flagler Beach police officer was being tended to for her injuries along State Road 100 in early afternoon. Gregory has been at the county jail since, facing five charges, including attempting to escape and battery on a law enforcement officer. He's being held without bond.
The incident began when police got a report of Scott allegedly trespassing at his ex-girlfriend's property: he had arrived at the house two days earlier uninvited, he would not leave, but when he got out to buy beer, his ex-girlfriend locked him out. He managed to get in through a back sliding door anyway. He was "chugging a 16-oz beer as soon as I entered the residence," Rosanna Vinci, a Flagler Beach police officer, reported. He conceded that since his last arrest in February he'd vacated his ex's house and had been living at his parents' house instead. (His Florida prisons booking information lists his address as 60 Barring Place in Palm Coast.) So he was trespassed.
The officer arranged for Scott to have a ride back to his parents. But while checking a law enforcement database, she discovered that he was on probation for domestic violence. Inexplicably, he insisted on calling his probation officer then and there, according to the arrest report, "even after I recommended that he sober up to have a proper conversation with her," Vinci reported. Scott contacted the probation officer anyway. The probation officer told Vinci that Scott was violating his probation by drinking alcohol, and that he should be arrested accordingly. So he was placed under arrest.
The urination threats then began: Scott requested that he be let back into his ex's house to use the bathroom. The officer told him he could do so at the hospital, where he would be taken for medical clearance. He refused, saying he would start urinating immediately, and tried walking away while taking down his pants. A struggle between Scott and Vinci ensued, even though Scott is larger than the officer, and she took him down with assistance from another officer.
On the way to the hospital Scott said he would refuse treatment and make a scene if he ended up at the hospital–no hollow threats, considering his recent history. Anticipating trouble, the officer requested additional deputies to meet her at the hospital. But on State Road 100, just past the Interstate overpass, Scott began kicking and damaging the left passenger window. Commanded to stop, his reply to the officer was a three-word insult. The officer pulled over: she was concerned he'd kick out the window and escape.
Deputies arrived at the scene and initially managed to calm Scott down, but not for long.
Vinci was standing near the window when he kicked the glass again, shattering it and catapulting shards in the officer's direction. She had covered her face, but sustained cuts to the arm. He was placed in another patrol car and driven to the county jail, insisting as he went that he be taken to the hospital instead–and again becoming allegedly violent in the car.
"Once I passed the hospital Scott began yelling and banging his head and fist on the cage plate and attempted to kick out the door," the arrest report states. "Once on scene at [the jail] Scott stated that he was going to batter the first deputy he made contact with." But the remainder of his arrest and booking process was less eventful.
He faces two felony counts and three misdemeanors.