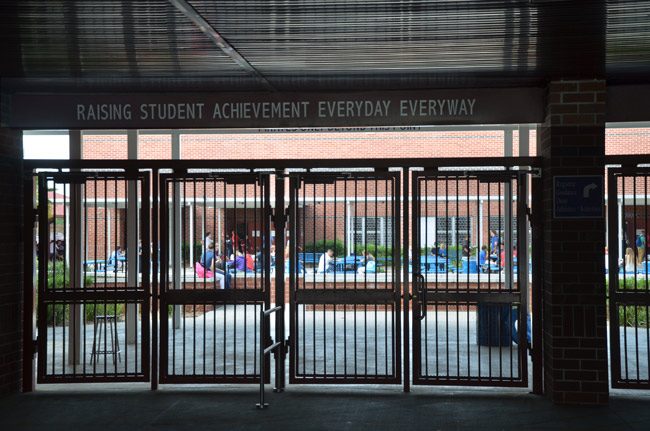 Damien Thompson, an 18-year-old Matanzas High School student, was arrested today at school after a lunch-hour confrontation that started with a student and escalated to involve school staffers and school resource deputies.
The confrontation became physical between the student and the deputies, who eventually handcuffed him, School Superintendent Jacob Oliva said. No other weapons were used.
The altercation began with a verbal dispute between the student and another student at another table in the cafeteria. "Apparently he saw another student at another table and started asking him, hey what do you mean by that, what do you mean by that," Oliva said. Oliva went to the school almost immediately after the report of the altercation, as did ambulances, though there are no reports of injuries.
"He kind of challenged him," Oliva said of the student allegedly causing the altercation. One of the assistant principals intervened to try to calm the situation, Jason Wheeler, a school district spokesman, said. "The student refused," Wheeler said. Another staffer who had a working relationship with the student also intervened, and that too proved fruitless. That's when the school's resource deputy arrived at the scene.
But "that didn't work either," Wheeler said. "One thing led to another and the SRO decided you just need to remove yourself from the campus. That's when things got physical," Wheeler said, and the student allegedly became aggressive toward the SRO. The deputy asked for back-up, and at least two or three additional deputies arrived.
It's not exactly clear how the student was finally brought under control.
A release issued by the sheriff's office later this afternoon stated Thompson had been suspended in the course of the confrontation and refused to leave. "When School Resource Deputy John Landi attempted to remove the student from the campus, the student fought with the deputy in the school courtyard," the release states. "The deputy suffered minor scrapes and scratches and the student was arrested. Thompson was charged with trespassing on school property, resisting an officer with violence, battery of a law enforcement officer and battery of a school official. A 15-year-old Matanzas student is being charged with resisting with violence as a result of trying to interfere with Deputy Landi's arrest. All students returned to their classrooms within five minutes of the incident."
"Within five minutes everything was de-escalated and moved on," Oliva said, noting that all students were able to return to their classrooms swiftly. "Students are still focused on learning."
Officials said the argument does not appear to have had anything to do with today's election.