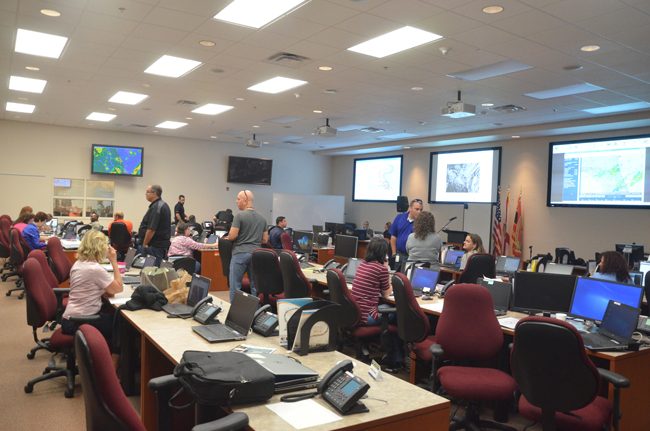 Last Updated: 1:38 p.m.
Jennifer Stagg, the Flagler County Emergency Management senior planner who's been fighting for her job since her supervisor accused her of a series of policy violations, will not be fired, the county's deputy administrator said this morning. But she will be suspended five days without pay and put on notice that she has essentially used up her last straw: further issues would lead to her termination.
Stagg's supervisor, Steve Garten, the emergency services manager, had given her notice last week that she'd be fired. Stagg, a six-year employee of the division, exercised her right to a hearing before Sally Sherman, the deputy administrator. The hearing stretched from Monday to Wednesday as Stagg drew on an unusual corps of supporters, some o whom spoke on her behalf at the hearing, to be part of her defense.
Ultimately, however, it was not the show of force on Stagg's part that necessarily made a difference, but the discrepancies between the allegations against her and what Sherman, who appears to have handled the hearing with scrupulous fairness, was able to sustain during the hearing.
"I did not make this decision unconscientiously," Sherman wrote at the conclusion of s four-page memo that sustained three allegations against Stagg and found four allegations to be unsupported by the evidence. "I have thoroughly reviewed all of the information associated with the hearing. Based on the evidence and testimony submitted I did not fully support the recommendation for termination due to the conflicts between testimony and the documentation by both parties which could not be resolved by me within the time allotted by the pre-disciplinary procedures.
"However," Sherman continued, "it is my assessment based upon the documentation and testimony presented to the hearing that you refuse to adhere to an agreed upon modified work schedule. Therefore, consider this as the next step in progressive discipline resulting in an immediate five (5) day suspension without pay. Furthermore, consider this as a written notification that any further unexcused tardiness or unexcused absenteeism will result in further disciplinary action up to and including termination."
Stagg declined to comment.
The case against Stagg came down to seven allegations. The three sustained allegations related to tardiness, absenteeism and insubordination.
There seems to be little question that tardiness and absenteeism have been a chronic problem through three supervisors Stagg has worked for–Troy Harper, Kevin Guthrie and now Garten, with Guthrie and Garten allowing for a more flexible timetable. The problem was stopped under Guthrie, Guthrie himself said, but apparently not under Garten, though Sherman's memo makes no mention of health issues that may have been behind the pattern.
More serious is the insubordination charge, also sustained, as it revealed that Stagg may not have been at her assigned station during the Hurricane Matthew emergency–a charge that, of itself, could have led the county to fire her. She was the planning section chief during the emergency. "Therefore, to testify as to not knowing your role during the emergency because Mr. Garten did not advise you is concerning," Sherman wrote: employees at that level are not expected to be hand-held, particularly during an emergency. "Your absence created a gap in the the required continuity and efficiency to allow the planning section to run more efficiently." The memo does not specify to what extent that gap existed or whether it affected the operation. County officials in their pronouncements to cameras and reporters have spoken only glowingly of the emergency response, not once suggesting that anything had gone amiss.
Beyond that, the charges against Stagg took a turn away from solid evidence and into subjective judgments that Sherman found were not supported. The charges combined severity with gossip–she had over a week's period, in the middle of the emergency, allegedly "caused un-repairable harm to the relationship with both her supervisor and her co-workers here in the County by speaking extremely negatively about both her supervisor and the County Administrator." Such a charge, of course, could apply to a majority of employees in any organization that listens in to water-cooler conversation, where bosses are ungenerously but routinely badgered for sport.
---
"A lack of cohesion and teamwork throughout the EOC displayed by different agencies and personnel."
---
The charge against Stagg was extremely vague, and bled into the following charge–also found unsupported–about her making injurious statements about Garten to members of the out-of-county Incident Management Team that came to help Flagler during the emergency. Those alleged statements "caused distress to her direct supervisor to the point that he felt not only verbally abused but also dishonored by the manner of behavior that was displayed," according to Garten.
An Oct. 11 memo by Garten placed in Stagg's file, detailing those allegations, relates conversations between Garten and members of the Incident Management Team, including Brad Baker, the team leader, and Joby Smith of Bay County. Garten claims another incident management team member told him that "Jennifer has come to the executive conference room on numerous occasions [and] stated what a horrible job you were doing and that they should try as hard as they can to get Kevin Guthrie (former EOC manager) back here immediately." Garten quoted Smith as saying: "I have heard the same comments and recommend that you remove Jennifer as soon as possible in order to try and save the remaining employees['] moral[e]." Garten claimed Baker concurred.
Though Sherman does not say so in her memo, as it raises the troubling possibility of Garten fabricating evidence against Stagg, both Smith and Baker have flatly refuted Garten's claim, saying they never made those statements. The revelation is also damaging to Flagler County's reputation as it may jeopardize future incident management teams from willingly providing their services.
"Definitely misquoted in this document," Baker wrote in an Oct. 31 email to Craig Coffey, the county administrator. "This disturbs me that our team is getting pulled into a disciplinary issue. I was not involved in the table discussion you are referring to as I was on the other end with Tom and Chief Kanzigg but neither of us [is] happy that we were quoted (incorrectly) in a disciplinary document."
That response to Coffey was originally solicited by Guthrie in an email that same day, documents released by the county show. Guthrie had sent Baker the Garten memo and asked him if it was accurate. Guthrie has openly campaigned to save Stagg's job. (He left Flagler in February to become Pasco County's emergency services director.)
On Nov. 2, Joby Smith wrote Coffey a lengthier memo, unequivocally stating that "at no time did I provide any recommendation that one of your employees be removed from duty nor do I feel it was any of our IMT members['] business to get involved in this type of issue." The email points out that Garten approached the incident manager team members by email while the team was working on the emergency in Flagler to provide statements, but that Baker told him "it was not our place to do so." He added: "I can absolutely state that the quotation attributed to me is not accurate." Nevertheless Smith spoke highly of his experience in Flagler, and of the "many dedicated employees" working the emergency.
David Odom, yet another incident team member, was less complimentary in the lengthiest and most troubling of the emails sent Coffey, as it makes the Stagg issue look minor in comparison. But Odom also detailed his analysis with perspective, reminding Coffey that despite the problems he observed generally at Flagler's EOC–not with Stagg in particular, but with the operation as a whole–those were not uncommon problems in many EOCs during such emergencies. Regarding Stagg in particular, he, too, declined to make any judgments, calling such a request inappropriate.
Garten had quoted Odom as saying, in reference to Stagg: "Steve, you have a serious cancer at your EOC, and if you don't cut it out as soon as you can, it will try and cut you out."
Odom said Garten had quoted him out of context. He said that over dinner Garten had asked him for his observations about the whole operation, and that the whole EOC was working in a "cancerous environment." But, Odom specified, "this observation was in reference to the observed lack of overall working knowledge and understanding of the Incident Command Structure by members assigned to the EOC. This included county employees, city departments, non-governmental agencies, and general staff working within the EOC. I also observed a lack of cohesion and teamwork throughout the EOC displayed by different agencies and personnel." He noted that based on his conversations with local officials, none of that was a surprise.
At least not internally, though it contrasts sharply with the happy faces the county and other officials painted over the emergency when they stood before cameras. And it points to problems much deeper than a single employee's tardiness and absenteeism–which may itself, in the context of Odom's observations, be a different symptom rather than a source of the problem.
Guthrie during his tenure in Flagler County had privately despaired at the low turnout of county and city officials at training sessions he organized precisely to improve understanding in incident management operations. At one such session in May 2015, however, Guthrie said the county was prepared for a hurricane.
"Throughout my deployment to Flagler County," Odom continued, "county employees frequently expressed their frustration with the environment with the EOC and the coordination of different county departments during Hurricane Matthew with me." But he said he'd witnessed similar reactions while working emergencies elsewhere.


<![if !IE]><![endif]>