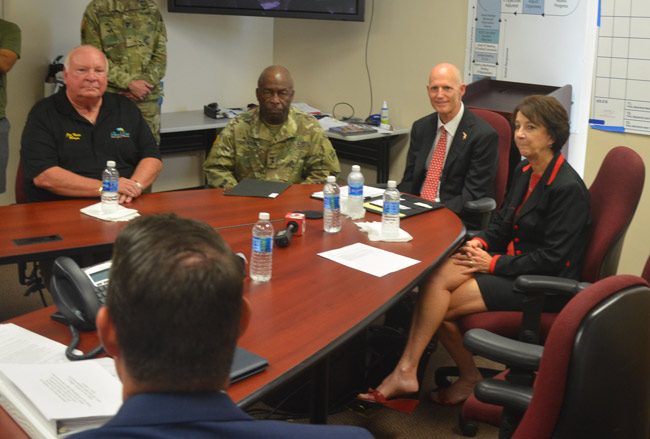 Gov. Rick Scott dropped in unexpectedly this afternoon to meet with county, school, city and emergency officials in a post-Hurricane Matthew evaluation that may prove timely and critical to ongoing restoration projects along the coast, for homeowners and public lands: Scott said he'd use his authority to either help waive or expedite permitting and other bureaucratic snags that are making it difficult for county officials to immediately repair dunes and boardwalks and help homeowners salvage homes hanging precipitously close to the waterline.
Scott was clearly not stopping just to say hello or smile for the cameras, but to hear officials' candid assessments of how emergency management went during the crisis and what they need in the next few weeks to be able to keep the recovery momentum going. Some of those who were in the 25-minute closed-door meeting—County Commission Chairman Barbara revels, County Administrator Craig Coffey, Emergency Manager Steve Garten—all described in separate interviews afterward a governor who was not necessarily making promises as being willing to be directly involved in easing Flagler's requests, especially with the Department of Environmental Protection.
DEP controls a permitting process that has been boggling Flagler officials' abilities to restore the beaches.
"We're asking for a designated DEP person that is our go-to person that can say yes or no quickly," Revels said. To that end, the governor gave Faith al-Khatib, the county engineer, his chief of staff's number, and will be directing the chief of staff to coordinate with al-Khatib all the agencies in play, and "plan a strike team," as Revels described it.
"We are going to have and are having issues with trying to coordinate multiple agencies on a plan for our entire coastline," Revels said. "Everybody keeps looking at A1A and the DOT [the Florida Department of Transportation] and the future final repair, but they're not paying attention, because they can't see it, to the rest of the coastline, where we've got the boardwalk at Marineland undermined—it's not really bad and the work they did there held, but it's got to have sand pushed back up on it, and DEP doesn't want you putting bulldozers on the beach. So there's got to be a method of using heavy equipment on the ocean beach that is compliant with agencies to allow it to happen."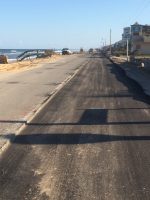 The compromised boardwalk in Marineland is only one example. Other problems include the half dozen houses hanging on sand cliffs—because the dunes have been eroded—along Painters Hill, in unincorporated Flagler, and the makeshift berms the county rebuilt at Washington Oaks Garden State Park and Varn Park to keep the tides from re-flooding the barrier island, as they did when the hurricane struck. But while the county has a few temporary solutions in mind, state and federal regulations prevent those from being the permanent solutions—and what temporary solutions are put in place may have to be removed within a window of time. The county is trying to avoid that sort of wasted expense and resources. It can't do so without DEP's permission. That, it hopes, is what the governor's attention can help with.
Scott himself in a brief gaggle with reporters afterward said the purpose of his trip was to "reflect on what we did right, what we did wrong, what we can do better. Probably the biggest issue Flagler is dealing with is what happened to your beaches, and some of the water intrusion, how do we get everybody form DEP to the Department of Transportation to FEMA to the Corps of Engineers to all work together. So I'm going to work hard to get everybody to work together."
It's not all talk: when Scott visited Flagler last just 20 days ago, he had pledged to get the transportation department working quicker at reopening the broken parts of A1A, which had shut to traffic a 1.3-mile portion of that road at the south end of town. Days later he ordered the transportation department to expedite repairs and have the road reopened within 45 days.
"I think we're going to be open a little bit earlier than that," Scott said.
The county's hope is that the same approach will apply to other needs along the coast. "Now that the disaster has occurred," Garten, the emergency manager, said, "it's the disaster after the disaster. You'll hear me say that many times. It's the FEMA portion. It's how do we get reimbursed on the public side. How do private citizens—they're held by insurance. So ultimately a lot of factors we talked about is we need help, so they don't forget about us."
Coffey, acknowledging the way the county made it through the emergency and the help it got since, was also candid after the meeting with Scott. "We do have a problem that's going forward," he said. "It's not that someone that's given us poor service or something like that, it's something that's like our next threat." He described the dune breaches at the state park and said it's a problem up and down the barrier island. "The old dune was at elevation 12 or 13 [feet]. You've got houses behind the dunes at 9. So if it breaches that dune, it floods right away and you could have a Katrina type situation where it overwhelms the stormwater system, it overwhelms the houses. It really puts people at risk."
The time between now and the return of hurricane season leaves little time. "We need to get permits together in a month," he said, "we need to be out there constructing stuff oiver the next three or four months, because there's only so much time, and a lot of these agencies, the problem we're having is, they see a dune, and they think everything is OK. So essentially they're saying you can do temporary pilings, you can do temporary this, which is a 60-day permits. We want to put the permanent solution now. We don't want to go through months that waste a bunch of money and time. We want to go right to the permanent solution."
Of course, it's not entirely in Scott's authority to do more than expedite certain permits or concentrate resources on Flagler's needs, but state and regulations are still in place and will have to be respected. The challenge will be to navigate those: the state can help the county do so more quickly. "We did get the feeling that he's on top of it, that he's going to call people, and that we're going to start getting phone calls today and tomorrow," Coffey said, referring to Scott.
As for the handling of the emergency itself, officials were complimentary of each other and of the state, stressing the cooperation that took place between agencies.
Ironically, one of the people who helped manage some of the emergency's most critical aspects, Jennifer Stagg, Flagler's senior planner of preparedness, was getting fired at the nearby Government Services Building almost at the same time that the governor's visit was taking place, at the Emergency Operations Center.
The county never informed officials in Palm Coast or Flagler Beach, nor made any effort to inform the press–except for some reporters who'd inquired about about a possible governor visit–about Scott visiting. "It's not our show," Coffey said.