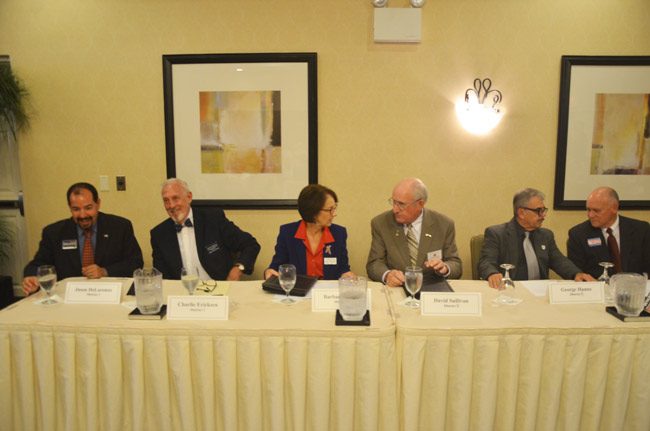 The Chamber of Commerce's Flagler Votes forum featuring the six candidates for Flagler County Commission last night at the Hilton Garden Inn in Palm Coast drew the smallest audience of any political forum held there in at least the past three cycles—50 people, including the candidates themselves and their supporters. Discount those numbers, and I think there were three or four people who had nothing to do with the campaigns. Two of them were reporters.
That's too bad because it was a remarkable forum—not for what the candidates said. There was not much news there so much as a series of position statements. But because it was the most civil, most policy-focused, least distasteful or ideological local forum we've had in years. The group of candidates reflected the sort of collective quality we should have in most elections, but haven't had in years in too many of our local elections.
That's thanks to these six candidates and incumbents: Charlie Ericksen and Jason DeLorenzo in District 1, Barbara Revels and Dave Sullivan in District 3, and George Hanns and Donald O'Brien in District 5. No talking points, no empty generalities borrowed from talk radio, no pandering or empty promises about taxes or jobs or allegedly broken government. The questions were grounded in immediate and everyday concerns—a taxing district for Marineland Acres, the future of the Agriculture Museum, A1A and beach restoration, Palm Coast-county relations, public transportation, contending with a rising population again—and the candidates stayed grounded.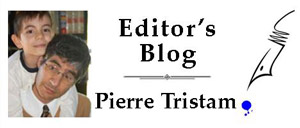 So have their campaigns. Unless they're being scurrilous on deep, deep background, none of these candidates has taken to those shoddy electoral tactics we've become too familiar with—the ambush mailers, the whisper campaigns on social media, the sinister robocalls. The respect they have for each other is unusually sincere, or at least seems that way, and none of them has given me any reason to think he or she is not being genuine. When I speak with them I'm not intolerably harassed by the urge to rush to the nearest bathroom and wash my hands three times.
Sure they sling the occasional verbal arrow: DeLorenzo has subtly referred to Ericksen's age, O'Brien is going after Hanns's eternal tenure (he's been on the county commission since roughly the 16th century) and Hanns himself has always very capably wielded a streak of snide behind that who-me? bonhomie. It's still politics, not a Rotary lunch. But compared to this year's other local races, these six candidates have been a model of—well, Rotarian civility and service. It's how elections should be. It's also dispiriting that it's the exception, a once-in-a-decade phenomenon, rather than the rule.
Palm Coast elections about a decade ago used to produce that consistently high caliber of candidates, people genuinely interested in public service and not very good at the politics of it. That's fallen off considerably. The last two Palm Coast elections have drawn their share of oddballs and shrill-flam, though the electorate so far has done a good job weeding it out in time. Going back to the primary these same county commission races drew several candidates who weren't really prepared, but again voters saw through it.
---
Rare collective civility in a year of slime.
---
What we ended up with is six candidates and incumbents who should give voters a hard time for the best reason: They're all qualified, they all have histories of public service, none of them is particularly good at back-slapping, and most if not all of them haven't figured out how to stoop down to the level of tweets and social media's many other black holes of substance. Their intelligence won't allow it. Without necessarily knowing it, they have at least partly redeemed and elevated the local level of political discourse, and if we're lucky they'll serve as a point of reference for elections to come.
Their own qualities aside—or maybe because of their own qualities—they've also done something else to get to this point: they've thrown partisanship out the window. I don't know if it's a terribly good thing that I couldn't tell the difference between the Democrats and Republicans in the race. Partisanship is not in and of itself a bad thing. It's the necessary dialectic of politics without which we stagnate, as long as the dialectic actually works as intended. But it hasn't worked. All we get is the toxicity of opposition for the sake of opposition, so if the alternative is partisanship emasculated for the sake of more pragmatic governance, I'll take it.
DeLorenzo and Revels are Democrats in name only anymore, and I'm not sure what Hanns is at this point (ostensibly an Illinois Democrat, he told me yesterday he's voting for Trump, so go figure). Ericksen has often sounded to me like a closet liberal, and Sullivan, a former Republican Executive Committee chairman, has the good sense to openly and unequivocally condemn the sort of divisive tactics his successor (Anne Marie Schaffer) has been peddling in her soon-to-end reign of horrors at the REC. Her latest trick is a leaflet that calls the Democratic Party "the party of slavery, lynching, segregation, the Ku Klux Klan, Jim Crow Laws, racism, and forced sterilization" and that urges friends to pass it around and "Make America Great Again."
On the other hand I wasn't too thrilled by the email fund-raising invitation my colleague John Walsh at the Observer was circulating in September to "get Nick Klufas elected to City council or we lose majority to the council members who are loyal to the Crazies," meaning former members of the now-defunct Ronald Reagan Republican Assemblies. It's not that he doesn't have a point about crazies: see the previous paragraph. But I'd hardly call Steven Nobile's two years on the council the work of a crazy, as opposed to that of a necessary change agent, that necessary dialectic that partisanship at its best can produce: the council's problem has been its clogged arteries and reverence for itself. More of the same won't help on a council more interested in building a brand than a city.
But with Milissa Holland and Bob Cuff already elected, one is the best county commission alumni of the past decade and the other a bundle of understated brilliance. So whatever happens, it looks like both city and county will end up with sound, smart, civilized majorities.