The Flagler County Sheriff's Office issued the following release today:
This month marks the one-year anniversary of the Flagler County Sheriff's Office moving into its 34,000-square-foot facility. Since moving from the 12,000-square-foot operations center about a mile away to 901 E. Moody Blvd. in Bunnell, the Sheriff's Operations Center has become a great asset to the community.
"We repurposed an old run-down building (a former hospital) into a beautifully landscaped structure," Sheriff Jim Manfre said. "It's more accessible in downtown Bunnell – we have more walk-ins. And we're able to provide more safety to the surrounding community in this location." The new facility has also saved revenue: By moving from the old building, which was built when Flagler County had just 25,000 residents, the office save $100,000 a year in lease payments. And the new operations center came in $200,000 under budget at $4.7 million. The facility was designed to actually add 9,000 square feet – from 25,000 to 34,000 square feet.
"I'd like to thank the county for all they did in making this facility become a reality," Manfre said. "The expansion capabilities of this building will take us to the next 25 to 50 years."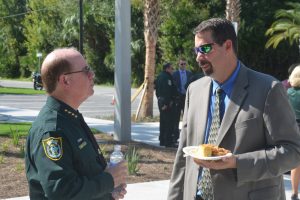 The Sheriff's Operations Center boasts other benefits:
It's more efficient: All departments are housed under one roof on 6.85 acres of land instead of at four different locations.
There's been an increase in business activity because of our location.
We have state-of-the-art evidence and Crime Scene Investigations departments, and multiple interview rooms.
We've tripled the training space to enhance our training services.
Our victim's advocate office is family friendly with an outside garden for reflection.
We have a dedicated Defensive Tactics area to assist in teaching deputies de-escalation techniques.
We have a better environment to attract new employees.
"The Sheriff's Office has been in the facility for a year, and has been able to increase training and communications through having a well-designed and well-planned facility," Barbara Revels, who chairs the county commission,  said. "The sheriff's team was wonderful in assisting us during the planning and design of this facility, and it really shows in the results." Building the Operations Center took about 10 months. It was funded through local option sales-tax money, not property taxes. Florida Gov. Rick Scott visited the new facility last Nov. 3, 2015, and participated in a ribbon-cutting at the facility.