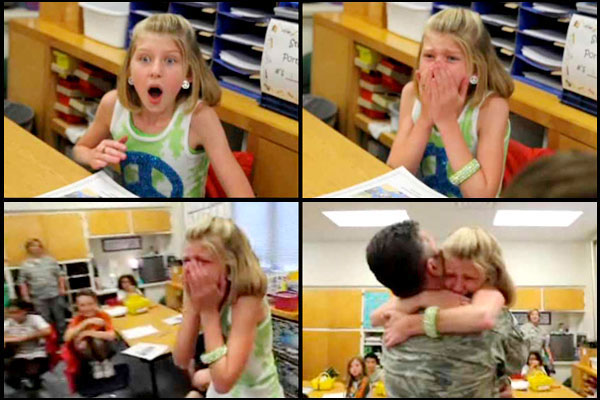 The Times' Jan Hoffman writes about that twist on reality TV (and rather twisted new genre)–the supposed "surprise" of the soldier home from Iraq or Afghanistan, suddenly appearing in his child's classroom, on a football field where his family is being recognized, or anywhere a Jumbotron or television cameras have gathered. There's nothing surprising about it of course: everyone has been prompted, rehearsed, choreographed, except the children or, on occasion, the spouse, who are there as props and prompts of emotions as predictable as they are genuine, but also exploited: the scenes are unquestionably moving, crushingly heartbreaking even. I dare you to watch this without breaking down as Hanna did when she was surprised by her father's "unannounced" visit on her last day of school at Randolph Elementary in Universal City, Tex. It doesn't matter how many times you watch it: the emotional impact is crushing. And we don't know these people.
The scenes, at least what happens between father and child, isn't wrong. But the voyeurism is. We're not supposed to be there. We shouldn't be there. These are private moments, supremely private between soldiers and their families. They should stay that way for too many reasons to list here.
---
I'll mention a few: The children and their families are being exploited by media, sports organizations (the NFL, no stranger to institutionalized violence and Spartan nationalism, loves this) and of course the Pentagon. Why is it exploitation? Because they'd never dream of holding similar events, similar "surprises," for men returning without limbs or faces or half their brains and suffering in front of the same large crowds, or making those crowds suffer with discomfort, though these are equally the images of war we should be served up.
The scenes of soldier embracing child or wife last one minute, two at most. They come to define one aspect of the war well enough: the devastation of separation and loss, the hardships families endure, the pain children live with until their father's reappearance. But if anything the brief scenes encapsulate what's best about a reunion while shutting off what's worst: the reality of soldiers, about a third of those who come home anyway, having been shattered mentally by the war–and left to fend for themselves by the very same military that did a terrific job building them into fighting machines. The Pentagon still does a dismal job of repairing the men and women who return broken and, in many cases, helpless. Those reunion scenes do a great job of shunting that reality aside and defining the war through the sappiest lenses.
Also, and it must be said, there's the implicit disrespect, if not the offense, toward those families, those children, whose fathers and mothers won't come back, or whose fathers and mothers come back in pieces to families that can never be the same again. It's all well and good to celebrate the return of soldiers. It's less so when the celebration disproportionately centers on YouTube-ready reunions–Candid Camera in camouflage–disproportionately choreographed by those institutions (local and provincial media, the Pentagon, public schools) that never lack for cheers and bombast when we go to war but scream treason and lack of patriotism the moment more critical eyes or doubt are cast on that endless mill of soldiers returning in whatever shape, upright or bagged.
Finally, the perversion of it: the army's PR goons and the Jacksonville Jaguars, the football team with the sensitivity of goons, convinced one soldier, Kevin Becar, to burn four of his 14 days' leave from Iraq hiding from his family in Jacksonville so the Jaguars could use his "surprise" appearance during one of their military-appreciation days, when they had his family on the field. Some appreciation. Becar of course didn't have to agree. He did, even though he'd be back in Iraq within two weeks. How much can you blame a guy when he's up against the PR machinery of the NFL and the Pentagon, not to mention the local television station's revolting treatment of the story?