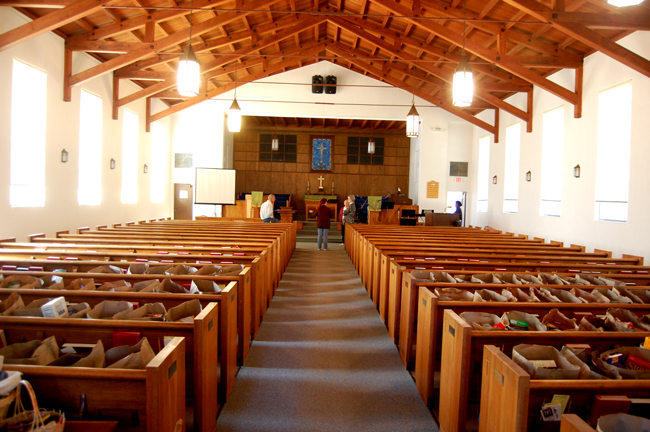 February 27 is a grim marker for the Flagler Youth Orchestra. It was on this day last year that members of the orchestra got word that their beloved teacher, Jonathan May, had died suddenly, at 51, from a massive brain bleed.
May was the founding artistic director of the Flagler Youth Orchestra strings program, a successful and respected after-school program that offers instruction on orchestral string instruments to students in Flagler County for free, thanks to the Flagler County School district.
Caren Umbarger, the new artistic director of the youth orchestra, and May's friend and colleague for many years, decided that sharing cookies and punch this week to remember May's life and contribution to Flagler wasn't enough. There had to be music.
And there will: the Jonathan May memorial concert will take place Sunday (Feb. 27) at the United Methodist Church in Bunnell at 3 pm. (near the Bank of America building, at 205 Pine Tree Lane), with members of the youth orchestra performing a half dozen works.
"We remember Jonathan May for his inspirational teaching and wonderful enthusiasm about music and life.  He made everyone he met feel they were a part of his musical community," Umbarger said, encouraging patrons to attend whether they knew May directly or not.
The event is not only designed to support young musicians and receive the musical offering May inspired in these children, but to support The Sheltering Tree, Flagler County's cold-weather homeless shelter based at the Methodist church and supported entirely by volunteers.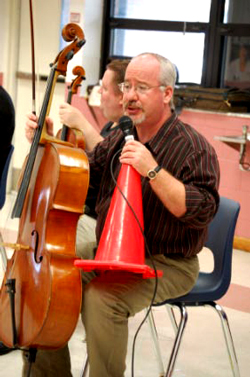 The youth orchestra's performance is free of charge, but those in attendance are asked to bring and donate non-perishable food or make a monetary contribution to The Sheltering Tree, which has weathered more than its share of difficult climates this winter.
The Sheltering Tree has opened for 32 nights so far this year, taxing its volunteers considerably. It has also been a magnet for criticism—and a scapegoat, by a few businesses and residents in Bunnell, for the city's crime and homeless issues.
"The Flagler Youth Orchestra is committed to giving back to our community, which we will do on Sunday by sharing our music and by bringing people together to help support the Sheltering Tree, an organization that believes that all individuals deserve to be treated with dignity and respect.  It is a fitting tribute to Mr. May," Umbarger said. Umbarger and her husband Paul, who themselves perform as the Island Duet, will also be featured at Sunday's concert, which is not intended to be a buttoned-up affair.
"I expect lots of smiles and heart from our students as they play. Jonathan was about having fun and enjoying the exchange between musicians and the audience," Cheryl Tristam, the youth orchestra program director, said. "I fully expect this to be a celebration of who Jonathan was with lots of corny jokes about composers, which Jonathan was really famous for telling at our concerts."
The youth orchestra has served more than 250 each year, with most of those students deciding to enroll because of the excitement and charisma of May who recruited students each year in mid-August. Sunday's concert will feature a small group of performers. Wednesday, at the Flagler Auditorium, the entire orchestra—actually, five different orchestras, each at a different skill level—will perform in the "Teach Us Love" concert (at 7 p.m.).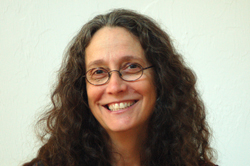 That concert also features a collaboration of the youth orchestra's top performers with Amy Fulmer's Formality Singers, Flagler Palm Coast High School's sought-after and award-winning choir. It will be the first such collaboration between the two groups.
May's memory will hover over that one, too.
"Jonathan had a way of communicating his love of music to children," Tristam, who recruited students with May for five years around Flagler County, said. "He was a cheerleader of sorts for the whole idea of learning to play an instrument and being a musical human being. He made it cool to be a cellist or a violinist. Students would respond to him during the recruiting tour as though they were watching a magic show – with oh's and ah's – and he was telling them they could do it, too, and it'd be fun."