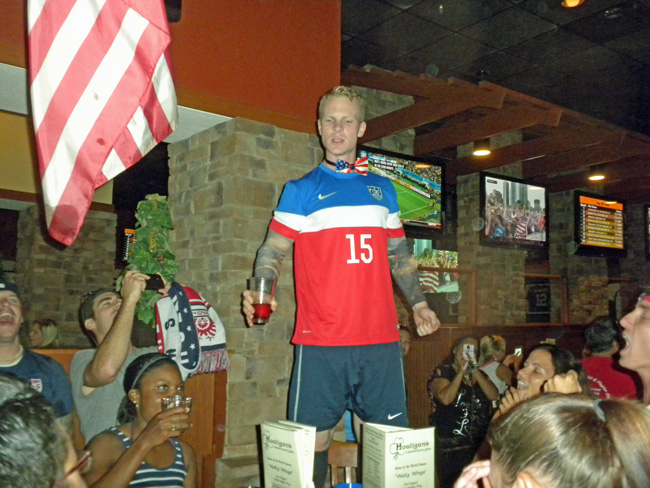 Not long after arriving at Houligan's in Palm Coast for the United States National Team's first match of the tournament on June 16, which resulted in a dramatic 2-1 victory over Ghana, there were two young men sitting apart from the rest of the group. As a reporter, I was a man apart also They were fans. Not soccer fans, but football fans. And they were dressed for a revolution.  Houligan's was full. If the crowd was there for the game, they did not know how to be part of what was rippling across the rest of the globe. In any event, the room was full.
World Cup 2014
---
Goals So far: 150

Matches: 55

Average: 2.78 (2010: 2.27)
Brazil 1, Chile 1 (Brazil on PKs) | USA 0, Germany 1: Small Loss for a Big Win | USA 2, Portugal 2 | USA 2, Ghana 1 | France 3, Honduras 0 | England 1, Italy 2 | Costa Rica 3, Uruguay 1 | Colombia 3, Greece 0 | Chile 3, Australia 1 | Spain 1, Netherlands 5 | Mexico 1, Cameroon 0| Brazil 3, Croatia 1

I sat with a Fat Tire, not knowing if there was a special brew that should mark the occasion and if there was, would a bar like this have it. As I sipped, a subtle change was taking place. A small, noisy congregation took a back corner of the bar. "Lets go USA!!" one of the true fans screamed. Two pretty, bright-eyed girls sat with the fans while everyone else stood. The girls looked like they wanted to be interested. I gathered myself and walked stiffly around the table to the smallest-looking patriotic bandanna wielding member I could find, hanging on the outskirts of the group. Chas Lines, 30, originally from Toronto, living in Palm Coast for the last eight years, said that rare strangers aside, everyone else was tight in the group. All were united in their shared passion. Houligan's isn't merely the best spot in town to watch the game, he said. "It's the only spot."
Teresa Macklin, a legal secretary from Atlanta and a former high school soccer player, said the scene was crazier at the last World Cup. There was a guy with his own vuvuzela, those unbearably loud horns that made watching 2010 matches difficult, and he brought his own speaker to blow the long horn into, she recalled. As for this evening "I like what the coach has done with the four, four, two lineup though I'm not crazy about him not putting Donovan on the team"—Landon Donovan, the last national team's star that coach Jurgen Klinsmann did not pick for the team.
I turned back to Lines, who said that the crowd was a little undersized as compared with the turnout four years ago, but on that occasion Eddie Johnson, a former American star from Bunnell who played in the 2006 World Cup, was at Houligan's for one of the games.  "But the first two games aren't that important. When they play Germany, this place will be rowdy!" he said, emphatically, agreeing that USA has a shot—because of their German coach.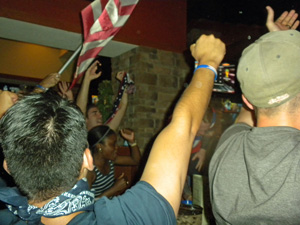 When Clint Dempsey scored just 20-something-seconds into the game, and I was swallowed momentarily in the eruption that followed. All the people who Lines had just told me were out for dinner and had no idea what was going on became part of the hysteria. Someone was beating what sounded like a metal trash can. Brian Bennett, 23, a graduate of Matanzas High School, where he played soccer, had been a mere stranger at the footballers' table at first. He was now king of the group. He got his USA scarf from American Outlaws, an unofficial and "raucous," supporters group for the United States Men's national team, according to ESPN. Bennett is a member. He mentioned a newly built indoor soccer complex off Old Kings Road.
He introduced me to another character, a tattooed Motor City boy named Evan Ellesen. "I'm not much of a soccer fan," Ellesen admitted. "I mean, I support the World Cup. It's not necessarily being part of the phenomenon—you just got to support your country," he said. "This is on a totally different level than anything else. It's bigger than the NFL, the NHL, it's totally bigger. It's not just the United States, it's the whole world." He said that the group of fans was rolling deep with compatriots from all quarters of North America. "New York, Michigan, Chicago, Canada," he said, counting off on his fingers. "And Detroit," he said with the added emphasis, pointing a big thumb at himself, though he's lived in Palm Coast for the last five years.
There was dismay when Jozy Altidore went down from what appeared to be a hamstring injury. In the 32nd minute, Clint Dempsey took a flying Ghanaian kick to the face. It broke his nose and with what would become two black eyes, made him into an even bigger king of drama when he would score to take the lead against Portugal in the next game.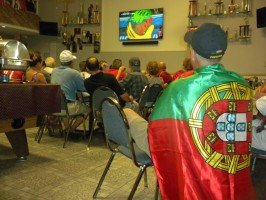 But in the meantime, Ghana's "Black Stars" were outplaying the United States.  We were fortunate to have that first goal, one nearby watcher said. Bennett had jumped onto the table.  He was leading the group in a Joseph Conrad-esque tribal chant. Broccoli from a wings platter rained down on me. "I believe that we will win," Bennett yelled, a chant coined by the American Outlaws, who make it a point to invent such things. His choir of followers was chanting in unison.  A human train started, with Bennett leading the chanting group around the bar, waving a full-sized American flag from side to side. Bennett was right. Somewhat miraculously, the Americans pulled out a 2-1 win, breaking Ghana's spell four minutes from the end of the match.
Palm Coast has a sizable Portuguese population, so it made sense to go to the Portuguese-American Cultural Society on Palm Harbor Parkway, for the second United States Men's National Team against Portugal on Sunday. Portugal was coming off its 4-zip destruction by Germany while the US was coming off its close and dramatic win over Ghana, their conqueror of the past two tournaments. If anything, this was to be an even more dramatic game, and I was curious to observe the difference in energy between Houligan's and this club.
Unlike at Houligan's, everyone's eyes there were glued to the TV, though while a more sizable crowd they weren't as loud as the smaller rowdy American group of fans. The TV, which was not as large as the ones at the sports bar, hung on a protruding section of the far wall, adjacent to the bar, flanked by trophies and flags. A foosball table sat in the corner.
Next to a line of steel buffet-style food warmers, a man in a Portugal cap sat with the full size red and green flag draped over his back, his foot propped on a chair. Not far from him sat County Commissioner Frank Meeker and his wife. She had two small flags, one American, one Portuguese, lying on the table next to wine and beer and plates filled with some very ethnic and flavorful-looking foods from the nearby food warmers.
Meeker had just started talking about his appreciation for the game when the president of the club, a balding, olive-complexioned man, well-muscled for his age and sporting a gray goatee, walked over and stopped him. The anthem was starting, the American one, and we hadn't even noticed. It was that time. So we immediately straightened and clutched our hearts. I had no hope of talking to the club president until halftime.
"Unless you want to be carried out, don't sit for the Portuguese anthem," Meeker, leaned in and said to me. He's been a member of the club for about a year.
Meeker, an Italian-American, had an appreciation for history and had always admired Portuguese history in particular, he said, going back to the late 1400s, saying that "a little tiny country like theirs" boasted the best navigators in the world. The club happens to fall in his district, and he's running for re-election, so his presence was not entirely without political benefits. I asked him if there were likely to be any other politicians at an event like this.  "When it comes to soccer, I'm probably it," He said with a shrug.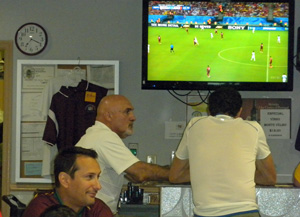 Some 70 or 80 people were at the club. You'd expect more people to be watching the game at the club, considering the nationality's large numbers here in the Palm Coast. Meeker speculated that, after their recent German thrashing, a game that had over-crowded the club with 120 people, the Portuguese viewers were too demoralized to return for this game. "They're a very proud country. Typically, he wouldn't be the only guy wrapped in a Portugal flag," he said, pointing to the man a few feet away. "If they felt they had a real strong opportunity, there'd be guys with their faces painted blue and red, or blue or maroon, you know."
At halftime  I followed the club president, Eddie Branquinho, into his office.  He was born in Portugal but has lived in the United States for 40 years. A retired detective and police unit commander, he's been president of the club, whose signature cultural event is a "folklore" dance twice weekly since January. He felt very conflicted. "The United States is my country that I love with all my heart like there's no tomorrow," he said. "I cannot forget that Portugal is my heritage." Although Portugal had started fast and was up one-zip at the moment, he said the humidity favored the US. "Win win, lose lose, tie tie: everything for me is so confusing in my mind, you could probably see smoke coming out of my ears. Whoever wins, I won't be sad."
I asked Branquinho his thoughts on the growing Palm Coast Portuguese population, which he said started with Tony Amaral construction and spread from there by word of mouth. "Politicians beware," he said. "We're going to be a force to be reckoned with."
The United States found that out in the closing seconds of the match, compliments of that Cristiano Ronaldo cross to Silvester Varela, who headed in the ball for the equalizer.Portugal would live another day.
–Ezra Salkin for FlaglerLive

The U.S. play Germany at noon Thursday in the third and final group-stage match, which, along with the Portugal-Ghana match played at the same time, will decide the fate of all four teams. Only the top two in the group will move on. An American win guarantees them a spot in the round of 16. A tie between Ghana and Portugal also guarantees both a Germany and U.S. advance, even if the U.S. lose. But while a tie between the U.S. and Germany may help the Americans move on, goal differentials then come in play, should either Portugal or Ghana win. The match will be live-blogged at FlaglerLive.