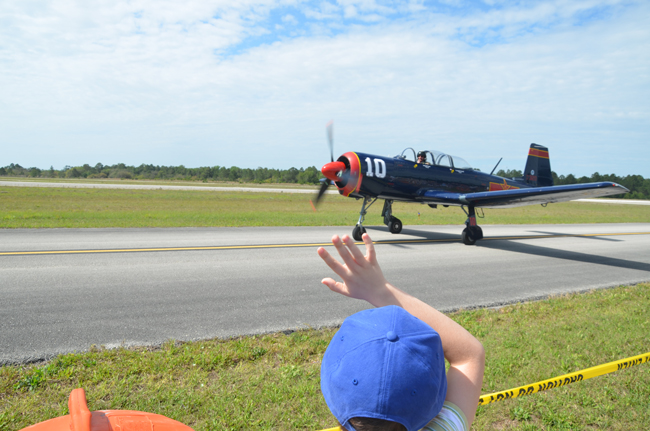 The reconstituted Wings Over Flagler Rockin' the Runways event, pulled off this year at the proverbial last minute—organizers had just 60 days to prepare—pulled in 8.000 visitors and $16,000 in scholarships, its architects told the Flagler County Commission Monday, to applause. The event was held the last week of April at the Flagler County Airport, recombining two separate events that appeared to be on the outs.
Teens in Flight, the Palm-Coast-based non-profit, brought in $2,350. Flagler Schools' summer camp in Adult Education received $3,100. The Wild Bill Walker Memorial Scholarship Fund brought in $10,000 through the $10-a-person gate receipts (children 10 and younger got in free), beer sales and parking and other donations. Bill Walker is the aerobatics pilot and member of the Red Thunder performing team who died when his plane crashed during a maneuver at the 2011 Wings Over Flagler Event. Matanzas High School's ROTC program also received $700. The Flagler Education Foundation will administer the funds.
Other charities, such as the Carver Foundation—which supports Carver Gym, the youth center in Bunnell—were helped in different ways. The Carver Foundation's both there was able to publicize its auction, amplifying exposure and increasing bids on the annual auction.
Mills Aviation Charities and the event's scholarship fund currently have five students—at MIT and Embry-Riddle Aeronautical University, and another student getting ready to go to the Naval Academy in a few weeks—who would be recipients of the scholarship dollars, Bill Mills of TBD Partners, Mills Aviation Charities and Blue Sky Yakrobatics, said. Mills is one of the thre principal organizers of Wings Over Flagler Rockin the Runways.
"Having an event at the airport is very different than having it ant any other location—dealing with FAA rules and regulations and things like that," Mills said. "So in literally 60 days, we were able to pull off what I think is the premier event for Flagler County."
David Ayres, general manager of WNZF and one of the principal organizers, described how the whole thing came together during a meeting with other principals and County Administrator Craig Coffey—at his office—along with County Commissioner Nate McLaughlin, back in late February. At the time, the radio station's partnership with the city of Palm Coast, along with two signature events (Rockin' Ribfest and the Seafood Festival—was collapsing, as the two sides opted to each go its way.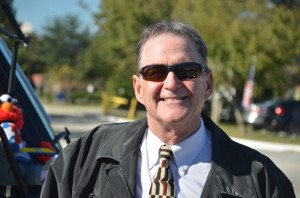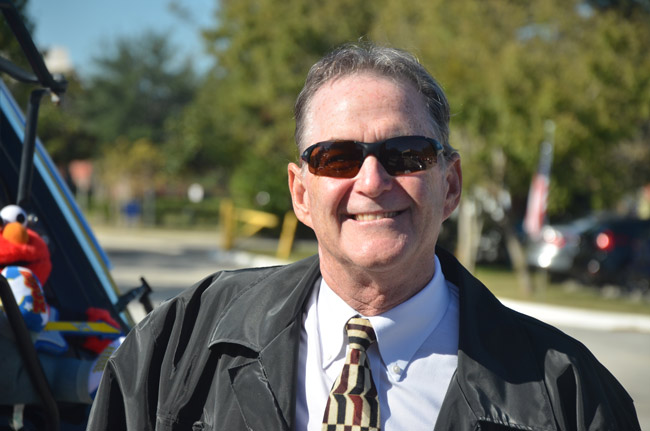 "It was only 60 days out where we came up with the idea to merge two events that weren't going to happen, either one of them, our Rockin' Ribfest and the Wings Over Flagler, for various reasons that neither event was going to happen," Ayres said, "and 60 days out we kind of said why not combine chocolate and peanut butter, and let's see what we get here."
He continued: "It was decided within minutes that yes we can do it, we can pull it together, and coordinating with the Sheriff's department and the county and the airport and the schools, Ms. Sabrina Crosby, we have to thank her as well, it was just an awesome team, and it was just one of the most enjoyable events I've put on in my career."
The event yielded some trickle-down benefits for the tourism economy, including 125 hotel room bookings, as organizers put up many of the pilots who flew in.
There were some 35 different aircraft, all of them civilian-based, because sequestration prevented the event from drawing military participation. "We're hoping next year we'll be able to get some of the jets and the military helicopters there," Mills said. ""These guys come here because they're supporting us, and more importantly, they're supporting the Wings Over Flagler William Wild Bill Walker Scholarship Fund, which is what this is really all about."
There were economic development benefits, too. Two Winter Haven businesses that provided helicopter rides participated, and are now considering moving to Flagler County. A third business that teaches people to be aircraft mechanics show similar interest.
"A great event, it went off very smoothly, it went off very safely, which is a key," Roy Sieger, airport director, said. "I've done a lot of air shows before, but it was the first time we ever combined something like this, but the concept worked out very well." Next year, he said, the event will be "bigger and better, and hopefully next year we'll also actually have an air show," with aerobatics. The county didn't have the time this year to get the necessary permit for aerobatics, which requires a 90-day notice.
Tentatively, the event is scheduled for the third weekend of March next year. The show will be sanctioned by the International Council of Air Shows, ensuring that it's on the council's official schedule.
"I enjoyed being able to walk the flight-line even while the planes were coming in and parking," Commissioner Frank Meeker said. "I've never had that kind of flexibility to be along the flight line while activity was going on. I particularly enjoyed being able to get up close with the camera to some of the Chinese and the Russian planes, that was really interesting for me. I've read about them in the past, never had that opportunity to get close to them."