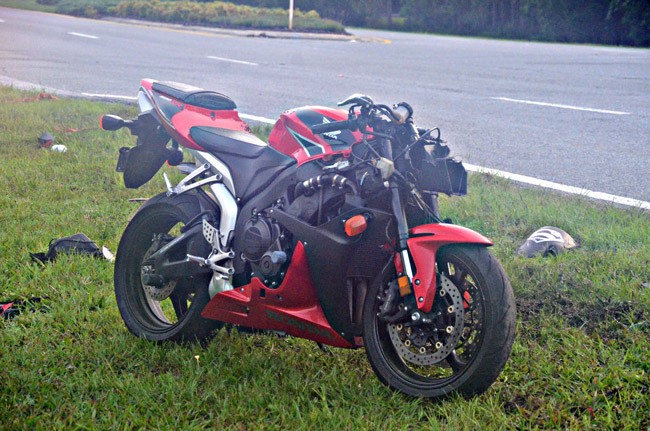 Motorcyclist Willie E. French Jr., a 41-year-old resident of Palm Coast's R-Section, was trauma-evacuated just before sunrise this morning after he collided with a car at the intersection of Belle Terre Parkway and Whipporwill Drive.
French's motorcycle struck a gray compact car driven by Conner Spangler, 21, of Palm Coast. Spangler was going to work, driving east on Whipporwill and readying to make a left to go north on Belle Terre. French was heading south on Belle Terre.
Spangler, who was not hurt, pulled out of Whipporwill, then he said he heard the motorcycle make a screeching sound as it slid and struck his driver's side door and the rear driver's side bumper. The motorcycle slid a short distance onto the grass shoulder, where it came to rest.
Traffic on Belle Terre south at that junction was diverted for about an hour by the Palm Coast Fire Police, which responded to the scene with the Palm Coast Fire Department and Flagler County Fire Rescue. French was transported to Halifax hospital's trauma unit by ground. The Flagler County Sheriff's Office was investigating the wreck. A report on the crash was not ready later Monday.