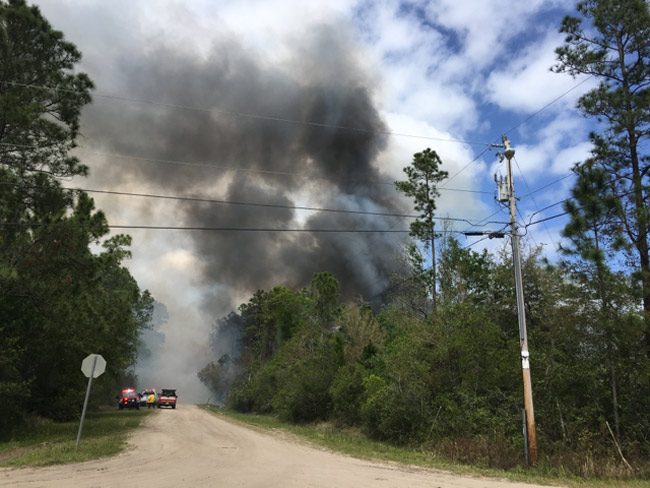 By the time Gov. Rick Scott declared a wildfire state of emergency across Florida Tuesday, Flagler County had already had a taste of what could be an unusually violent burning season: there was the Bimini fire that burned 435 acres in the central part of the county in February, followed by a thousand-acre fire that jumped the county line from Putnam and devoured most of that acreage in Flagler in mid-March, and days later, the so-called Candlbererry fire in the Mondex, or Daytona North, a 40-acre blaze that at one point had threatened some 30 homes, though none were damaged.
The average drought index in the county is in the low 200s, on a scale of 800, with 800 being the most dangerous. But the low number is deceptive, cautions Flagler County Fire Chief Don Petito: it's an average, and it only measures the moisture of the ground itself, not the dry vegetation on top of the ground. That's where the danger is coming from this year, Petito and Florida Forest Service spokeswoman Julie Allen, who walked the grounds of the Candleberry fire together Tuesday, say.
"Florida is meant to burn, that's how it rejuvenates itself," Petito said. The difference this year is that dry conditions have prevailed for very long (recent rains notwithstanding), building up a large amount of dead vegetation on the ground and making those grounds very volatile. Petito singles out areas of Seminole Woods and Rima Ridge. New fires may not start as often. But once they do, they spread very fast.
"The fires we're getting around the state are what you call very aggressive, spreads fast, grows big very fast, it's almost like a violent burning," Petito said. "It's just a build-up of the vegetation. You had a warmer winter, everything was able to grow, and once it grows, it just burns better."
The Hammock is in a relatively safer spot, with the vegetation on the island being quite different than that of the mainland, Petito said. There will be fires there, but they're not likely to spread as quickly. There was a fire on Monday at the entrance of Washington Oaks Gardens State Park on State Road A1A. It was 10 feet by 10 feet, and it moved slowly. "We were able to handle that with one fire engine," the fire chief said.
Though the county is relatively peaceful, fire-wise, at the moment, Allen says she'll never use the word "quiet." Case in point: the Bimini and the County Line fires have burned again in the past few days, requiring further responses in spots by Flagler County and the Fire Service. The reason those fires are burning again is because the ground remained extremely hot even after the fires were put down. Dry pine needles have fallen, and those needles have started catching fire on the hot ground. Firefighters are making periodic trips to ensure that the burning spots remain inside the lines previously plowed.
Allen says fire mitigation and prevention efforts locally go a long way to keeping conditions manageable.
Conditions elsewhere are worse. As of this morning, 107 fires were burning in Florida, 16 of those in the Bunnell district of the Fire Service, which includes Flagler, Volusia and St. Johns. And the state has yet to get into the lightning-filled warmer months.
On Tuesday, the Cabinet kicked-off a pre-planned "wildfire awareness week" with Scott issuing the declaration in the form of an executive order.
"It's good for state government, it's good for local fire departments because it allows for a little bit more flexibility for resources," Allen said. "Whether we need more people or equipment, it allows more flexibility in ordering those resources." Scott's order authorizes the general of the Florida National Guard to mobilize troops and use helicopters to fight wildfires, allows the state government to move forestry units around and pay overtime, for example.
Since the start of the year, the Florida Forest Services has recorded just over 1,440 wildfires, collectively consuming nearly 70,000 acres, double the number of acres burned at this point a year ago.
"There is no corner of the state that is not facing severe wildfire conditions," Agriculture Commissioner Adam Putnam said.
"Much of Central and South Florida are approaching drought-like conditions, and the chances for wildfires are continuing to increase with hotter temperatures and low rainfall," Scott said. "This may only get worse as we enter the hotter summer months, and it is crucial that we take every action right now to be prepared."
As a sign of the extent of the threats, blazes were found in Miami-Dade County in South Florida, in Nassau County in the northeastern corner of the state and in Escambia County in the western end of the Panhandle.
Firefighters have been deployed to combat wildfires in the Everglades and to battle a 300-acre fire near tourist-heavy International Drive in Orlando.
"We've got a ways to go with no end in sight," Florida State Forester Jim Karels said.
The concern is that dry conditions will keep Florida a tinderbox throughout the spring and summer, potentially setting up a repeat of 1998, when more than a half-million acres were consumed by fire across the state and one blaze destroyed about 50 homes in Port St. Lucie.
Karels said about 90 percent of the wildfires in Florida so far this year have been caused by humans.
"We know the lightning is coming. Florida is the lightning capital of the world. Come April, come May, June and July lightning is going to hit this state hard as it always does every year. And the drought really intensifies that, because then you start to see a lot of these fires," Karels said. "Our job is to prevent those human-caused fires, so that we're prepared for the lightning. So that we're not tied up with so many human-caused fires."
Prevention means once again trying to educate people not to burn trash, toss cigarettes into vegetation or park vehicles on dry grass, Karels said.
Putnam credited Franklin County firefighters this weekend with saving homes from a fire on St. George Island. Homes had to be evacuated from the barrier island southwest of Tallahassee.
"Don't think you're the one who can burn trash and get away with it," Putnam said."It just takes one spark to get caught by the wind to set a neighbor's property on fire."
Flagler County's fire department is currently at full strength, with 93 firefighters.
–FlaglerLive and the News Service of Florida