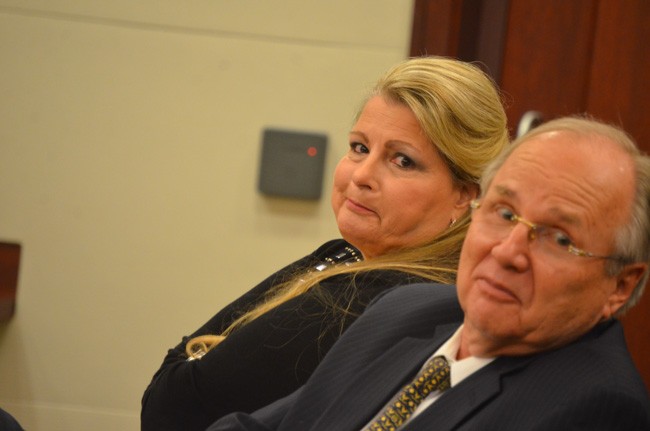 Kimberle Weeks, the former Flagler County elections supervisor, was in court this afternoon for the latest in a series of still-inconclusive pre-trial hearings on the 12 felony charges she faces from her last months in office, which she resigned in January 2015.
Weeks was charged with 12 third-degree felony counts of illegally recording or transmitting the recordings of various individuals, many of them public or elected officials, some of whom had said they expressly told her not to record them. (The defense says they merely said they were "uncomfortable" with being recorded).
Weeks was indicted last May. The case has since been stretched by pre-trial hearings thick with complicated–or at least complicating–motions, mostly by the defense, to dismiss some of the counts, to split the charges and try them separately (in three groups, what's called "severing"), and to settle the timeline in some of the charges.
The severing and dismissal motions took up the first part of the afternoon hearing Thursday before Circuit Judge Margaret Hudson, imported from Volusia County to hear the case, with Assistant State Attorney Jason Lewis prosecuting and Joerg Jaeger defending Weeks. In a rare appearance, Weeks herself sat next to her attorney as her usual supporters filled half the benches on the right side of the courtroom. Those included Dennis McDonald and John Ruffalo, directors of the Ronald Reagan Republican Assemblies group that amounted to Weeks's Praetorian Guard when she was in office, battling various government agencies, and since. On the other side of the courtroom sat County Attorney Al Hadeed and County Commissioner Charlie Ericksen, the two officials whose surreptitiously recorded conversation (by Weeks) triggered the case against her.
Weeks wanted several counts dismissed because they related to that Hadeed-Ericksen recording, parts of which she disclosed at a public Canvassing Board meeting without prior consultation or approval from the board's chairman, County Judge Melissa Moore-Stens. After disclosing the recording, she sent it to the News-Journal, WNZF and a third party. Each of these transmissions resulted in a felony charge against her. She is arguing, through her attorney, that because the transmissions involved an audio recording that had been made public at a public meeting, the recording was a public record from that point on, and therefore could not be actionable.
Lewis, in forceful, at times indignant tones, said the claim that the recording became legal after being published at a public meeting is untenable. "The argument the defense is propounding sounds too incredulous to think that it would make any sense," Lewis said.
Jaeger argued that the minutes had conveyed the substance of the matter as well, and the minutes were official public records.
Hudson leaned toward the prosecution. "If she had given the minutes to those individuals I might agree with you, but I'm not sure it carries over to the recording itself," Hudson said. She was reserving judgment.
She would also reserve judgment on some of the questions about separating the various counts, agreeing only to separate two of those counts. Even so, that means additional court proceedings and, potentially, two separate trials.
The rest of the hearing involved two testimonies–one by a Holly Hill police officer who'd had a conversation with Weeks on a police-related issue (several people on Weeks's side listened and participated in the conversation), and one by a former Florida Department of Law Enforcement inspector who'd been involved in the initial Weeks investigation.
The Holly Hill police officer had been recorded. Jaeger questioned him so as to reveal–at least from Jaeger's perspective–that the officer had been speaking with several people on Weeks's side, on a speaker phone. Jaeger tried to elicit a concession from the officer–that he had no expectation of privacy, or that his being recorded may not have been out of the ordinary, since officers are sometimes recorded within their offices. But the officer would not concede. The FDLE inspector retraced his requests for the Hadeed-Ericksen recording and information related to that canvassing board meeting, which Weeks mostly declined to provide to him.
Philip Lindley, the inspector, described as "extraordinary" Weeks's making him sign for some of the items she did give him, such as the sign-in sheet of the meeting and the public notice of the meeting. He described his method of investigating the issue surrounding that initial "illegal taping," as he described it, his application for a search warrant and the serving of the warrant on Oc. 3. It was the first time that details of that search was revealed, though Lindley did not reveal anything unusual: Weeks's computers were rushed to Tallahassee to forensically image their contents and returned to the office quickly so as not to interfere with that fall's election. "It was a priority case for the lab." Lindley said.
Five canvassing board meeting recordings ("a stack of canvassing board files") were found on one of the computers, he said. One of the recordings was two hours and 27 minutes, yet the official meeting time had stretched about four hours. It was during that stretch that he heard the "whispered" conversation between Hadeed and Ericksen. The question has always been: was the canvassing board meeting in session in that room, where Ericksen and Hadeed were, or had the meeting in effect moved to a nearby room, where the business of the meeting was taking place? Lindley touched on that nuance but did not offer a judgment.
Much of what Lindley recounted, in effect, has been known by the extensive reporting on the history of Weeks's difficulties with local government agencies and particular individuals. But Lewis's questions pointed to the recurring thread in Lindley's testimony: none of the people recorded by Weeks had consented to being recorded.
Jaeger, when he cross-examined Lindley, showed him a picture of the notice at the entrance to the supervisor's office that stated explicitly that anyone on the premises could be recorded. Jaeger said he had not looked at the notice when he entered. In a more pointed turn during the testimony, Jaeger had Lindley read from the transcript of Lindley's interview of Hadeed in which the county attorney told him that he'd heard Weeks turn off her recording device the day of one of the meetings in question, when various individuals–among them Hadeed–had said that they were not aware that they were being recorded.
"He told you in a sworn statement of 10/9/14 that he heard her turn off the recording," Jaeger said to Lindley, ostensibly as a question. Lindley only said that it was a statement he heard Hadeed make, but if Jaeger's intention was clear (he was methodically sowing doubt over the statements and assumptions that individuals did not know or were not on notice that they were being recorded, or that their conversations were not confidential, or that they were on official business in a public place) he tried but was repeatedly unable to lead Lindley to reach his conclusions. And much of that line of questioning relied on subjective judgments rather than clear statements that indicated that individuals were (or were not) aware that they were being recorded. In one case–Weeks's recording of the secretary of state-there was no question that Ken Detzner, the secretary, had emphatically called himself "uncomfortable" with being recorded.
When again questioned by Lewis, Lindley stressed that, for example, when Hadeed spoke in a whisper–in the so-called "whispering tape"–that was telling ("probative" had been his earlier word): it was his intention to keep the conversation confidential.