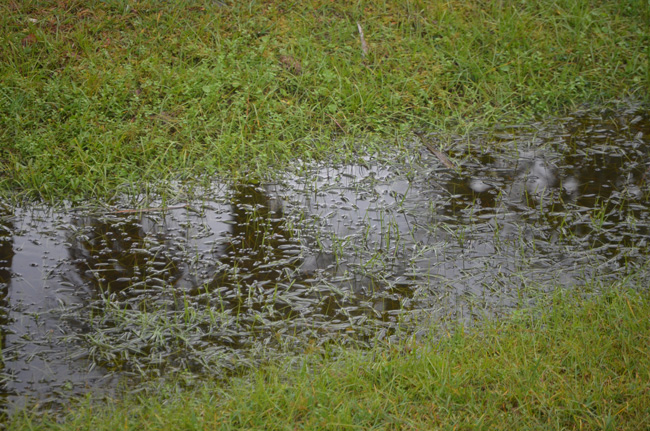 Palm Coast and Flagler County weathered the latest front of very heavy rain well from Tuesday to Wednesday as up to 5 inches of rain fell in parts of the city and the county, but with no reported flooding or water damage.
The only high-water related call to Flagler Emergency Management was from Eaton Lane in Palm Coast, where water rose as high as a foot, creeping up some driveways but never making it into homes.
"Other than the normal 'ponding of water' of the typical areas, we had no other issues nor did we have anything that caused impact," Flagler Emergency's Bob Pickering, a weather specialist, said in an email today. "That is quite impressive where we had 4-5 inches of rain." (Pickering will be recognized for his 20 years of service at the Flagler County Commission on Dec. 1 at 9 a.m.)
The heavy rain was p[art of a vast weather system that affected the eastern portion of the nation, dropping heavy sheets of rain in the south and heavy snow in the northeast, with accumulations of up to three feet in parts of New England. Cool to cold weather is sweeping in behind the front, dropping temperatures locally to the low 50s and upper 40s this morning. Temperatures will fall into the 40s overnight and remain in the 60s on Thanksgiving Day.
The following are the storm's total rainfall as compiled by Pickering, as of 9 a.m. Wednesday. Little to no additional rain is expected.
Amount / Location / Source / Notes
4.60" / Bunnell / Flagler EOC / As of 10:00 AM
3.44" / Flagler Beach / Skywarn
2.67" / Marineland / EOC WX Station
2.96" / Lake Disston / Skywarn
4.75" / CR 305 Bridge / Engineering Dpt / At CR 305 bridge construction project
4.32" / East Palm Coast / Skywarn
4.50" / Central Palm Coast Water Plant 1 / Palm Coast Utilities
4.10" / Southeast Palm Coast Water Plant 2 / Palm Coast Utilities
3.50" / West Palm Coast Water Plant 3 / Palm Coast Utilities
4.00" / West Palm Coast / Skywarn
5.00" / Southwest Palm Coast / Skywarn
3.68" / North Palm Coast / Skywarn