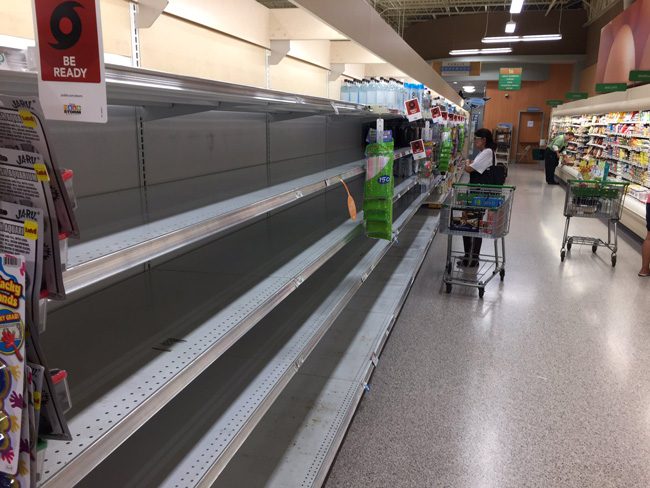 Palm Coast and Flagler Beach are out of bottled water: An inventory between 11 a.m. and 1 p.m. today of almost all of the region's larger grocery stores revealed nothing but bare shelves and no promises as to when more shipments are expected.
Aldi on State Road 100 is out and not expecting any more shipments before the storm–the only large store in the area where no more water is expected.
Target has been out but is expecting a shipment of at least one or two brands of water Friday and another shipment on Saturday.
Winn-Dixie on State Road 100 has been out, and expecting a shipment sometime today. But a store employee said there was no way to tell when that shipment would be coming in.
Publix's stores at Town Center, in the Hammock and in Flagler Beach were out. Store managers at Publix have been instructed not to make promises to customers. While they do expect water shipments, they're not certain when those shipments will come in, and they don't want to make promises they can't keep.
"We've been told not to make promises," one manager said, noting that deliveries are "at the mercy of the roads."
The Hammock Beach Publix got its scheduled water shipment this morning, but it was wiped out very quickly after the shelves were stocked.
Several stores still had a few bottles of higher end mineral water such as Evian, Perrier and San Pellegrino.
County Emergency Management usually brings in large shipments of water and sets up dispensaries in various places–but only after major weather events. County Administrator Craig Coffey said this afternoon there are no plans to do so before the storm for now.
Gas stations are following the same trend, with the region's larger gas stations, such as the Race Trac on State Road 100, simply wrapping every pump aisle in yellow tape. Most gas stations have run out.
"The gas stations are refilling as fast as they can and I know the stores are restocking as fast as they can too," Sheriff Rick Staly said during a briefing with his top command staff this afternoon, with patrols monitoring gas stations to "minimize any disturbances or traffic problems that may occur. And at some point they're going to shut down for the storm."
Here's quick look at the scenes at various stores at midday today:
Palm coast Aldi out of water, will not be getting more before storm. #irma pic.twitter.com/iEQVUC065E

— Pierre Tristam (@PierreTristam) September 7, 2017
Palm Coast Target out of water. Store officials tell us Zephyrhills & Market Pantry gallons &12-packs tomorrow, Pure Life water Saturday pic.twitter.com/S5S2XrRpJQ

— Pierre Tristam (@PierreTristam) September 7, 2017
No water at Town Center Publix, Palm Coast (except Perrier, San Pelkegrino) shipments expected, time uncertain, no guarantees. pic.twitter.com/XjnV6gWCUb

— Pierre Tristam (@PierreTristam) September 7, 2017
No water at Flagler Plaza Winn Dixie, store expecting shipment today but no idea when. #irma pic.twitter.com/xzufhsb5a3

— Pierre Tristam (@PierreTristam) September 7, 2017
Race Trac on SR 100 in Palm Coast is out, few gas stations still pumping. pic.twitter.com/aAxMj6K7m5

— Pierre Tristam (@PierreTristam) September 7, 2017