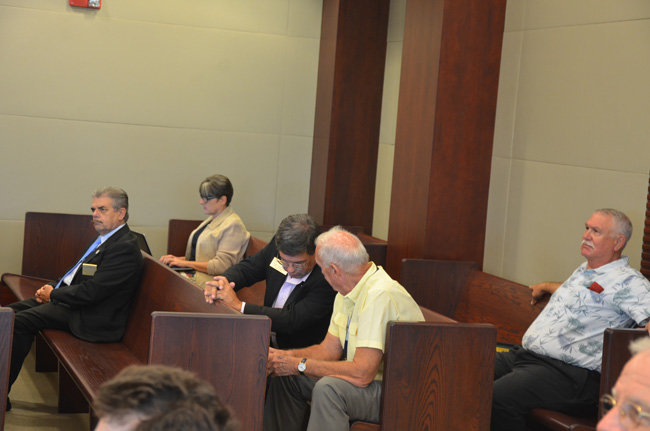 There was a quorum of the Flagler County Commission for this one: four of the five commissioners showed up for the hearing Thursday on a Palm Coast pressure group's lawsuit against the commission and its purchase last year of the old Memorial Hospital in Bunnell. The group was claiming that Commissioner Barbara Revels—who was not in attendance—had a conflict of interest and should have either disclosed it or not participated in the hospital vote.
Barely 10 minutes into the hearing, Circuit Judge Dennis Craig threw out the suit by the co-called Flagler Palm Coast Watchdogs, concluding it had no standing in circuit court. The "Watchdogs," founded by Palm Coast resident Dan Bozza, is a group closely aligned with the Ronald Reagan Assemblies of Flagler County, an insurgent far-right Republican group.
The lawsuit was no sooner dismissed than the pressure group's attorney said he'd file a new lawsuit, with facts unrelated to the previous one, this time charging that one of the county commissioners polled the rest of the commission on the hospital purchase—meaning that he asked commissioners how they would vote outside of an open meeting. If true, that would be a violation of Florida's open-meetings law.
It was an unusual way to extend a legal battle against the county even after that battle's ammunition had been exhausted. Josh Knight, the attorney, at first attempted to stretch the original case by merely amending the original lawsuit. The judge did not allow it.
"There doesn't even appear to be overlapping facts on the allegations on the original complaint versus what would be the amended complaint," Craig said, requiring Knight to file an entirely new lawsuit if that's what Knight wanted to do. Knight said that's what he'd do.
Al Hadeed, the county attorney, said he was considering going after attorneys' fees now that the lawsuit has been dismissed. "Is that something that I'm weighing? Yes," Hadeed said, noting that the county attorney's office is a public resource focused on issues meant to "save money or get money or avoid liability or whatever the function is that is in the public interest," none of which was the case with this lawsuit. "The time I spent doing this was time I couldn't spend doing something else, so yes, I have to weigh that on behalf of the government."
It's not clear who would defend commissioners in light of the new lawsuit, if it's filed. Commissioners facing sunshine law violations generally have to have their own attorneys. Knight would not disclose who the commissioner who allegedly polled other commissioners was, but that information has been dribbling out.
Bob Hamby, a member of the Ronald Reagan Republican Assemblies of Flagler County, whose members have been bitterly critical of local government, alleged on Aug. 14 that Commissioner Nate McLaughlin asked Commissioner Charlie Ericksen how he would vote, and that the matter was brought to County Attorney Al Hadeed's attention by Reagan assembly members.
Ericksen, the only commissioner who voted against the hospital purchase, categorically denied today having a conversation about the vote with McLaughlin outside of meetings. "We had workshops before the vote but I never talked with any of the commissioners with regards to how I was going to vote," Ericksen said.
The meeting between Reagan members and Hadeed took place on Jan. 15. It was at the request of Reagan assembly director Dennis McDonald (who had a lawsuit against Palm Coast declared frivolous earlier this year, and is now required to pay Palm Coast's costs, with Knight the attorney on that case as well), Dan Bozza, who was behind the lawsuit that was dismissed today, and John Ruffalo, the strategist behind the Reagan group (whose name last appeared before Judge Craig two years ago when the wife of the Republican Executive Committee tried to have an injunction against him for forcing her out of assembly headquarters.
The meeting between Reagan members and Hadeed took place on Jan. 15. It was at the request of Reagan assembly director Dennis McDonald, Dan Bozza and John Ruffalo.
McDonald, a frequent critic of county and city government who just lost a bid for the county commission against incumbent Frank Meeker, had a lawsuit against Palm Coast declared frivolous earlier this year, and is now required to pay Palm Coast's costs. Knight is the attorney on that case as well. Bozza is behind the lawsuit that Craig threw out today. Bozza has not attended his own case's hearings. Ruffalo is a strategist behind the Reagan group. His name last appeared before Judge Craig two years ago when the wife of the Republican Executive Committee chairman, Patricia Sullivan, tried to have an injunction against him for forcing her out of Reagan assembly headquarters, which turned out to be GOP headquarters.
"They wanted to meet with me because they had expressed frustration that they weren't getting information from county administration," Hadeed said of the January meeting.
The trio had a number of issues they wanted to discuss—about the old hospital, the chamber of commerce and the Tourist Development Council, among others. The trio also raised the issue of Revels's alleged conflict of interest. Along the way, they made the claim that polling took place.
"I don't remember exactly the words they told me," Hadeed said. "They said that they knew there'd been polling, they mentioned commissioners' names, I think they did mention Nate, they mentioned Charlie, they may have mentioned others." Hadeed later said Meeker's name was mentioned.
But when Hadeed asked the trio for evidence, he said they pointed to Meeker's claim in a FlaglerLive article that he'd felt he was "being led, at times by the nose, to a conclusion to support the hospital purchase." Nowhere in that article was there an allusion to polling or to Meeker even connecting that pressure to other commissioners, so much as to the administration, which may legally engage with commissioners at will outside of meetings. Beyond that, Hadeed said the trio's polling allegations were "hearsay."
"I'm sure I told them polling is illegal, you heard that in court today," Hadeed said. "I acknowledged that. I told them that they should go to the State Attorney if they have those facts." Hadeed then verbally and individually informed commissioners of the meeting. "I asked each commissioner, were they polled?" Hadeed said of those meetings. "They all said no. Very firmly."
Reagan assembly tactics have established a pattern, including in the McDonald and Bozza-Watchdogs court cases, of making baseless claims that wither under examination. Along the way, the target of those claims are tarnished regardless. McLaughlin and Meeker, having defeated two Reagan assembly candidates, are still incumbents facing re-election in November. The noise against them is part of that context.
And the dismissal of a lawsuit often does not make as much of an impact on public opinion as its original filing. Bozza in an interview earlier this summer said the Watchdogs group was created to raise money to file lawsuits against local governments.
Hadeed argued to Craig more than a week ago that the Watchdogs case shouldn't be in circuit court, because if there was such a conflict, it's up to the Florida Commission on Ethics to deal with the issue. Revels is, in fact, facing a complaint alleging the same conflict of interest through the ethics commission. But the commission has not yet determined whether the complaint has merit.
The case was last before Craig on Aug. 27, but Knight, who'd been ill, was not prepared to argue why the original lawsuit belonged in circuit court. Craig gave him a week. Today, Knight rested his argument on two sections of Florida law that Hadeed said were not applicable, since one merely addressed the open meeting law and the other did not in and of itself "confer jurisdiction" for such a case in circuit court.
Craig had been skeptical of the case belonging in his court all along, but as he did last week, gave Knight ample room to press his case. Knight tried. Craig was not convinced. When the two laws Knight cited failed to meet the judge's test, Knight took the tangential approach. He said that an amended lawsuit would prove to have jurisdiction in circuit court.
Craig was aware of the attempt to change the original lawsuit, but did not take to the tactic, because the amendment would make new allegations entirely–that one or more county commissioners involved with the hospital vote, Knight said, "illegally polled other commissioners as to their intended vote." He wanted more time "to conduct discovery in light of this new information."
Hadeed quickly pointed out that that would have been in sum an odd way of resuscitating a dead case. The judge agreed, leading Knight to have to file the new case from scratch.