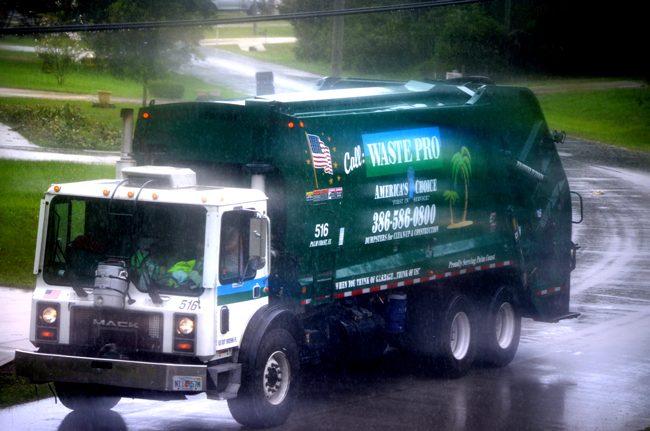 Four weeks ago Flagler County Commissioners were steaming over poor service from Waste Pro, the trash hauler under contract by the county and Palm Coast for 11 years.
Commissioner Nate McLaughlin wanted Waste Pro officials called in to answer for recurring problems. "We can't let this go on. We talk to them and talk to them, and we're not getting what we need," he said. "You can't count on waste Pro," Commissioner Greg Hansen said bluntly. County Administrator Craig Coffey spoke of problems for the last two years. They were echoing similar problems in Palm Coast, where city council members have been fielding complaints from constituents since before Waste Pro's contract renewed last year, at a steeper cost.
On Monday, John Cinelli, Waste Pro's division manager in Bunnell, appeared before county commissioners in a workshop. He was there to account for the company falling down on the job. Instead, his appearance turned into a brief, lavish flattery session from commissioners and the county administrator to Waste Pro: McLaughlin no fewer than four times praised and thanked Cinelli for showing up, saying that alone "means a lot to me that you take the time to do this," though Waste Pro is in essence an adjunct government service, and Cinelli's appearance was no different than that of the head of a government department responsible for the service under contract.
Cinelli himself appeared for less than 15 minutes, and spoke for all of one minute, all statements considered, as Coffey mostly led the questions–more with explanations and excuses on behalf of Waste Pro than with probing questions that might have shed light on the company's issues locally.
He had begun the day by sending commissioners a memo from Heidi Petito, the county's general services director, that radically belied the problem-picture painted by commissioners. "Although we do receive an occasion complaint, overall staff would rate their service as very good," Petito wrote. "Considering that each resident (approximately 6,000 customers) has the potential to receive service 5 times a week (for a total of 30,000 services per month) and at our best we are receiving 3 to 5 complaints a month and at our worst we are receiving 10 to 15 complaints per month, the complaints only account for between .01 to .05% of the customers served."
Remarkably, the memo and Coffey at various points placed some of the blame for service failures on "the homeowner" who, in Coffey's words, "who is not following the rules."
Unlike Palm Coast, the county does not have a systematic method of documenting complaints by day, address and type, nor does the count levy fines on Waste Pro, as does Palm Coast, for recurring problems such as missed pick-ups, damages to trash cans and so on. So there is no systematic way of analyzing Waste Pro service in the county. But service in Palm Coast has deteriorated considerably over the past year, well before the storm. There'd been a time when Waste Pro would go months without a single fine from the city, That has changed, with fines in May and June adding up to roughly $2,000 each, and spiking in July and August, well before the storm, to over $4,000 each.
Th city went easy on Waste Pro in September to take account of the storm, so no fines were levied. But the situation does not appear to have improved much in October, when fines totaled $3,000, and November, when total fines rose to $3,305, the third-worst month of the year.
Cinelli did not have to speak of Palm Coast issues to county commissioners, though Palm Coast is also his responsibility, and the two contracts piggy-back on each other.
As for the county, Cinelli put the blame on a supervisor who was overseeing the area. "He has been replaced," Cinelli said. "So you know the people we had there before was dropping the ball for us, and when we realized he was causing more of a problem than helping us he's been replaced, so perhaps some of those complaints were valid. We're not perfect."
Cinelli said he has three routes running each day. Coffey again made apologies for him: "We know some routes do better than others, and I know there's people that call off sick and you're always going through those things as we go through personnel ourselves," the county administrator said. Coffey then asked Cinelly "what's happening" when routes aren't completed, leading the question with multiple-choice answers: "Is it that the routes are growing, the accumulations are heavier, the routes are heavier, or just a crew slower?"
Cinelli said it's "a combination of things," attributing some of the problems to the vast distances drivers have to cover in the county. He did not explain why those distances were not problems a few years ago, but are problems now, as distances in the county have not changed.
But Cinelli did say something more revealing than he perhaps intended: "You guys have grown but we're still using the same amount of trucks as we started," he said, begging a question no commissioner asked: If there's been growth, and there has, then Waste Pro has been expanding its customer base without adding to its truck fleet, essentially reaping more profit by working (or overworking) the same crews. Charges for waste service in the county have grown $220,000 in the last two years, from $1.33 million to $1.55 million this year.
Cinelli did say that the company was "rerouting" its county routes and "putting another truck on the road," attributing the need to "the distance we fly with the county," not to additional customers. "It's not always the garbage it's the mileage we have to drive to," he said.
"That would definitely lead to better service as well," Coffey said.
"Thank you once again for hearing our grievance and taking the time to come over here and meet with us face to face," McLaughlin said again. "That's a great message that you're sending to us." But Waste Pro never volunteered. It had no choice. It was called to the commission by commissioners, and by McLauhlin specifically.
That was it for Cinelli's appearance. "You guys had asked for this, is there any other questions or anything else you'd like us to look into this," Coffey asked commissioners after Petito summarized her memo. None did.